Google, the search God and WordPress with WooCommerce plugin when combine forces can bring in some amazing results for the e-commerce businesses. Let's explore how we can implement this empowering duo for your e-commerce business.
But first, the context setting.
Technology innovation continues to be the driving force behind the unprecedented growth of eCommerce. In 2019, the industry held 15.8% of the overall retail market. By 2020, it grew to 21.3%. And we know the year 2020, how it has changed the consumer shopping experience in more ways than one. Technology, market, and consumer behavior nothing is left untouched.
Moreover, WooCommerce plugin accounts for 30% of the top one million e-commerce sites as of January 2021. This is up from 26 percent in August 2020, and 22% in 2019. This makes WooCommerce the most popular choice among the top million e-commerce sites. Ahead of competitors like Magento and Shopify.
Google leverages its vast user base for Google Shopping. We know, it's one of the first places shoppers go to discover or find products online. Whether they're looking for products, watching related videos, comparing images; it is the online go-to place for most of the answers.
It was only a matter of time that Google leverages its power to answer most of the online searches. Google brought a platform called Google Shopping. 
What is Google Shopping?
Google Shopping customers can search, view and compare products across a wide variety of brands and retailers online. Customers can even buy the products directly on Google Shopping in a few countries like the US and for some time even in France. Here, it is known as Buy on Google.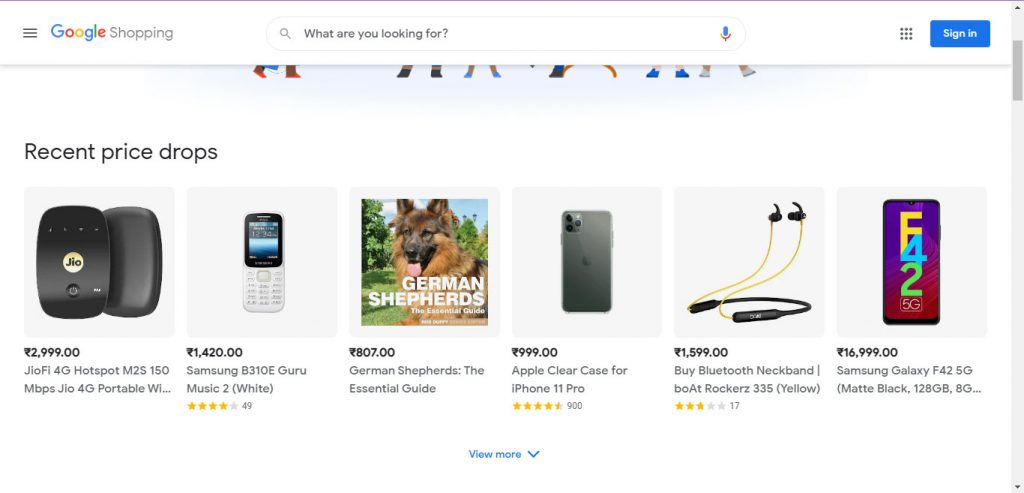 Before we explain Shopping ads, we should first understand what it is NOT. It is not advertising! Most advertisers and merchants still associate the term 'Google Shopping' with ads on Google – but that is not the case.
Then, what are Google Shopping ads?
With Shopping ads on Google, eCommerce businesses are able to market their products with the use of pay-per-click advertising. Shopping ad is a campaign type within Google Ads. The campaign enables you to market across Google's properties, including Search, Images, even Gmail & YouTube. A business can reach shoppers wherever, and whenever, they're searching on Google.
When retailers or advertisers run Shopping ads they pay a fee for clicks (aka cost-per-click or CPC). The ads are displayed based on the cost set by the campaigner, it is through bidding. On click, the user is redirected to the product page on the ecommerce website. The user can complete the shopping journey from there on.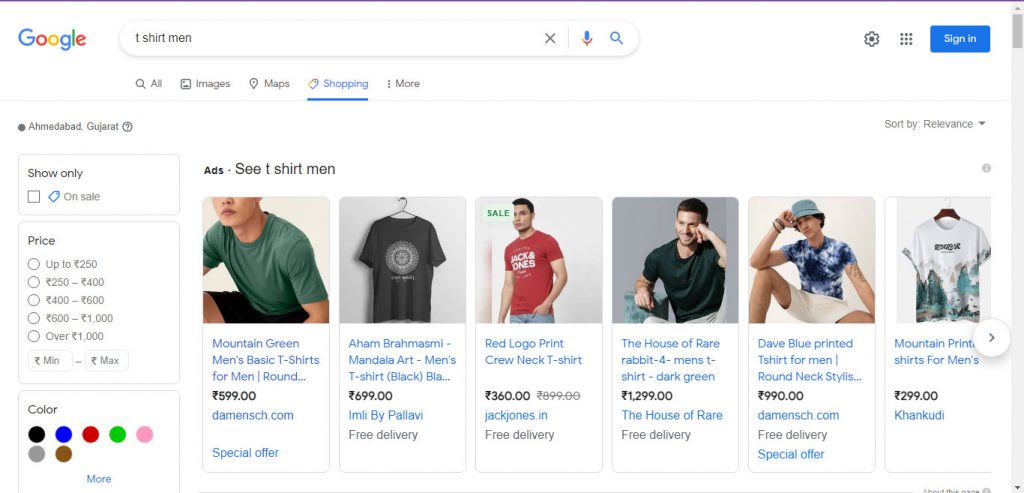 In most cases, Shopping ads appear on top of the page for the searched query. It is before any Search or Text Ads, organic search results on Google search engine results page or under the shopping tab. These ads display product related details to shoppers like price, seller, and can even show product rating.
There is a way to showcase your products under the Shopping tab without running Shopping ads which is known as Free Product Listings, which has made it even more important for retailers and marketers to take up what digital shelf space is left to continue to drive quality traffic by providing more product and it's related details into Google Merchant Center and increase sales for their ecommerce businesses.
How Does Google Shopping Work?
When a user or shopper types word/s (keyword/s) in the search bar google responds, often in microseconds, with matching results. Google shows results for example Shopping ads, Buy on Google, Free Product Listings, Videos, articles and more. Google's algorithms work in the background and best matches the content with the keywords. 
But the Shopping Ads bid on the actual product and descriptions. The objective is to appear across Google properties unlike traditional text-based or Search Ads which run 'bidding' on keywords.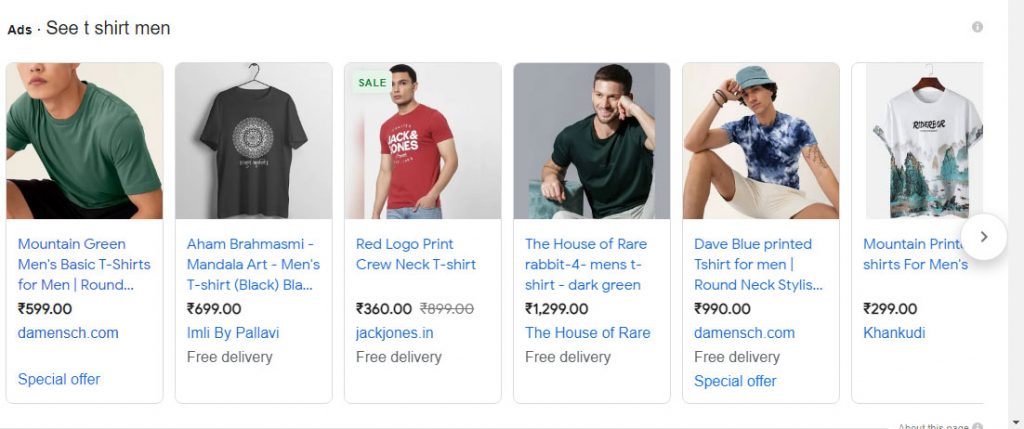 Since, Buy on Google and Free Product Listings are not a form of advertising, these too do not involve any kind of bidding on keywords. 
Retailers or advertisers must push Product details (using Content API or Product Feed) into Google Merchant Center to be eligible for any of the Shopping programs. The product details are essentially a catalog of one's products and product data such as titles, descriptions, price, ratings and more.
Google uses product details fed into GMC to fuel the results of what a potential shopper types into Google search bar. In addition to that Google uses some advertising data to produce results across Google surfaces.
How to set up Google Shopping Ads for WooCommerce stores?
It is essential to submit product data from your WooCommerce store into the Google Merchant Center for you to advertise products through shopping campaigns or products to appear under free listing. 
We assume that your WooCommerce store has products in it and are ready to be sold. We use the Conversios plugin to connect your store to Google Merchant Center and push product data.
Follow the below steps necessary to connect your WooCommerce store with Google Merchant Center.
Step 1. Connect Your Google Merchant Center Account
You will need a Google Merchant Center account. This is the platform that will empower you to have your products for Google Shopping campaigns and free listing. If you do not have a merchant account then setting it up is an easy task via the Conversios plugin.
You can follow the steps mentioned in this doc to know how to set up the plugin. The Conversios plugin helps in connecting your existing Google merchant center account from the drop down. Alternately, create a new merchant center account.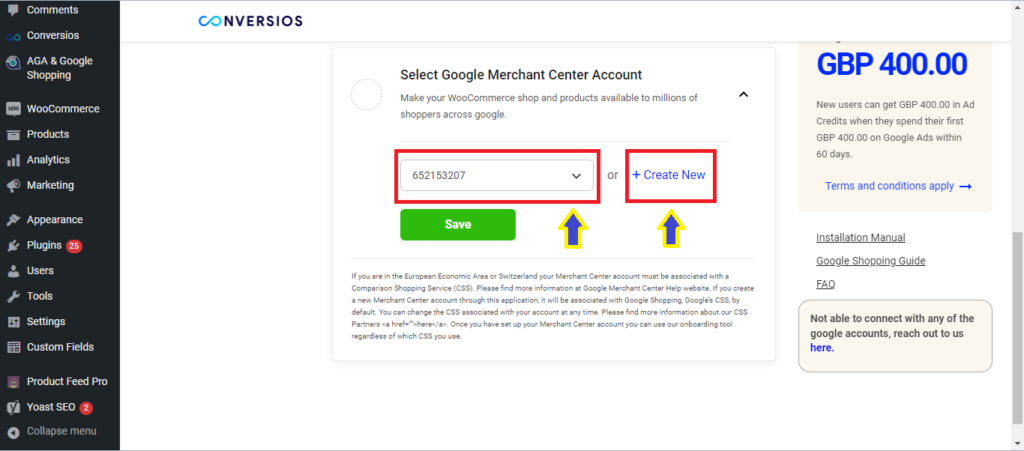 If you opt to create a new merchant center account, then you just need to enter a few details including Store URL, Name, Location, and whether your site contains adult content.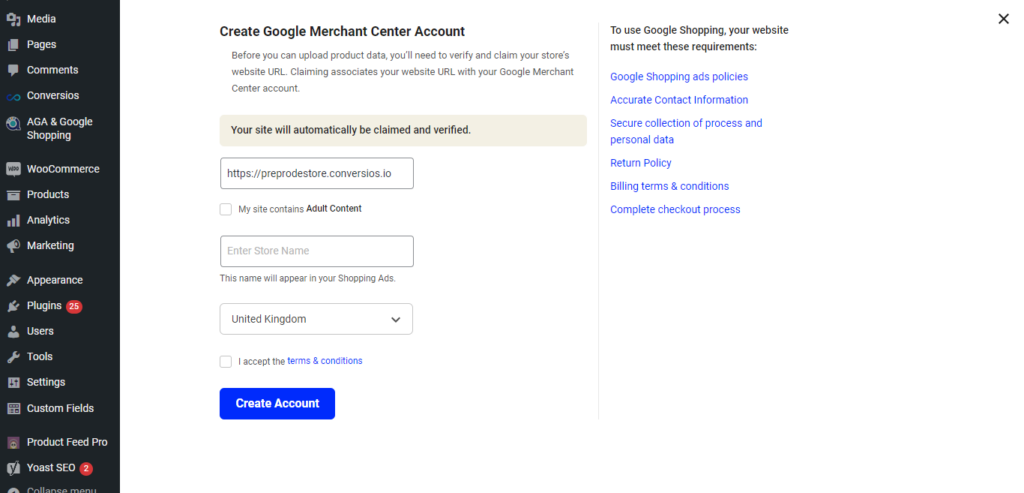 Step 2: Add Your WooCommerce Google Shopping Product Data to Google Merchant Center
You have now connected all your Google accounts. The next step is to push your products to Google Merchant Center via the Conversios plugin. 
Click on 'Sync New Products' to sync your WooCommerce products into your connected Google Merchant Center account.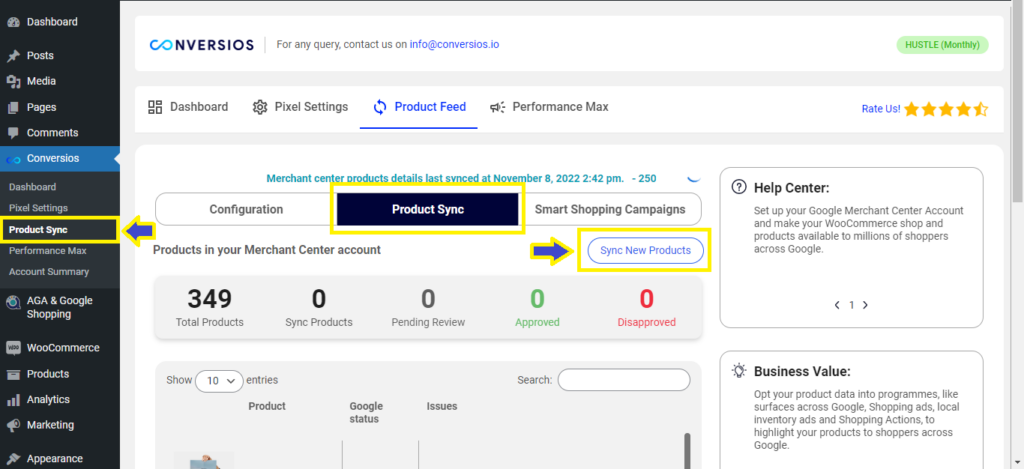 Next step, map your WooCommerce product categories with the Google Merchant Center categories.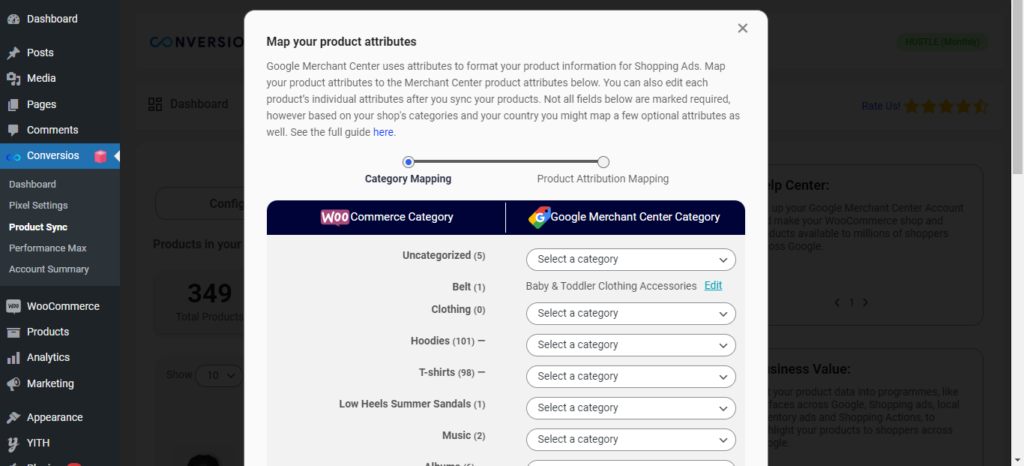 Select and map the product categories you want to sync with Google Merchant Center. Once you select and map the categories, you will need to map additional product attributes from your WooCommerce store to Google Merchant Center product attributes.
We have auto mapped required product attributes. You can map additional product attributes listed on the screen for better Google search visibility. You can read the product attributes guideline here.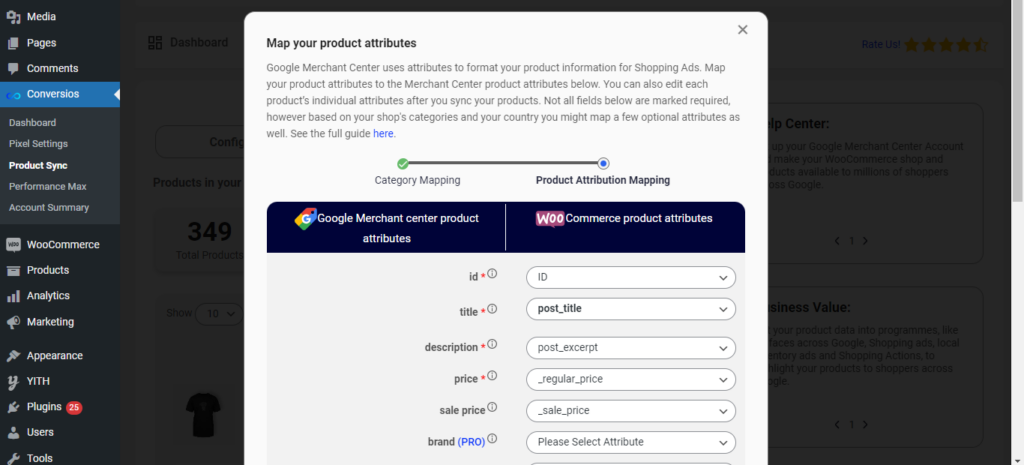 Click on 'Sync Products' and your products will be synced into the Merchant Center account. Please take note that it takes up to 30 minutes to reflect the data in the Google Merchant Center account. Once they are synced, your product sync dashboard will look like this: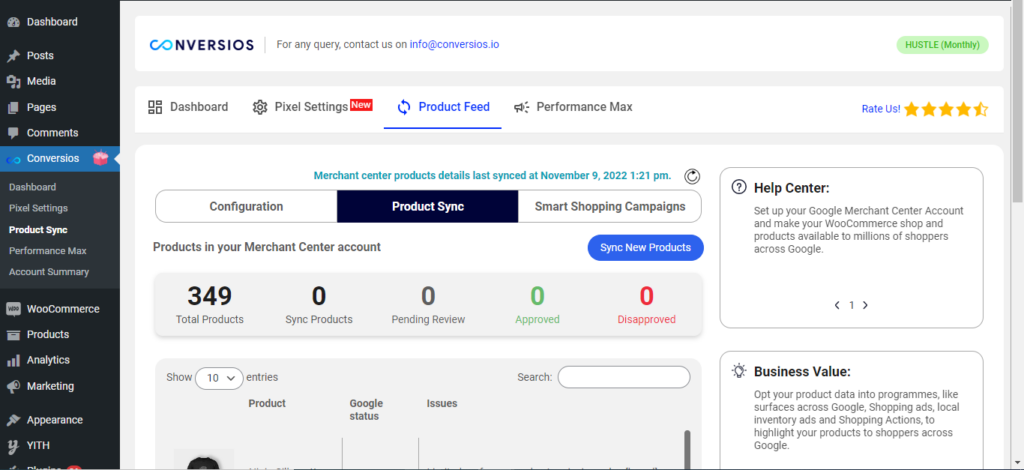 After following the above steps, you will be all set for Google shopping Ads, which will help in increasing Sales.
Step 3: Create Google Shopping ads for Shopping Campaigns
Conversios plugin helps with the setting up of smart shopping campaigns, free listing, etc.
3.1 Create Shopping ads to increase traffic and sales with Google Ads
Smart shopping and shopping campaigns bring traffic with potential customers who have intent to purchase a product. You can create a smart shopping campaign via the plugin to promote your products across Google Search, Shopping, YouTube, Gmail, and the Display Network.
For the convenience of our customers, we have added the functionality under the plugin where you can just connect Google Ads, choose a budget, and straight away launch your campaign. The plugin helps you to continually monitor the campaign performance by showcasing all the tracked important metrics in the backend. 
We recommend you to watch the video which guides you through Shopping campaign creation via the Conversios plugin.
3.2 Reach online shoppers with Google shopping free listings
Google offers free listings on the shopping tab to showcase products (eligible for free listing) to shoppers who are looking for the products you offer. This drives traffic to your e-store. Your products can also appear on Google Search, Google Images, and Gmail, if you're selling in the United States.
What's next!
You got the headstart to power your WoCommerce plug store with Google Shopping. Now, you can leverage it to run Shopping ads to drive potential customers to your store and increase sales.
The conversions.io team is working to bring innovative solutions for retailers and marketers. It will help leverage the power of Google to reach millions of shoppers online. We encourage you to take your first step and kick off your Google Shopping journey sooner. The rewards and future are very promising. 
If you have any questions or Need our assistance, please don't hesitate. We welcome you to reach out to us at [email protected] for online shopping related queries.