In the eCommerce industry where agility is celebrated, timely decision-making is the key!  How can we improve that? (Let me give you a hint: Are you aware of Google Analytics Tracking for WooCommerce)
We know that every decision has to be measured and data-backed. If not, then they are not conclusive enough for the business to reach the right customers and flourish. 
It is essential to transform the data into information and eventually into useful insights. So you can shape a better business and sales model. And this is where Google Analytics (GA) is the go-to property! More specifically, Google Analytics Tracking for WooCommerce is what you need!
GA metrics help you to recognize the valuable target segments, the user behavior of different groups, and the way they shop on your site. eCommerce reporting enabled by GA helps measure the performance of your site and track the user drop-offs at every stage of the transaction. In addition, the marketing reports available within GA give additional insights on affiliations, coupons, and product promotions.
Set yourself apart from the competition with WooCommerce Google Analytics Tracking
Isn't it a great feeling, being ahead of the crowd!? Anyone who has some basic knowledge about GA and its tracking mechanism would be aware of the pain of implementation, validation, and data flow process, which is extremely time-consuming. Also, with the recent announcement of the Universal Analytics sunset, it is important to start planning the migration of UA to GA4 and get started tomorrow. Imagine all the panic and chaos!
"Our clients at Conversios are free from all these hassles!"
Because we have already enabled dual tracking for them. This plugin eliminates all the manual efforts required for the collection, tracking as well as migration. It requires the minimalistic effort of just linking the raw accounts to our product.
Key Benefits to Set up Google Analytics for Woocommerce
No coding intervention, no implementation and sprint cycles, and no GTM validations! 

Just take a few seconds to link accounts and we are good to go!

And, the most appealing part

is the automated tracking of eCommerce events which are powerfully designed to envision the Conversion Rates and the behavior of users on the website.
On a side note: Your eCommerce business website should be WooCommerce based and you are all set! 
Run the plugin on your website linking your GA, GMC, and Google Ads accounts for the sake of better management and hassle-free tracking. We just need to make sure that the linked accounts are registered Google accounts through which Google Ads and Google Merchant Center accounts are linked.
"It is that easy to now track your data!"
The automation of our plugin is just a click away! Here is a quick preview of Conversios plugin.
Google Analytics Tracking for WooCommerce – Insights You Cannot Miss!
What if there is a way to examine your site and analyze your data? Wouldn't you be tempted to understand your audience base and improve your performance? 
This is what Conversios offers! You are looking to get an in-depth picture of how your site is working and what needs to be tweaked by studying the plugin reports. It's all there, whether you're just looking at the surface or going down pretty deep. As a result, you can make more educated decisions based on solid data rather than hunches. All by Conversios Google Analytics woocommerce tracking.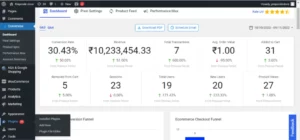 1. The eCommerce Conversion Rate is one of the primary metrics here.
Sneak Peek into Coversio GA Dashboard
This tells you what percentage of site visitors ended up making a purchase. It is crucial to understand your Conversion Rate since it reflects your sales activities, what your sales look like, and if there are any requisite improvements to improve your sales. You'll also be able to see the total number of transactions for a certain time period.
2. Works wonders for your business – Size is just a number!
This proves to be an amazing plugin for large businesses as well! With a large online business that sells dozens or even hundreds of products, it is crucial to evaluate the performance of each product to obtain an enhanced overall development. The insights you receive from Product Performance reports provide direction on the most popular products, those unable to catch a lot of eyes, and so on. This data might also assist you in determining which promotional campaigns are most effective. 
For example, if you recently focused on promoting a specific product, you may be able to determine how effective it was based on the number of sales. You can also look at Product Revenue metrics to discover how much money each product made within the specified time period.
3. Bring out the big guns! An amazing and powerful feature
Apart from understanding the sales insights and their relevance for big and small businesses, there is something more the Google Analytics plugin offers! On top of this, the Shopping Behavior and Checkout Behavior funnels are like the cherry on the cake. 
The funnel gives an insight into the drop-offs of users at each stage which will be very useful to determine any changes needed on the website to retain its users and eventually increase transactions.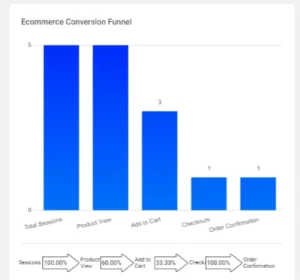 4. Reports are tedious! But, what if it can be simplified?
Now, comes the best part. Imagine all the above on one single dashboard, without having to go through separate reports inside Google Analytics. This is what Conversios Google Analytics Smart dashboard will do for you. It will bring all the reports to one place so you can have an aggregated view of all the important areas of eCommerce.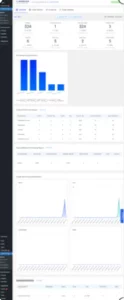 On a Closing Note
Google Analytics reports can yield a variety of data. It is an extraordinary tool to fine-tune your efforts and get your e-commerce business working at full capacity. In order to obtain optimum results, you must know which precise reports to focus on and investigate. While the ones stated here are just some of the vast variety of reports GA provides, they should serve as a good starting point for you to live up to your business expectations. You can use this data to make some important modifications and transform your e-commerce site into a conversion monster. Remember, with Google Analytics Tracking for WooCommerce, your eCommerce site will become more data-oriented and result-focused.
Conversios plugin will make your conversion monster ready to fight the battle at all levels and make your decisions data-backed and insightful. The bridge between the efforts of setup and insights will be shortened by the plugin. Conversios will be your one-stop solution to get a smart data dashboard that will be just sufficient to make your business successful.