According to a report, WooCommerce powers more than 6.5 million websites.
Nearly all 6.5 Million WooCommerce stores are aware of the value of an up-to-date product catalog. Still, managing tons of products and keeping them updated is a hectic task.
That's where a Product Feed Manager comes into the picture.
You can effortlessly generate your product feeds and manage them across various channels with an automated product feed manager. This would help you save time and make your products optimized for Google's product feed which in turn would make your ads more effective.
Using a Product Feed Manager for your WooCommerce stores will give you a competitive advantage over other stores that aren't using it.
We have gathered the best five Google product feed plugins for WooCommerce after doing extensive research. To see how these plugins may help you expand your ecommerce business, let's take a closer look.

Top 5 Google Product Feed Plugins For WooCommerce In 2023
Product Feed Manager For WooCommerce
Product Feed Pro For WooCommerce
ELEX Woocommerce Google Shopping
CTX Feed Plugin
Conversios – All-In-One Google Analytics, Pixels, And Product Feed Manager For WooCommerce
#1 Product Feed Manager For Woocommerce
Product Feed Manager For Woocommerce, as its name suggests is a Google product feed manager plugin that helps you to sync unlimited products to Google Merchant Center with more than 10,000+ products in a single batch via content API.
Get better display for your products on Google search and Display networks by running Performance Max campaigns for your perfectly synced products.
It is a multipurpose WordPress plugin for your WooCommerce store since it is compatible with brand plugins, automates product updates, and schedules product sync.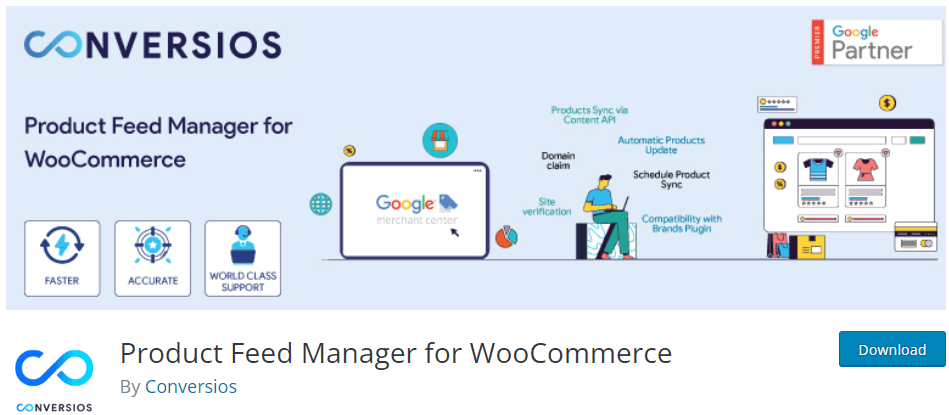 Let's take a glance at some important features of this plugin👇

Features:
Product Feed Manager For Woocommerce plugin uses a powerful and real-time Content API. You can sync more than 10,000 products in one go.
You can easily integrate this plugin with your website with a click. It is very user-friendly.
It's a no-code Google Product Feed plugin; so you don't have to worry about technical issues and development costs.
You can sync unlimited products from WooCommerce to Google Merchant Center. There's no limit to syncing your WooCommerce products. Sync a million products and this plugin won't mind.
Get the error explanation and the real-time approval status for your products. You can thus fix the issues and sync the items again for reapproval.
Batch-wise product sync that is compatible with 100,000+ products
Advanced filters to select WooCommerce products for sync in Google Merchant Center.
Best customer service and that too for free!

Pricing: With so many features, the Product Feed Manager For Woocommerce plugin becomes a steal deal at just $39/year and that too with free lifetime support.
#2 Product Feed Pro For WooCommerce
Product Feed Pro For WooCommerce is an amazing Google product feed plugin for creating free shopping feeds. It's more of a channel-oriented plugin that generates product feeds for over 200 channels.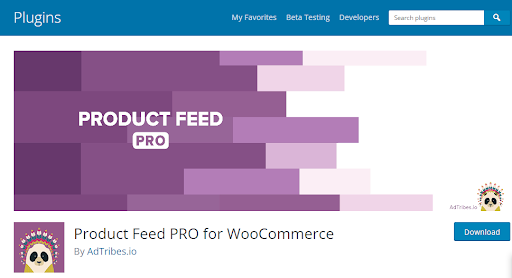 This plugin will allow you to add specific fields and attributes that meet Google's standards but are not available in WooCommerce as default.
The best feature is that you can make as many products feed as you like without any limitations. You can manage multiple feeds in one place.
Features:
The most advanced feature of this plugin is the ability to set the shipping zone and shipping class.
The plugin also incorporates Google Analytics so you can track the efficacy of your ads.
The ability to add and manage various product feeds, as well as support for product variants.
You can use the scheduling function to automatically update your product feeds.

#3 ELEX WooCommerce Google Shopping
ELEX is a product feed plugin that helps online stores in optimizing their Google Shopping campaigns. It is intended to make creating and managing Google Shopping product feeds for WooCommerce store owners easier.

It also improves their product visibility on Google Search Network.
Just like other plugins, you can update your products regularly. It means you can keep your WooCommerce store updated as per the audience's choice. You can even run ads to generate more sales.
Features:
The ELEX WooCommerce Google Shopping plugin, like other plugins, can automatically generate product feeds.
This plugin also has advanced filtering options and powerful attributions.
With the use of Google Product Feed attributes, WooCommerce stores can map any custom field.
You can build product feeds in the language of your target country to reach more prospective customers.
Many fields may be managed through the interactive dashboard.
The variants of your WooCommerce items are shown in the Google Shopping Feed.

Let us now discuss the cost of this plugin.
Pricing: The basic package is $69 per year and includes all new updates and customer support throughout the year.
#4 CTX Feed Plugin
CTX Feed is yet another exciting Google Product Feed plugin that allows you to display product feeds on Google Shopping easily.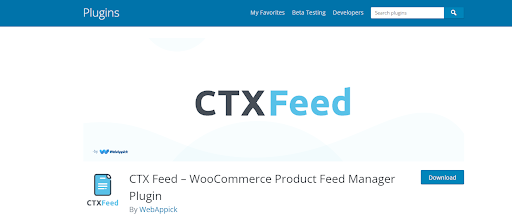 It helps in creating product feeds for other platforms such as Facebook Catalog Feed, Instagram Catalog Feed, Pinterest Shopping Feed, eBay ads, and many others.
This plugin is compatible with over 100 channels, you can now display your product feeds across multiple channels, acquiring more potential customers and increasing sales. It lets you add different product attributes such as color, size, brand, measurements, etc.
If you want to know more about the effectiveness of this plugin for your WooCommerce store, let's look at some features of the CTX feed plugin.
Features:
CTX feed supports over 100 channels, allowing you to fully extend the reach of your eCommerce shop.
This plugin supports an infinite number of products and feeds, as well as over 100 pre-built templates and access to any product feed file format.
In only a few clicks, you'll be able to remove unoptimized goods from your feed.
It offers a smart filter option that allows you to exclude products that you do not want to promote.
Pricing: When it comes to pricing, the CTX Feed plugin is on the higher side. For a single website, this plugin costs $119.
#5 Conversios.io ( All-In-One Google Analytics, Pixels, And Product Feed Manager For WooCommerce)

Conversios.io is an all-in-one woocommerce plugin that automates your product feed sync to Google Merchant Center to create high-performing Performance max ads for your WooCommerce products.
You can sync unlimited products to Google Merchant Center and manage them with the help of this plugin. Do batch and scheduled sync of 10,000+ products at once. This woocommerce plugin helps you to integrate Google Analytics, Meta Pixel, and 5 other marketing pixels with a click.
Now, Sync unlimited products from your WooCommerce shop to Google Merchant Center with a click.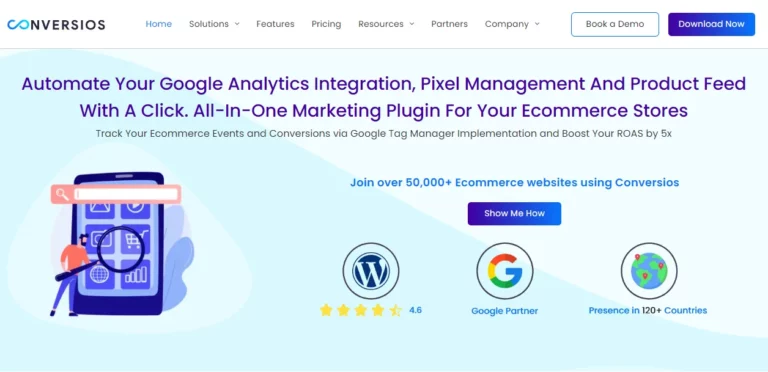 Features of Conversios plugin for Product Feed Manager
Conversios.io has no-code GTM-based implementation. So, it has no impact on your site speed and requires no coding. You can also use your own GTM container with 70 tags and triggers.
Schedule and Batch sync more than 10,000 products with a click
Run Performance Max ads from the dashboard and check their performance.
Add unlimited products for sync and track the status of the products in real-time, whether they are approved or not.
Refer to the Product Sync functionality of Conversios.io below👇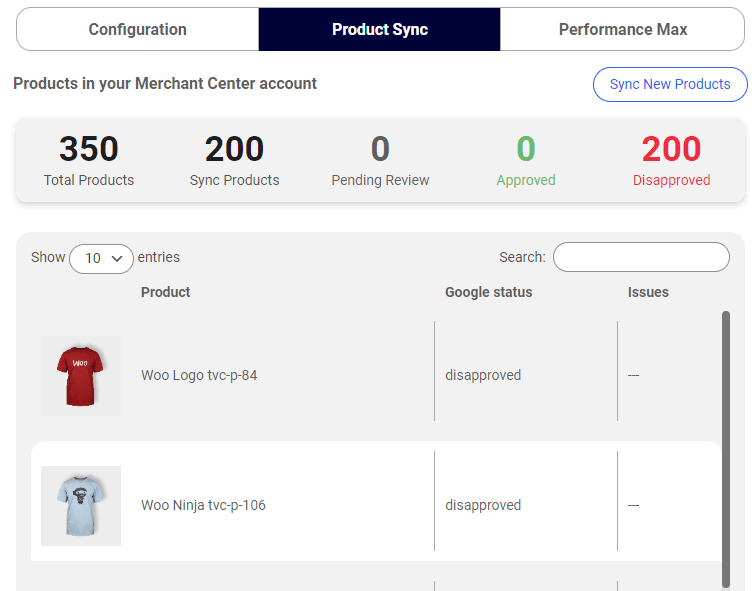 You can see all the information about your product sync in the Conversios plugin. You can even sync new products whenever you want.
The conversios plugin also allows you to manage your pixel settings. With the Pixel settings, you may track user behavior from multiple social media platforms such as Facebook/Instagram, Microsoft Ads, Snapchat, Pinterest, Twitter, and TikTok.
Not too surprising but an amazingly helpful feature of Conversios is you can manage your Performance Max campaigns from the dashboard itself.
You can categorize your items using the filter and share them with Google Merchant Center to run personalized ads for potential buyers. It indicates that customers who have previously shown a desire to purchase that product will see your ads.
Pricing: This pricing of the All-In-One tool is reasonable since you can add WooCommerce automation to your store for the price of four cups of coffee.
Which One is The Best Google Product Feed Plugin?
We have made a list of the 5 best product feed plugins based on their functionalities and pricing. You can refer them and install the one that suits your requirement.
In the list, we have the Conversios plugin, which is an all-in-one woocommerce plugin having functionalities of three plugins, i.e. google analytics, pixel manager, and product feed manager plugin. It helps you to connect Meta Pixel, and 5 other marketing pixels along with Google Analytics. The GTM implementation ensures that everything remains seamless.
We also found the "Product Feed Manager For Woocommerce" plugin fascinating. With the scheduled and batch sync features, this plugin becomes unbeatable. It can sync unlimited products to Google Merchant Center with more than 10,000+ products at once! Download the best product feed plugin below👇