A product feed manager plugin is one such solution that enables you to push your product data accurately, efficiently & effortlessly.
Now, you probably find yourself in a dilemma of which product feed plugin to choose for your Ecommerce store, isn't it? Here we have mentioned some impactful features of Conversios Product Feed Manager For WooCommerce that make your product feed management easier.
Let's look at some features of the Conversios plugin. If you know about the features of the product feed management tool, check for benefits of product feed to Google Merchant Center. If not, Let's look into the features first.
Reasons Why Conversios Is A Better Choice For Product Feed To Google Merchant Center
1.API-based Product Feed
Content API-based product feed is a method of providing product information to Google Merchant Center through an API rather than manually uploading a file. Content API allows for automated and real-time syncing of product data.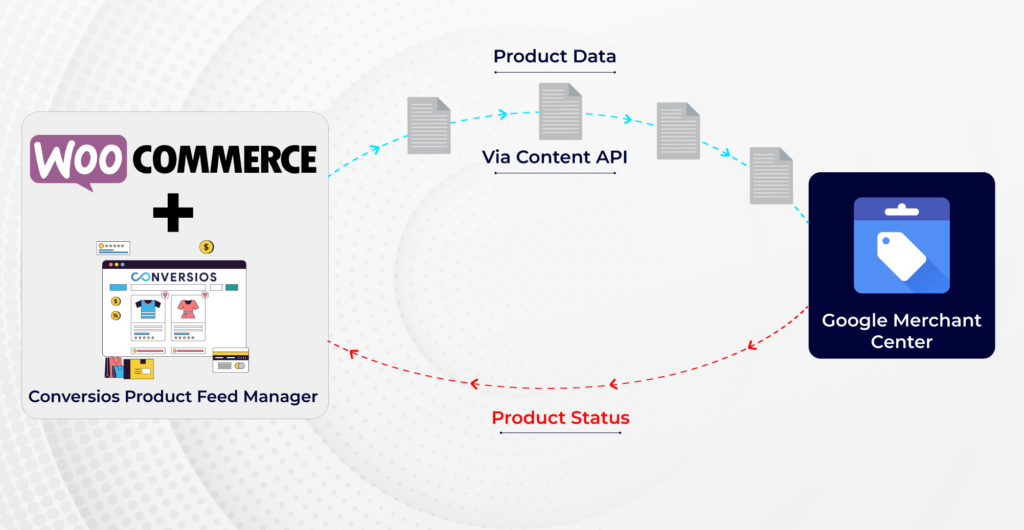 The content API feature enables Ecommerce businesses to directly integrate their e-commerce systems with the platform, ensuring that any updates or changes to product information are reflected immediately in the product feed.
Conversios Content API-based product feed method offers greater flexibility, efficiency, and accuracy in managing and updating product data for your E-commerce store.
2.Feed Management
Feed management in Product Feed Manager for WooCommerce refers to the process of organizing, optimizing, and controlling the product data feeds that are generated for various e-commerce channels or platforms.
The Conversios plugin provides a centralized interface to manage product data, ensuring that it meets the requirements of different channels where the products are listed.
The feed management feature of the Conversios plugin will save time, enhance data quality, and maximize the visibility and performance of your products across various online platforms.
3.Advanced Product Filters
Advanced Filter is a remarkable feature of Conversios Product Feed for WooCommerce. This feature helps you include or remove products based on filters. Advanced filters enable you to put certain conditions on products based on various attributes. Here are some main attributes:
Title
Product id
Description
Price
Availability

For example; you want 'Red' color products to display for the 'Christmas Sale'. You can use the advanced filter option to gather all the products with that category.
4.Get real-time product status with an error description
Once you submit a product feed to Google Merchant Center, you have to wait for the approval status to display your products in Google Shopping and other channels. Here, the Conversios WooCommerce plugin shows the product status with error description (In case the product gets a disapproval status) in the plugin itself.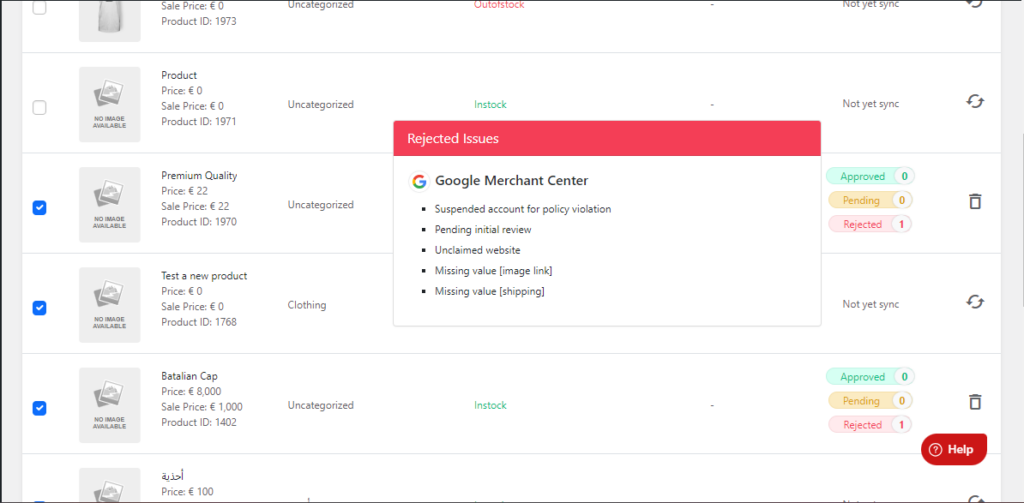 You can check the error descriptions and resolve the errors to submit the product feed for re-approval within the plugin. We have curated some common Google Merchant Center Errors and ways to fix them.
5.Auto-schedule for Updating Products
For instance, you are having a clothing Ecommerce store. You want to display a product feed named 'Men's Wear' every 24 days. In the Conversios WooCommerce plugin, you can Set feeds-wise auto-schedule for updating the products in your Google Merchant Center.
Whether you want to do it weekly or daily- you can do it with ease- all thanks to Conversios Product Feed Manager for WooCommerce.
6.Sync Unlimited Products
With Conversios, you can sync products to Google Merchant Center without any limitations. The product Feed manager for Woocommerce also enables batch-wise product sync that is compatible with more than 100,000+ products.
7.Domain Claim & Site Verification
Domain claim & site verification are important aspects while you are doing product feed to Google Merchant Center. It ensures you are the owner of this Ecommerce site associated with the Google Merchant Center. By verifying your domain and site, you ensure that only authorized individuals can manage your product listings, build a reliable online presence, and optimize your product feed for better visibility of your products.
Usually, after these steps are completed, you won't have to verify again.
If you've lost your website claim, use this troubleshooting guide to learn why this might have happened and what you can do to fix it.
With Conversios Product Feed Manager For WooCommerce, you can claim your domain & verify your site in just 1 click. You don't need to change the tabs and download other apps for it.
Conversios- The Best WooCommerce Tool To Manage Your Product Feed to Google Merchant Center
Conversios is a unique platform that excels in managing product feeds for WooCommerce efficiently. It truly empowers WooCommerce businesses to easily optimize and share product data to various E-commerce channels. All thanks to its rich feature set, user-friendly interface, and no-code functionality.
Conversios Product Feed Manager For WooCommerce can assist your e-commerce business achieve new heights by utilizing the potential of smart feed management.
Do you want all the above features in one plugin?
If yes, Download the Conversios Product Feed Manager For WooCommerce Plugin Now!
If not, you will surely get to know about Conversios plugin from your competitors' strategy for sure!