In 2012, Google changed the way price comparison and visual product search operated. It introduced a pay-to-play approach administered directly through AdWords (now Google Ads).
Now, Google Shopping allows businesses to visually display their products at the top of search results. It includes accurate pricing and delivery information. Google Shopping campaigns, which are driven by Google Ads and Google Merchant Center (GMC), are an essential part of an eCommerce advertiser's arsenal. For high-intent searches, that is – people who are looking for your specific goods— Google Shopping campaigns allows you to land at the top of the SERP. The prime real estate, complete with a visual and pricing of your product.
What is the basic functioning need of Google Shopping Ads
If you guessed Google Merchant Center, you're right. You can't execute Google Shopping campaigns until you have up-to-date and optimal product information in Google Merchant Center. And, to be eligible for Google Smart Shopping Ads, you'll need to have a Google Merchant Center account.
Let's dig deep into the backbone of successful Shopping Ads and see how the fusion of GMC and Smart Ads can bring great power to your campaigns.
Google Merchant Center: Key features and benefits
With GMC, you can manage all your products using a feed. Google Shopping Ads then pull product details and images directly from your store feed. This means, you can start marketing a new product without having to create new banners. It also means you can sync your inventory with your advertising. And you don't waste money on advertising products that are no longer available or are out of stock.
As for Smart Shopping Ads, Google's machine learning leverages your product feed to build and deliver a range of advertising across the networks. This includes the Google Search Network, Google Display Network, YouTube, and Gmail. They automatically test various combinations of the image and text assets you give. Then pick and display the most appropriate combination ads format matching the context and intent.
If an early stage merchant is expecting a great conversion rate, but is unaware of manual management of campaigns, Smart Google Shopping Campaigns come as a blessing in disguise. The most important benefit here is the ease of setting up this campaign. As the machine takes care of all the tough decisions including testing factors, manual bidding, and managing the campaign with ad groups. In a nutshell, the product grouping and effective targeting are taken care of by a smart algorithm.
Smart Shopping feeds your advertising into Google Display and YouTube automatically.
It will then try to discover the same type of people who converted on Search and target them via Display using machine learning.
Google Merchant Center: Quick Look!
Google Merchant Center is a platform for uploading product lists to Google Store, Google Product Ads, and Google Market Search.
Get ready to publish your products through the Merchant Center. You'll need to format your product data to meet the product data Google feed requirements. There are design standards that explain how to use the data to comprehend it.
To create successful advertising and free listings of your products, you must provide your product data to Google in the designated formats and specs. This information is used by Google to ensure that it is matched to the correct queries. Here is a detailed list of attributes that you need to pass. It is a part of product information to enable Google with successful ads and free listings.
Additionally, there are guidelines defined by Google for a successful Merchant Center onboarding. You can find it here.
Does this all sound overwhelming and time-consuming? We've got you covered with a powerful eCommerce plugin – Conversios. The plaugin combines all three Google tools into a single dashboard; before you can finish your hot coffee. Now, you can focus more on campaign strategies and performance.
Value-Added features with Conversios plugin
One of the key features of the Google Merchant Center with Conversios is the complete automation of Google Shopping. This is auto-sync of scheduled product feeds. The automation allows the management of campaigns run by Ads smoother and hassle-free for business owners.
When activated, Conversios connects your Google Analytics account to your Google Ads account. You may view campaign performance data in Google Analytics. You can import critical eCommerce metrics such as conversions, goals, and more from Google Analytics to Google Ads. The report identifies audiences for remarketing campaigns.
Additionally, Smart Campaigns can be created directly using the plugin. Just follow simple steps of linking the Ads Account and putting the information of Google Merchant Centers' business URL. And that's it! The necessary and basic information of product feed is provided to Google Ecosystem (to successfully run the Smart Campaigns) from Merchant Center via Conversios. This does not require manual inputs. The automation keeps updating it regularly so you can better target in remarketing campaigns. Conversios plugin truly makes this product sync process a blissful shortcut.
Client Speak
What can be more promising than the excellent feedback and reviews of our eCommerce plugin clients! And closing the argument in favor of Conversios.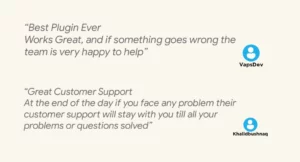 Taking the labor out of repeatable tasks by automation is key to smart working. Creating a single dash board for all three Google tools not only automates and allows smart working, it also gives single view of your marketing and spend. Do let us know, what queries and feedback you have. We are happy to help and incorporate improvements.