Welcome, e-commerce aficionados! Today, we're diving into the thrilling world of data analysis, where numbers hold the key to unlocking your Shopify store's success.
Google Analytics 4 for Shopify is your secret weapon for growing your Shopify store quickly. It's the best way to track your visitors, understand their behavior, and see what's working (and not working) on your site.
But setting up Google Analytics 4 can be a bit of a pain in the neck. That's why we are here to help.
In this blog post, I'll walk you through the process step-by-step, in a way that even an E-commerce beginner could understand.
We'll keep things light, breezy, and oh-so-easy to understand. Whether you're a tech expert or just dipping your toes into the online retail waters, we've got you covered.
Let's have a look at what we are going to understand:
What is Google Analytics 4?
Why is it important to track conversions for Shopify?
Do I Really Need GA4 If I Already Have Shopify Analytics?
Steps To Integrate Google Analytics 4 To Your Shopify Store
What Are The Standard Metrics To Know In Google Analytics For Shopify
What Is Google Analytics 4?
Google Analytics 4 (GA4) is the latest version of the popular web analytics platform offered by Google. It is designed to provide businesses with valuable insights into user behavior and website performance.
GA4 uses event-based data instead of session-based data, which means you can track your customers' behavior more accurately. It also includes built-in machine learning capabilities, so you can get insights that you wouldn't be able to see with traditional analytics platforms.
If you're looking for a more powerful and future-proof analytics platform, then Google Analytics 4 is a great option. Check Google Analytics 4 for Shopify app and start tracking user behavior today!
Why is it important to track conversions for Shopify?
Running an online store on Shopify is like sailing a ship on the open sea. It's easy to get lost in the vastness of the internet without a proper compass.
But fear not, conversion tracking is your North Star.
It guides you to your destination by showing you which marketing campaigns are actually driving sales.
Imagine being able to see the exact journey your customers take before making a purchase. With conversion tracking, you can track every click, every add-to-cart, and every checkout. This data empowers you to optimize your marketing strategy, ensuring you're not just throwing money into the wind.
Don't let your ship drift aimlessly, set your course with conversion tracking and watch your sales soar.
Do I Really Need GA4 If I Already Have Shopify Analytics?
You might think, Why should I connect Google Analytics with my store if Shopify Analytics is already present?
Well, those who understand the value of Google Analytics have already integrated it with their Shopify website long ago. For those who haven't integrated yet, here is a comparison to make it simple for you.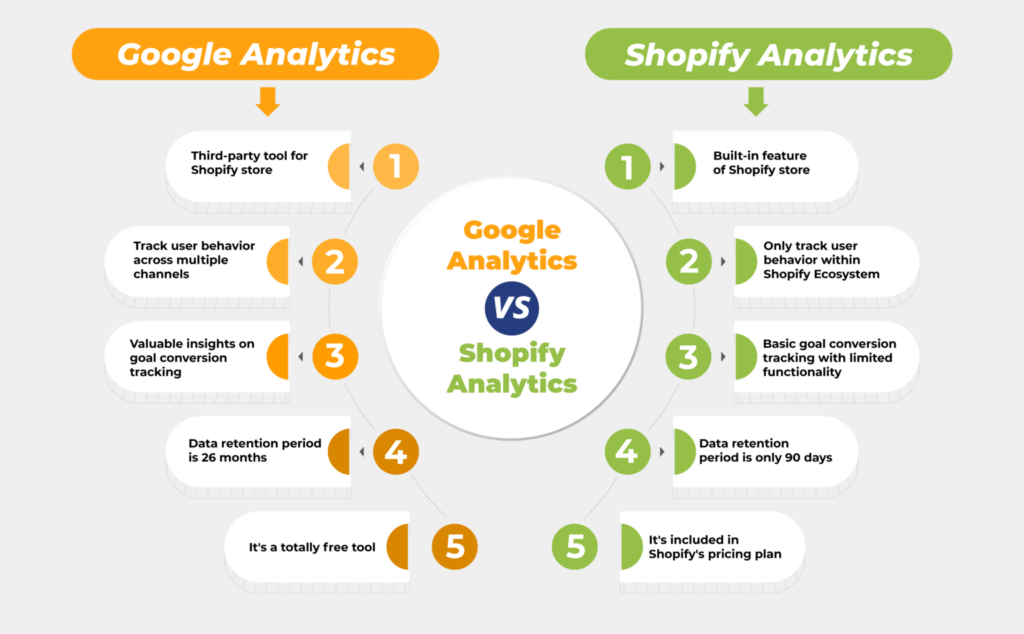 Reasons Why You Can't Solely Rely On Shopify Analytics Data
Surely, Shopify Analytics have their merit- but they don't come close to matching the potential of Google Analytics for Shopify. Here are a few points that prove why you don't rely on Shopify Analytics.
Shopify Analytics has the ability to control you.
What if you wish to switch to another shopping cart platform later on? Do you want to lose your whole history of ecommerce analytics and reports? You don't have to worry about it if you use Google Analytics 4 for Shopify as a web analytics tool. You can keep the same properties intact no matter where you decide to move your store.
Limited Plan of Shopify Analytics can limit you.
If you have the best Shopify plan; you only have access to basic sales reports. You need to pay additional cost to standard Shopify reports. & Only Shopify members have access to comprehensive reports. Google Analytics 4 will give you more enhanced reports, that too without paying any charges.
Shopify Analytics does not support Cross-domain tracking.
Shopify does not have native support for cross-domain tracking, which refers to tracking user interactions across multiple related domains. However, it is still possible to achieve cross-domain tracking with Google Analytics 4 for Shopify stores by making some minor JavaScript and HTML adjustments.
The best thing is Shopify makes it easy to install Google Analytics 4. And Conversios GA4 app makes it easier.
Steps To Integrate Google Analytics 4 For Shopify Store
Although it's a very simple process to make things easier for you, we've compiled a step-by-step guide on how to integrate Google Analytics 4 to your Shopify Store.

Step 1: Set up Your GA4 Property
Create a Google Analytics 4 account or create a new one. Follow the navigation to create a GA4 Property.
GA4 > Admin > Create Property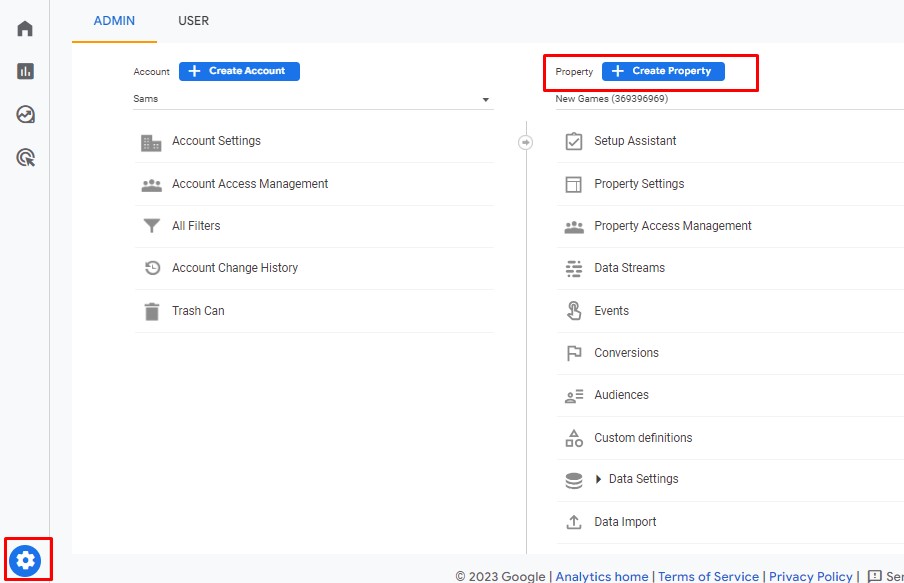 Once you click on it, you will reach a new interface. Just finish the prompt with necessary details. These are the prompts you need to complete in order to get your 'GA4 Measurement ID'.
Property Creation
Business Detail
Business Objective
Data Collection
Step 2: Get Your GA4 Measurement ID
Once you finish the prompts, you just need to create a stream. ( It requires a few details of yours).
Now, you will get the 'GA4 Measurement ID'. You just need to copy it from here.

Step 3: Download and Install the Google Analytics 4 for Shopify App
Conversios is an app that allows you to integrate Google Analytics into your Shopify website through GTM-based implementation. It assists you in understanding where your customers are coming from and how they are navigating your Shopify store.
You can identify the Ecommerce funnel gaps, so you can improve your conversion and ROI.
The best thing about the Conversios plugin is that you can use your own Google Tag Manager container with 70+ tags and triggers without affecting the site speed.
"Make your Shopify store a web-sational talk of the town. "
Before going into the next step, make sure to install the Conversios app. It makes your GA4 integration process a lot easier and faster.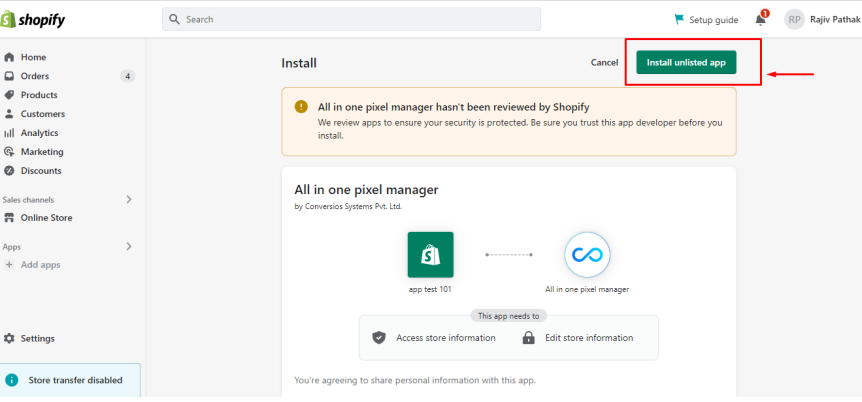 Add Property ID ( For UA) or Measurement ID ( For GA4) and other details such as website URL & Email associated with your Shopify store (Whether you want to get data from Universal Analytics or Google Analytics 4- the choice is up to you )
Step 4: Enter the GA4 Measurement ID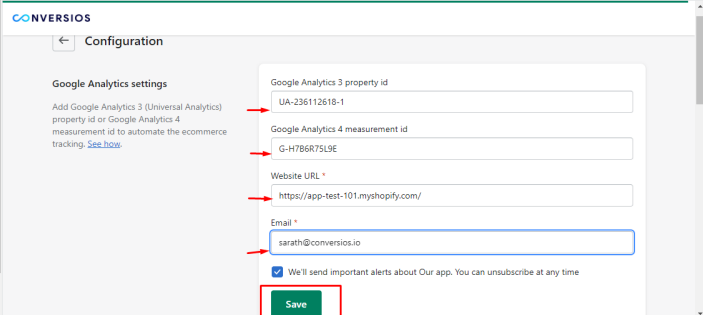 Click on 'Save' to proceed further.
Now you'll be redirected to the interface as shown in the below image
You need to perform two actions on this page: (1) Copy the code (2) Click on 'Go to settings'.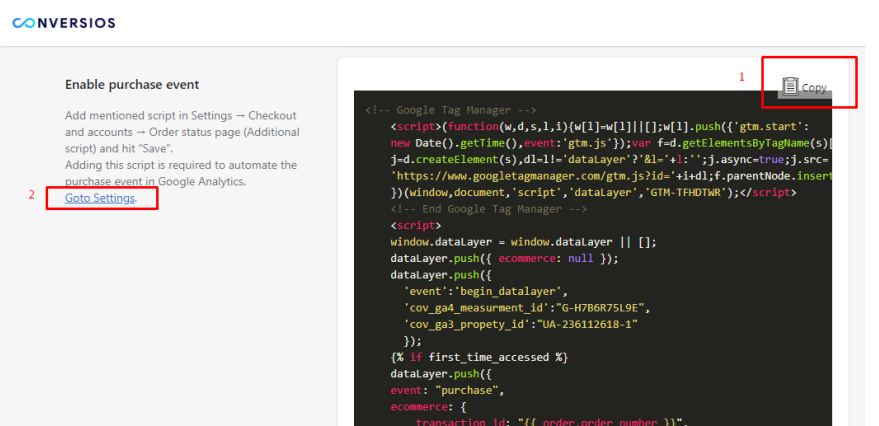 Now
You'll be redirected to a new page; just scroll down & select 'Order Status page'. Paste the code you have copied.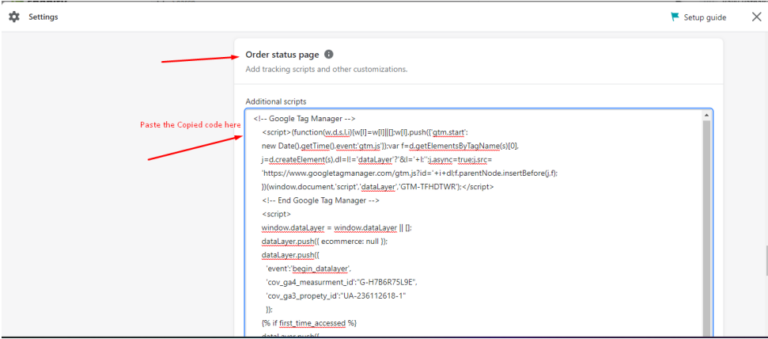 After clicking on 'Save' you'll find a screen as shown in the screenshot
The final step is to click on 'Activate Block 1' & 'Activate Block 2'.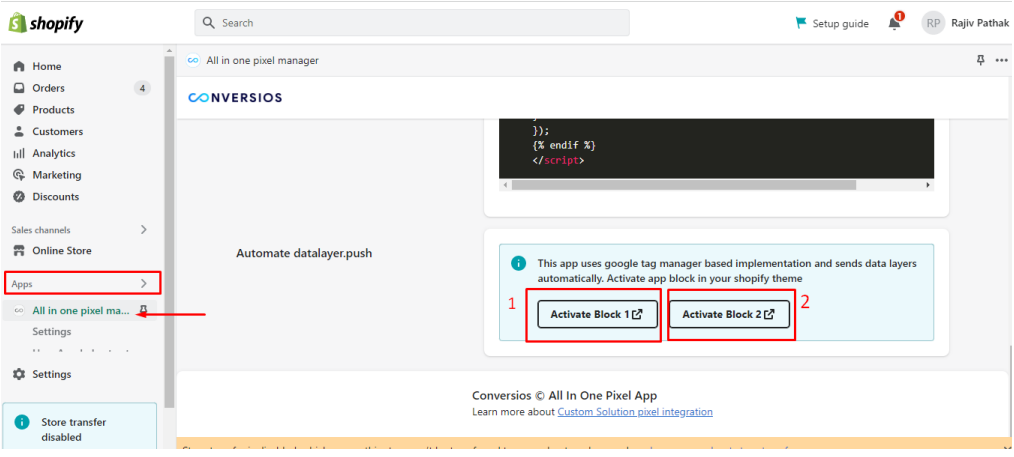 Once you done with these simple steps- you can integrate Google Analytics app to your Shopify store. If you find any difficulty- take our help by connecting with us at [email protected] now.
Now, you have successfully setup your Google Analytics 4 for Shopify. What's next? The next thing is which standard metrics you have to track in Google Analytics for Shopify? Let's check it out.
What Are The Standard Metrics To Know In Google Analytics 4 For Shopify
1.Sessions: The total number of times visitors interacted with your Shopify store during a given period.
2. Users: The total number of unique visitors to your Shopify store is represented by this metric.
3. Conversion Rate: The percentage of visitors who completed a desired action on your Shopify store, such as making a purchase, is represented by this metric.
4. Average Order Value: This is the average amount that customers spend on each order.
5. Revenue: The total revenue generated by your Shopify store over a specific period is displayed here.
6. Abandoned Cart Rate: This metric displays the percentage of visitors who added items to their cart but did not complete the purchase.
7. Traffic Sources: This metric identifies the source of your website traffic, such as organic search, paid search, social media, or direct traffic.
8. Product Performance: This metric displays the performance of individual Shopify products, such as the number of purchases, revenue generated, and conversion rate.
9. Customer Lifetime Value: This metric displays the total value of a customer's purchases throughout their relationship with the company.
10. Refund Rate: This metric displays the percentage of refunded orders.
Understanding these key metrics can help you track your Shopify store's performance, identify areas for improvement, and make data-driven decisions to boost your online sales.
In The Final Analysis
Setting up Google Analytics conversion tracking on your Shopify store is a crucial step toward understanding and improving the performance of your online business.
With the detailed instructions we've provided, you can quickly add Google Analytics conversion tracking to your Shopify store and start learning useful details about the behavior of your customers.
To optimize the performance of your online store, don't forget to frequently monitor your data and make adjustments as necessary.
Conversios app makes it simpler for you to keep track of various Ecommerce Events and whole user journeys with reports like Shopping Behavior Analysis, Checkout behavior Analysis, Product Performance Report, Sales Performance Report, and many more!
Data-driven decision-making can mean the difference between a successful and a struggling business in today's competitive e-commerce environment. Utilizing Google Analytics will help you stay on top of things and expand your Shopify store to new heights.
Check out Conversios Google Analytics App for Shopify Store, their features, user manual, well-tailored documentation, and impeccable customer support.
Thanks for reading! If you like the guide, share it with your Shopify enthusiasts and tell them about a effectiveness of Conversios for integrating Google Analytics App For Shopify store.