A Shopify store without Google Analytics is equivalent to a driverless car. It might take you where you want to but the control won't be in your hands.
Imagine you run a campaign and it went viral and brought thousands of customers to your Shopify store but you aren't able to track that campaign because you do multichannel marketing and haven't installed Google Analytics.
Believe us, you don't want this to happen!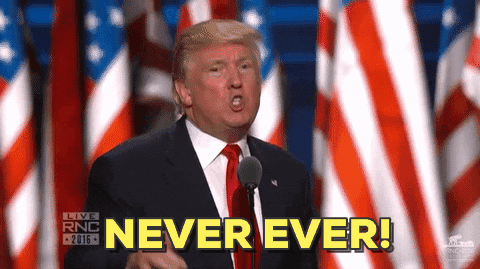 To avoid these kinds of situations and track every metric for your Shopify website, scroll along with us in this guide as we walk you through the process of integrating Google Analytics into your Shopify store.
We will also look at Ecommerce tracking and the key metrics you need to understand to optimize your website.
Importance Of Conversion Tracking In Shopify
Running an online store on Shopify is like sailing a ship on the open sea. It's easy to get lost in the vastness of the internet without a proper compass. But fear not, conversion tracking is your North Star. It guides you to your destination by showing you which marketing campaigns are actually driving sales.
Imagine being able to see the exact journey your customers take before making a purchase. With conversion tracking, you can track every click, every add-to-cart, and every checkout. This data empowers you to optimize your marketing strategy, ensuring you're not just throwing money into the wind.
Don't let your ship drift aimlessly, set your course with conversion tracking and watch your sales soar.
How To Setup Google Analytics For Shopify
If you want to grow your Shopify store; you should switch to Google Analytics data- instead of a bunch of assumptions.
" Measuring your data is the missing piece of your business puzzle that allows you to align your user interaction and marketing efforts."
You may be familiar with Google Analytics integration, benefits, and ease of use, still, if you have any questions about Google Analytics for Shopify, this guide will assist you.
Let's find the missing piece and put your Shopify store back together to make it a success.
What is Google Analytics and Why Is It Necessary?
Google Analytics is a free web analytics tool that provides website owners with data on their site's traffic.
It is a Google service that assists Shopify stores in understanding more about user behavior, allowing them to improve the experience and increase conversions.
You can track your audience by source/medium, geographic location, demographics, and many more metrics. With the session timing, you can get an idea about your audience's likes and dislikes which would help you to further improve your conversions.
But you might think, Why should I connect Google Analytics with my store if Shopify Analytics is already present?
Well, those who understand the value of Google Analytics have already integrated it with their Shopify website long ago.
For those who haven't integrated yet, here is a comparison to make it simple for you.
Google Analytics VS Shopify Analytics
Let's make it easier, just look at the main differences between these two.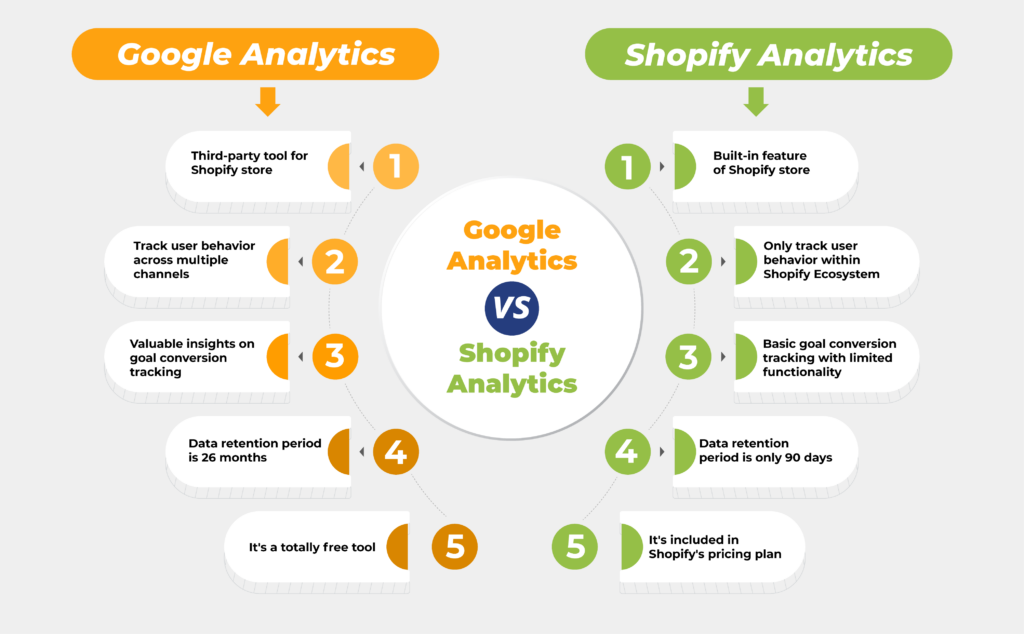 Shopify Analytics surely provides the information you want for your business, but it's only a general summary. You may find metrics of total sales, average order value, returning customer rate, etc.
Regardless of Shopify's analytics value proposition, it has limitations. You must pay to access advanced store metrics such as acquisition reports, inventory reports, and so on.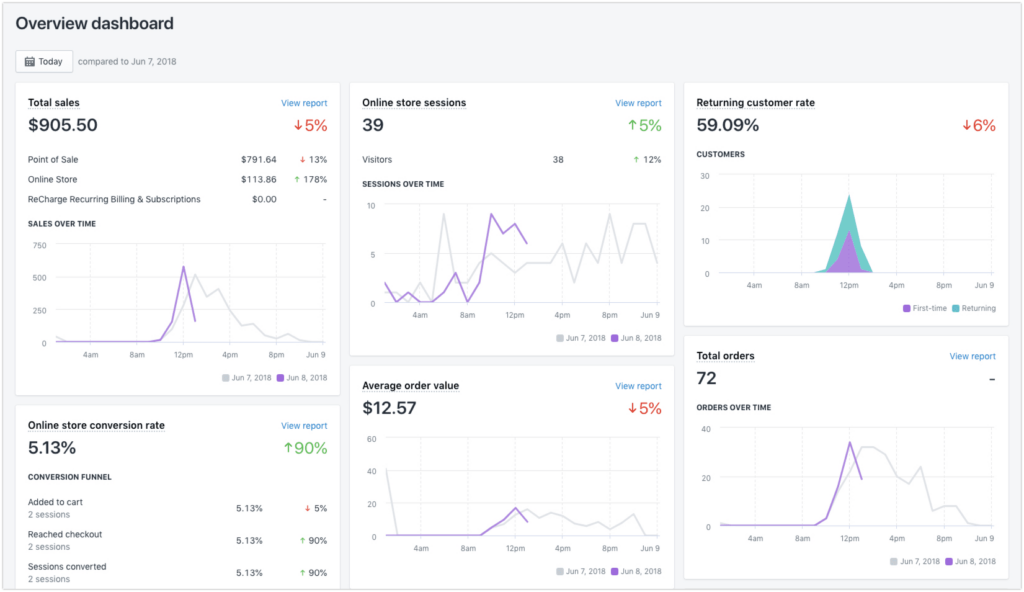 On the other hand
What pages do your users visit
How long do they stay on a page
What device do they use
Users by gender, age, interests & location
All of the information presented above is easily accessible in Google Analytics.
Once you've discovered your target audience, you can begin optimizing your Shopify store experience to maximize conversions.
In short… Shopify Analytics is a general summary whereas Google Analytics is a robust overview. With Google Analytics 4 being introduced, it becomes difficult to ignore Google Analytics now!
Now you are finding a way to implement GA code into your Shopify store, right?
Perfect! Let's have a look at the implementation of Google Analytics for the Shopify Store
How To Implement Google Analytics Code In Shopify Website
Although it's a very simple process to make things easier for you, we've compiled a step-by-step guide on how to integrate Google Analytics code into your Shopify website.

Step #1: Create A Google Account For Your Business ( Optional)
You may already have your Gmail account linked to your Shopify store, which is great. This is enough to get access to Google Analytics.
However, those who do not have a Google account must first create one. We recommend not using your personal Gmail for your Shopify store. It will protect you from future chaos.
Let's move forward to the next step.

Step #2: Create An Analytics Account
Once you are done with your Google account; you can go to analytics.google.com to create your analytics account.
In your Google Analytics dashboard go to 'Admin' and click on "Create Account"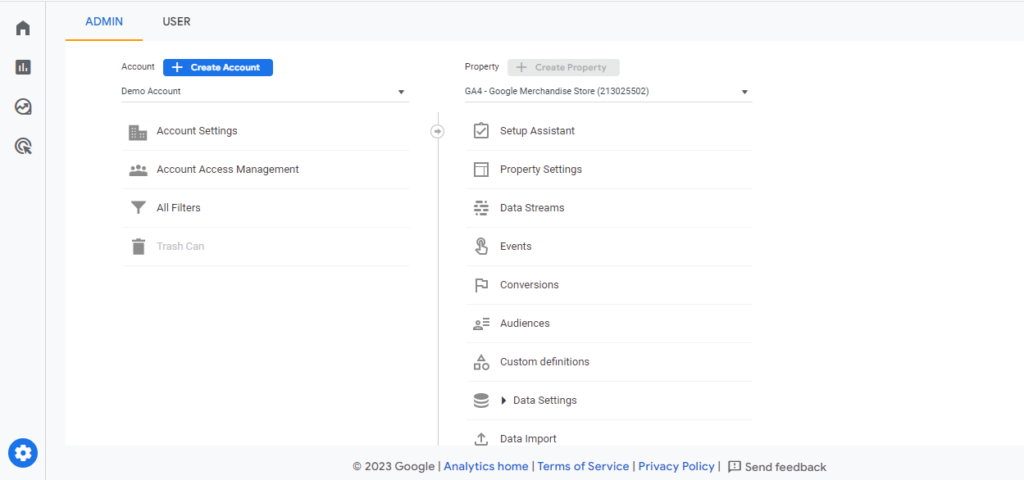 Enter your account name. Configure the data you shared with Google.
Click on 'Next'. It will take you to the property setup.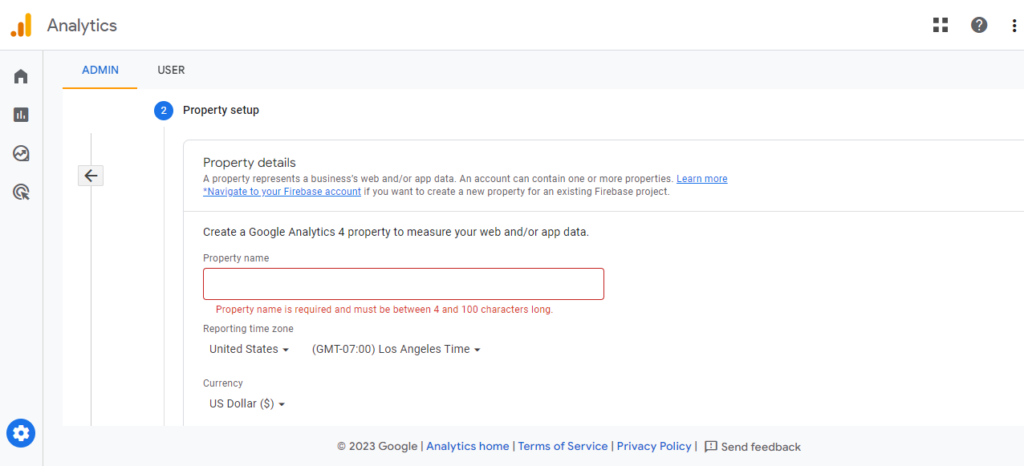 Create a Google Analytics 4 property to measure your web and/or app data ( Property name limits from 4 to 100 characters long)( you can add up to 2,000 properties of any combination of Universal Analytics and Google Analytics).
Add details of Reporting time zone, & Currency
Click on 'Next'
Now, you'll enter into the final step: tell about your business.
Select 'Industry Category' & choose the suitable category
Mention your 'business size' and 'business objective'
Click on 'Create' and you now have the access to your Analytics account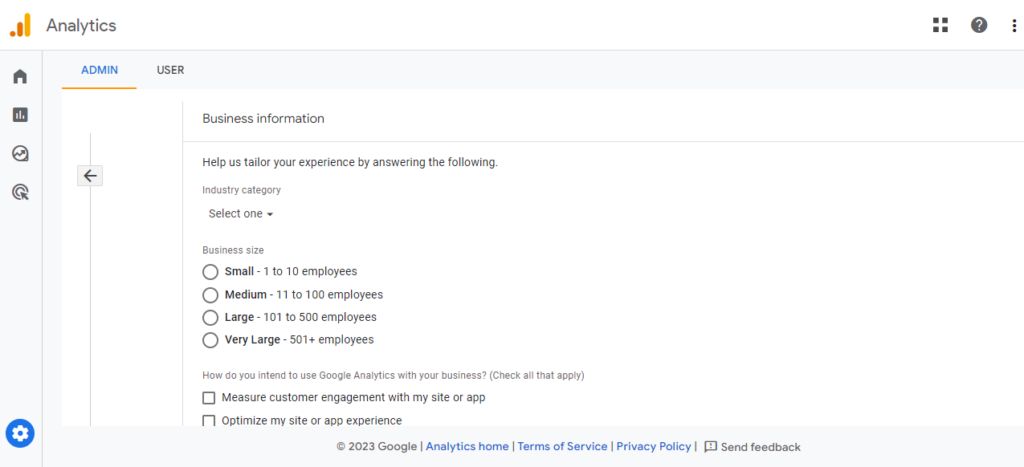 Step #3: Connect Shopify Store With Google Analytics
Once you are ready with your Google account and Analytics account; it's time to connect Google Analytics with your Shopify store.
Install the Google Analytics tracking code into the Shopify store. Follow the steps to do so.
In the Shopify admin, go to "Online Store" and click "Preferences".
Enter your Google Analytics tracking ID in the "Google Analytics" by scrolling down.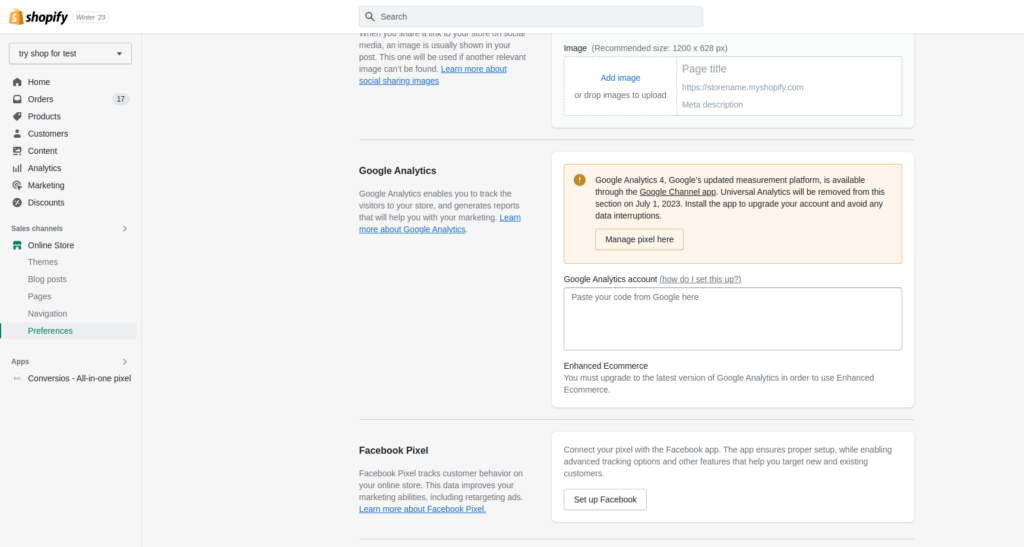 Click "Save" to connect your Shopify store with Google Analytics.
Verify Whether it is working or not
Go to your Shopify website and navigate to a few pages.
Go back to Google Analytics and now check the 'Real Time' on the left-side menu.
As you navigate through the pages, you will notice an increase in the number of visitors. Now you can begin using the data to improve your store's performance and drive more sales.
All set… you have all the things in place…. Go ahead.

Step #4: Install Conversios Google Analytics App For Shopify
Conversios is an app that allows you to integrate Google Analytics into your Shopify website through GTM-based implementation. It assists you in understanding where your customers are coming from and how they are navigating your Shopify store.
You can identify the Ecommerce funnel gaps, so you can improve your conversion and ROI.
The best thing about the Conversios plugin is that you can use your own Google Tag Manager container with 70+ tags and triggers without affecting the site speed.
"Make your Shopify store a web-sational talk of the town. "
Setup wizard to install Conversios App
Install 'The Conversios' app from the Shopify app store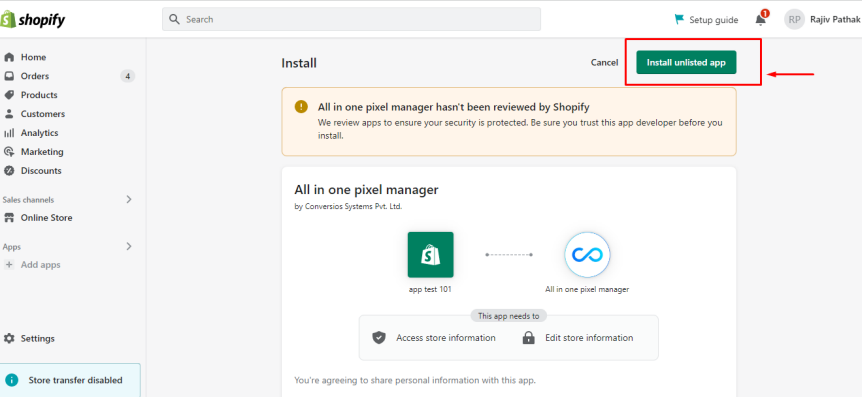 Add Property ID ( For UA) or Measurement ID ( For GA4) and other details such as website URL & Email associated with your Shopify store
(Whether you want to get data from Universal Analytics or Google Analytics 4- the choice is up to you )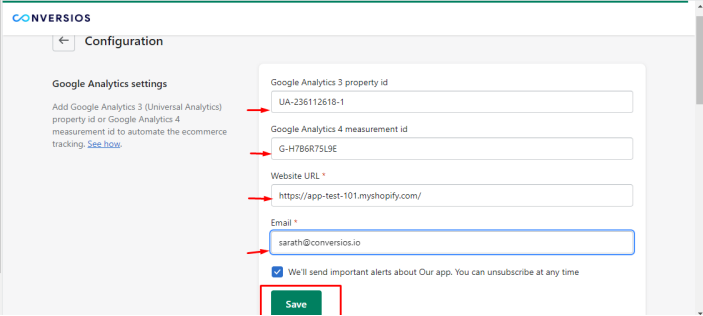 Click on 'Save' to proceed further.
Now you'll be redirected to the interface as shown in the below image
You need to perform two actions on this page: (1) Copy the code (2) Click on "Go to Settings"
Now
You'll be redirected to a new page; just scroll down & select 'Order Status page'. Paste the code you have copied.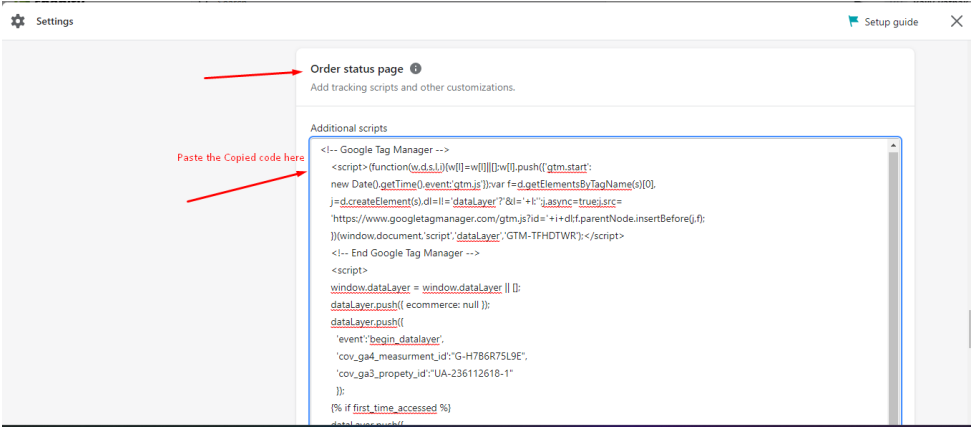 After clicking on 'Save' you'll find a screen as shown in the screenshot
The final step is to click on 'Activate Block 1' & 'Activate Block 2'.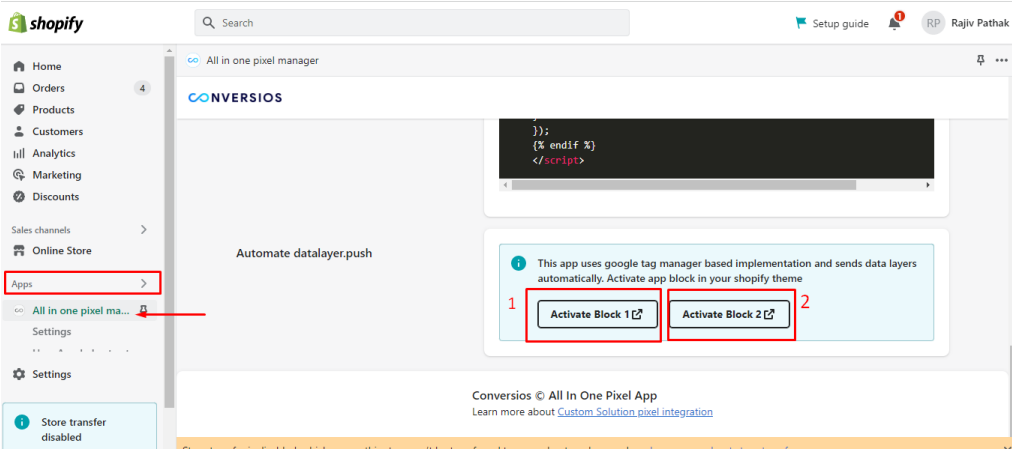 Check if the Google Analytics Tracking is set up in your store
Now you are all set to use this app for your Ecommerce tracking. Before anything, check whether Google Analytics tracking is set up in your store.
Navigate to the online store & click it to reach the storefront
Right-click on the storefront > select 'Inspect'
If you got a message on your 'Console', it means your app has been activated successfully.
If you won't get the message; type 'data layer' on Console
The code that appears on the console confirms data push to GA3 & Google Analytics 4.

Enable Ecommerce Tracking Code For Shopify
Enabling Ecommerce tracking provides you with detailed & accurate data on user behavior, allowing you to improve your website and increase sales.
For the Ecommerce tracking code, Shopify stores have two options. The first is basic Ecommerce tracking, and the second is enhanced Ecommerce tracking.
Let's take a look at how to enable each one individually.
Enabling Basic Ecommerce Tracking
You can get basic Ecommerce information such as transaction tracking and revenue generation data.
How to enable basic Ecommerce tracking:
Go to Google Analytics
Click on Admin settings > View > Ecommerce Settings

Go for Enable Ecommerce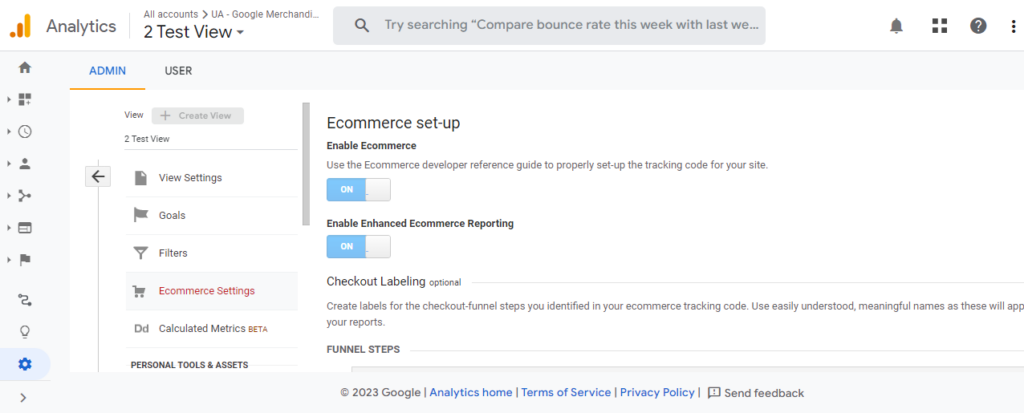 Enabling Enhanced Ecommerce Shopify Tracking
It is a level above basic Ecommerce tracking. You can monitor user activities such as what they have in their cart and whether or not they are making a purchase.
It will assist you in educating decision-making for your Shopify store.
How to enable Enhanced Ecommerce tracking For Shopify:
Go to the Shopify admin page
Navigate to Online store > go to preferences
Make sure you turn on the Ecommerce Enhance button in Google Analytics
Click on Admin settings > View > Ecommerce Settings
Go for Enable Ecommerce

So, whether you want basic Ecommerce tracking or Enhanced Ecommerce tracking– this guide will make it easy for you.
We learn from the details above that there are metrics to measure to improve your marketing efforts and, ultimately, your ROI.
A few of them are really important; let's talk about those.
Key Metrics To Know In Google Analytics For Shopify Store
Sessions: The total number of times visitors interacted with your Shopify store during a given period.
Users: The total number of unique visitors to your Shopify store is represented by this metric.
Conversion Rate: The percentage of visitors who completed a desired action on your Shopify store, such as making a purchase, is represented by this metric.
Average Order Value: This is the average amount that customers spend on each order.
Revenue: The total revenue generated by your Shopify store over a specific period is displayed here.
Abandoned Cart Rate: This metric displays the percentage of visitors who added items to their cart but did not complete the purchase.
Traffic Sources: This metric identifies the source of your website traffic, such as organic search, paid search, social media, or direct traffic.
Product Performance: This metric displays the performance of individual Shopify products, such as the number of purchases, revenue generated, and conversion rate.
Customer Lifetime Value: This metric displays the total value of a customer's purchases throughout their relationship with the company.
Refund Rate: This metric displays the percentage of refunded orders.
Understanding these key metrics can help you track your Shopify store's performance, identify areas for improvement, and make data-driven decisions to boost your online sales.
In The Final Analysis – Should You Setup Google Analytics or Not?
Setting up Google Analytics conversion tracking on your Shopify store is a crucial step toward understanding and improving the performance of your online business.
With the detailed instructions we've provided, you can quickly add Google Analytics conversion tracking to your Shopify store and start learning useful details about the behavior of your customers.
To optimize the performance of your online store, don't forget to frequently monitor your data and make adjustments as necessary.
Conversios app makes it simpler for you to keep track of various Ecommerce Events and whole user journeys with reports like Shopping Behavior Analysis, Checkout behavior Analysis, Product Performance Report, Sales Performance Report, and many more!
Data-driven decision-making can mean the difference between a successful and a struggling business in today's competitive e-commerce environment. Utilizing Google Analytics will help you stay on top of things and expand your Shopify store to new heights.
Check out Conversios Google Analytics App for Shopify Store, their features, user manual, well-tailored documentation, and impeccable customer support. You can also download Pixel Manager App For Shopify which would help you to integrate Meta Pixel, TikTok Pixel, Pinterest Pixel, and 3 other marketing pixels along with Google Analytics.
You have come a long way; so here's a Free Google Analytics app for your Shopify store