E-commerce merchants operate in an ultra-competitive environment. With wafer-thin margins and a fickle customer base,
they must generate conversions consistently at reasonable costs. While Google's text and image ads have always been
some of the most cost-effective ways to generate traffic, Google Shopping helps merchants increase conversion rates
and drive ROI on their ad spending.
What is Google Shopping?
About 40% of shoppers use Google when researching a product they plan to
buy in-store or online. Google Shopping is a Google Service that enables merchants to display their product listings
directly on the search engine result pages (SERPs). The product listings include the product name, image, pricing,
seller name, and other information. This service is available across 121 countries currently.
How does Google Shopping work?
Following are the steps to get started with Google Shopping Ads:
Create your Google Merchant Centre (GMC) account and upload your store details and product
listing information.
Link your Google Adwords account with your GMC account. It will enable the
shopping feed data to flow into your Google shopping ads.
Setup a Google shopping campaign in your Adwords account. This step lets you set the
budget, schedule, target locations, and other campaign parameters.
You must also set up conversion tracking to measure the effectiveness of your shopping campaigns and make
modifications to enhance their performance over time.
To learn above value integration of GA+GMC+Google shopping read here
Benefits of Google Shopping
Here is why Google Shopping campaigns have emerged as the first choice for e-commerce stores.
#1 Top-of-the-page Visibility
Product listing ads get displayed at the top of the first page results, above the text ads and organic results. It
also gives your website a chance to appear multiple times on the SERPs in the form of shopping ads, text ads, and
organic results.
#2 Appealing Visual Elements
Product images are the only visually appealing elements on the SERPs. They help break the clutter on the text-heavy
SERP and grab the user's attention.
#3 Stronger Buying Intent
Customers who click on shopping feed ads are much more likely to purchase because they already have the pricing
information and the product image before clicking.
#4 Higher ROAS
Shopping campaigns generate a higher conversion rate compared to text or image ads. It leads to a higher return on ad
spend (ROAS).
Google Shopping with WooCommerce
According to Builtwith, 26% of
e-commerce platforms use WooCommerce. It makes WooCommerce the most popular e-commerce technology in the
market today. If you use it to power your business, you can use a WooCommerce Google product feed plugin to
integrate Google Shopping features. You can install WooCommerce plugins easily from the WordPress admin dashboard.
More on this later in this article.
Learn to set up Google shopping with Woo Commerce here
5 Google Shopping features to Boost Conversions
Here are five exclusive features you can leverage while targeting customers using Google Shopping campaigns.
#1 Dynamic Remarketing
Dynamic remarketing shopping ads target users who have already visited your e-commerce website. It enables you to
tailor your ad messaging and product listing based on the shopping behaviour of the users you are targeting.
For example, you can create remarketing lists of users who have visited a particular page on your website, abandoned
their carts, or spent a substantial amount of time browsing the products or services. These are high intent users
and hence more likely to convert.
Remarketing campaigns enable you to deliver targeted shopping ads when users return to Google for their next
purchase. You can also increase your bids to ensure your ads appear before these users, thus increasing the chances
of conversion. Remarketing ads require Google analytics integration to work.
#2 Local Inventory Ads
As per Google's search data, 2021, searches for 'open now near me' have
grown globally by over 400% year on year. Many e-commerce merchants also offer their products through physical
stores or curbside pickups. Google shopping enables these merchants to target prospective customers nearby their
brick-and-mortar stores or pickup points.
Customers can instantly see the nearby shops offering the products they are searching for, along with the exact
location, directions, and working hours. It increases customer convenience and boosts conversion rates.
Merchants can also specify the in-store inventory products as ready for 'Pick-up Today' in the product listing ads.
If the products are unavailable, they can be marked as 'Pick-up later' or 'Curb-side pickup' and delivered within
predefined timelines.
#3 Performance Max Shopping Campaigns
A 2022 upgrade by Google – Performance Max campaigns – allows e-commerce merchants to
leverage state-of-the-art Machine Learning algorithms to increase the effectiveness of Google shopping ad campaigns.
With these, you only need to specify the budget, target locations, and bid strategy.
It could maximise the number of conversions or the value per conversion (the average order value). Once this is in
place, the performance max algorithm ensures higher conversions and higher ROAS than regular smart shopping
campaigns.
A performance max campaign enables merchants to include various media like images, videos, and text in the shopping
feed. Also, you can use this single easy-to-manage campaign to manage ads across Google Ads inventory like Google
search, maps, and YouTube.
#4 Promotions
This feature helps create time-bound promotional offers like discounts, cashback, gifts, or free shipping. They are
used heavily during the holidays and shopping festivals to drive conversions and sales.
You can configure product-wise promotions, offer validities, and other parameters in the GMC account. These details
become visible to shoppers on the shopping feed on the SERPs. If a shopper clicks on the promotion, a popup appears
that provides the promotion terms and guides the shopper to the product page.
Promotions help your product listing stand out from the competition. Per
Google data, ads with promotions saw an average increase of 28% in conversion rates.
#5 Deep Linking
Per Google research, 77% of smartphone shoppers are more likely to
purchase from brands whose mobile apps or websites allow quick purchases. Deep links enable you to send shoppers
directly to the relevant product page in your mobile app from the shopping campaign ad. It provides a seamless
experience to shoppers by providing the checkout and payment processes in the same flow. Deeplinking works across
Android and iOS apps.
There are several more features in the pipeline that will further help enhance conversion rates for Google Shopping.
Some include Augmented Reality (AR), video conversations, and loyalty program integration.
Boosting e-commerce conversion rates with GMC reports and Google Analytics
Google provides several analytical insights to improve the conversion rates of your Google shopping listings.
The following reports are available through the Google Merchant Centre account,
Bestsellers report: It shows the most popular products and
brands on sale in the shopping ads. It helps you discover best-selling products you can add to your inventory.
Price competitiveness report: It shows the prices at which other retailers are
selling your type of products and their relative performance. It helps you optimise pricing and design offers
and discounts.
Competitive visibility report: It shows how your ad position and visibility
stand compared to the competition and top merchants. It helps you optimise bid strategies and improve product
listings for better ad ranking on the SERPs.
Google Analytics provides insightful dashboards with the following data for campaign conversion analysis.
Shopping behaviour tracking: It shows the customer purchase journey from the landing page of
your website or app to the final payment page. It helps understand dropoff rates at each stage and take
corrective actions to increase conversion rates.
Conversion tracking: It shows the conversion rates for each Google shopping campaign. It helps
understand the most effective campaign settings, ad designs, and promotional offers.
Checkout behaviour tracking: It shows the customer behaviour during the checkout process. It
helps understand possible reasons for cart abandonments and payment failures and make necessary changes.
How to start using Google Shopping with WooCommerce?
Assuming you have set up an e-commerce store using WooCommerce, you must select a plugin that integrates the complete
Google ecosystem. It is easier to use a single interface to manage multiple apps like Google Analytics, Google
Shopping, Google Adwords, and the Google Merchant Centre rather than using individual plugins for each application.
Conversios is a lightweight and
powerful WooCommerce plugin that does this.
Conversios helps you manage your GMC account for uploading the WooCommerce product feeds. Also, within the same
interface, it allows integrating your GMC account with your Adwords account to manage your smart shopping and
performance max campaigns. It automates conversion tracking and remarketing list generation with Google Analytics
integration. You can try the plugin for
free and upgrade to a premium plan with a 15-day money-back guarantee.
Link you GMC account with Conversios Plugin if not linked or you can create new if you don't have one.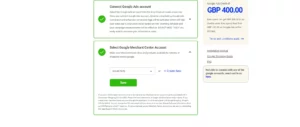 Go to Google shopping and you can sync your products with Merchant center, syncing of all your products are very
important for running campaigns.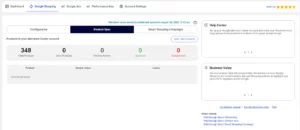 Check all your configurations before start the smart shopping campaigns and save

Create new smart shopping campaigns or check the performance of the old ones

With Conversios, it is super simple to reach millions of shoppers across Google by listing your products seamlessly on
the google merchant center with a few clicks. And if you wish to advertise your products on google, simply set a budget
and timeline, and BOOM! It's done.