Is it difficult for you to track how your website is performing?
Do you feel overwhelmed by the different analytics tools available?
Unable to decide which one to choose?
Well, keep your worries aside. Here we will do the showdown of two of the most popular analytics tools: Google Analytics and MonsterInsights.
Google Analytics & MonsterInsights are two of the most prominent analytics tools. Yet, picking one amongst them is difficult, isn't it? Let's start with a deep analysis of both of them!
What is Google Analytics?
Google Analytics is a free web analytics tool by Google. It allows website owners/marketers to track and analyze website traffic and user behavior. It provides valuable insights into how users are interacting with your website.
You can track various metrics such as what page they visit, how long they stay on the website, etc. With Google Analytics insights, you can make data-driven decisions about your marketing strategies. It is the most widely used web analytics tool in the world. It is available in both free and paid versions.
What are MonsterInsights?
MonsterInsights is a popular web analytics tool to integrate Google Analytics into your WordPress site. It makes adding the Google Analytics tracking code process much easier. It comes with an easy-to-use interface and a plethora of useful features.
MonsterInsights plugin can help you track useful metrics like website traffic, user behavior, bounce rates, conversion rates, etc on the dashboard. It's a powerful plugin for WordPress as millions of website owners use it as a trusted web analytics tool.
To get more such web analytics tools, explore the blog of 7 MonsterInsights Alternatives for 2023.
Google Analytics VS MonsterInsights: What are the Key Differences?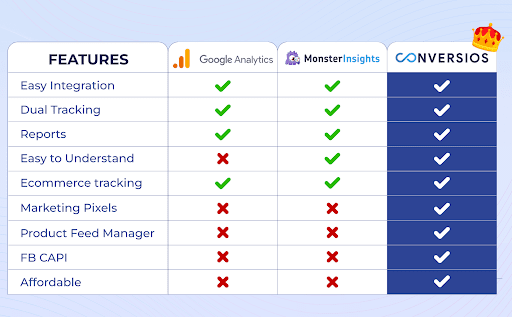 Let's make it more clear for you with the factor comparison of these two.
Ease of Use
Ease of use plays a vital role in ensuring a seamless tracking experience. Let's discover which of these two will earn more points here.
Google Analytics:
Requires initial setup and configuration, which can be a bit complex, especially if you are new to analytics.
Offers a wide range of features and customization options, making it a robust analytics platform.
Provides a comprehensive dashboard with detailed reports and metrics.
Requires some technical knowledge to navigate and understand the various metrics.
Offers advanced tracking capabilities but may require additional configuration for specific goals or events.
MonsterInsights:
Designed as a user-friendly WordPress plugin, making it extremely easy to install and set up.
Provides a simplified interface and user-friendly reports, suitable for users of all skill levels.
Offers a seamless integration with WordPress, allowing you to view analytics data directly within your WordPress dashboard.
Offers pre-built reports such as Publisher reports & eCommerce reports, making it quick and straightforward to access essential analytics insights.

Both have pros and cons. Google Analytics is good for advanced functionality, but trouble you in understanding the data. For MonsterInsights, is loaded with a user-friendly experience. But it is designed only for WordPress websites. If you have built your store on Shopify, Magento, or any other platform- you need to find an alternative.
Here you can comfortably rely on Conversios. Conversios have tools for all major Ecommerce platforms such as WooCommerce, Shopify & Magento. It is one of the best web analytics tool available for e-commerce store owners. You can integrate Google Analytics 4, Facebook Pixel, Facebook Conversions API and 5 other pixels with Google Tag Manager and that too without any code!
How cool is that? Moreover, you can also do unlimited product sync with more than 10,000+ products at once! Conversios Product Feed Manager helps you to manage product feed and do schedule and batch sync for Woocommerce and Magento.
Features
Here we come to the point where we can compare these two analytics tools: features. Both have truck-loaded features, but let's find features that will be more helpful for your Ecommerce business.
Google Analytics
Reports & Visualization: Google Analytics offers real-time reporting, allowing you to monitor the current activity. You can easily create reports and share them with just one click. From June 1st, 2023- Universal Analytics will stop getting hits. It means Google Analytics has a new update- Google Analytics 4. Google Analytics 4 breaks down the reports into four types: app developer, life cycle, user & real-time report.
Games reporting is especially for properties that use mobile apps.
You must migrate into GA4, whether it's today, tomorrow, or the month after. To make your migration easy, follow this guide for Google Analytics 4 migration now.
Funnel Analysis: With Google Analytics 4, you can track and analyze customer journey cycles and can make informed decisions. This feature of Google Analytics helps you strategically spend your money in the specific phase of the conversion cycle where it is most required.
Ecommerce tracking: E-commerce tracking will help businesses see which are the most or least popular pages. If there's one feature from ga4 that is helpful for you the most is 'E-commerce tracking'. You can convert almost every report into an Ecommerce report to have a clear picture of your marketing efforts. It eventually helps you make an informed decision that is beneficial for your Ecommerce business.
Smart Goals: You are spending money on your marketing campaigns, but do you know how they are performing? If not, then the smart goal feature of Google Analytics is for you. It enables the setting of various goals to measure the success and whether your campaign is achieving the goal or not.
The goal can be anything: it can be a newsletter subscription, it can be a purchase on your website, etc. To get good results, you must keep smart goals more strategically. Random goal setting can harm your business success as it will make a blurry picture of your campaigns.
Robust Integration: As Google Analytics is a trusted analytics tool by Google, it allows integration within Google platforms. The platforms are:
Google Ads
Google Adsense
Google Search Console
Data Studio
There are plenty of other features of Google Analytics that can make an impact on your business. Now let's move on to MonsterInsights features.
MonsterInsights
Google Analytics dashboard in WP admin: MonsterInsights enables seeing all important metrics directly on your WordPress dashboard. You can check user behavior by staying on the MonsterInsights dashboard, no need to explore other tabs.
You can track user behavior through some pre-built reports such as publisher reports, ecommerce reports, custom dimensions, real-time, site speed, media tracking, etc.
Dual Tracking: MonsterInsights allows you to track data only from Universal Analytics, only from Google Analytics 4, or from both. So, you can easily connect both your GA4 property and Universal Analytics property to WordPress.
Google Analytics will have a new update where you can only track GA4 events, not UA hits. In that case, MonsterInsights can be a helpful hand for your Ecommerce business to track user behavior.
If you are looking for a more reliable and feature-loaded analytics tool that also has dual tracking, Conversios is the one that can make a difference for you.
👉Try the best alternative to MonsterInsights today!
Advanced Ecommerce tracking: With MonsterInsights, you can easily track Ecommerce events with just one click. The tool will also show you the data like overall conversions, top-performing products, and other useful insights.
The best thing is you can do it without any coding. You don't need any custom development for it. In the case of Google Analytics, you must require some level of knowledge to track ecommerce conversions.
If you are searching for a no-code analytics tool for your Ecommerce business, check out the Conversios tool as well. It also has dual tracking and no-code functionality.
Yes… MonsterInsights will have an edge here compared to Google Analytics but Conversios outshines them both in terms of features and ease of use!
Pricing
You have come here means you have convinced yourself to get ahead with any of these two analytics tools. So, know the pricing of the analytics tool as well. Pricing is not a constraint for the agency or big-size Ecommerce stores- but surely a point of thinking for startups & small-size businesses. (PS: Even agencies are looking for affordable pricing for every tool they are using).
Google Analytics
Google Analytics mostly offers a free plan to access the features. It also has a paid version called 'Google Analytics 360'. It costs around $150,000 per year ( which is effectively $12,500 per month).
Note: The paid plan of Google Analytics also includes features like unsampled reports, BigQuery export, data-driven attribution & many more.
MonsterInsights
If you want to go with MonsterInsights, let's check out the pricing plans of MonsterInsights. MonsterInsights offers three plans: Pro, Plus, and Agency. Plus plan costs around $99.50 per year and you can use it for 1 website only.
The MonsterInsights Plus plan costs you around $199.50. Here you can use it on 5 websites. In the Agency plan, you can use it for 25 websites at a price of $399.50.
Though MonsterInsights have low pricing, it's a bit on the higher side for small businesses. In such cases, you need to find an alternative of both that can give you such features at less price range.
Conversios can be the affordable yet effective alternative for you here. Check out the pricing plan to know more and which plan is more suitable for your business.
Customer Support
When it comes to customer support, Google Analytics, and MonsterInsights offer different levels of support. Here's a comparison of their customer support offerings:
Google Analytics
Official Documentation: Google provides extensive documentation and resources for Google Analytics users. Their online help center, user guides, and tutorials cover a wide range of topics, making it a valuable self-help resource.
Community Support: Google Analytics has a large and active user community. Users can participate in forums, discussion boards, and online communities to seek assistance, share insights, and learn from others' experiences.
Support Channels: Google offers limited direct customer support for the free version of Google Analytics. However, for enterprise-level customers, Google provides dedicated support through their Analytics 360 Suite, which includes personalized assistance from an account manager.

MonsterInsights:
Documentation and Knowledge Base: MonsterInsights provides detailed documentation, guides, and a knowledge base to help users set up and configure the plugin effectively. It covers various aspects of using MonsterInsights with Google Analytics.
Ticket-Based Support: MonsterInsights offers ticket-based support for their Pro and Agency users. Users can submit support tickets through their website and expect a response from their support team within a specified timeframe.
Priority Support: The Pro and Agency plans of MonsterInsights include priority support, which means users with these plans receive faster response times and priority assistance compared to free users.
The alternative of these two tools provides proper documentation, ticket-based support, and priority support. It ensures your query will be resolved as soon as possible. Even they provided a 'Resource Center' corner on their website for their users to find the solution easily. It includes setup guides, benefits, related videos, and many more.
Google Analytics vs MonsterInsights: Which one is better?
As you see in the above article, no one is a clear winner. Both are powerful analytics tools that can easily help you increase your business quickly. Google Analytics is trusted as it is a part of Google platforms, whereas MonsterInsights is an amazing WordPress plugin.
But a new winner has emerged amongst them- Conversios. It is a great tool that helps integrating Google Analytics 4 to Woocommerce, Shopify, and Magento. Along with that, it also helps people in managing product feed and integrating Facebook Pixel, Facebook Conversions API, and 5 other marketing pixels to their Ecommerce stores.