I know you're busy with your Ecommerce store.
You've got products to sell, customers to please, and competition to beat.
But if you want to stay ahead of the curve, you need to stay up-to-date on the latest trends and technology.
That's where Google Analytics 4 comes in.
Google Analytics 4 (GA4) is the latest version of Google Analytics, and it's a major overhaul from the previous version, Universal Analytics (UA). GA4 is designed to be more flexible, scalable, and privacy-focused than UA, and it's well-suited for tracking ecommerce businesses.
Here's what you'll get by reading this guide:

A clear understanding of what GA4 is and how it can help your ecommerce business.
A detailed overview of the new features in GA4
A side-by-side comparison of GA3 and GA4 so you can see the differences.

A step-by-step guide to migrating from UA to GA4.
Are you waiting for something?
Start reading today and start using GA4 to grow your ecommerce business!
What is Google Analytics 4?
Google Analytics 4 (GA4) is the future of analytics. It's a new way to track and measure your website and app traffic, and it's packed with features that can help you grow your business.
Google Analytics 4 (GA4) is the most recent release of Google's popular web analytics tool. It provides a more advanced and adaptable approach to data tracking and analysis. It helps E-commerce businesses to acquire deeper insights into their customers' activity across numerous channels and devices.
You can also use GA4 to identify your most valuable customers and understand how they interact with your content.
But what really sets GA4 apart is its focus on privacy. GA4 is designed to collect data in a way that respects user privacy, so you can be sure that your users' data is safe.
And Google Analytics 4 enables…. ?? Hey..hey…hey… You eagerly want to know about more GA4, right?
Keep reading, there are many fun facts about GA4 waiting for you. Also, a secret to boost your conversions by 6.1% at the end of the guide.
Why is the shift to GA4 important?
Well… Google Analytics 4 is the latest version of Google Analytics. It is the strong reason to make a switch to GA4.
And if you're looking to track and enhance your Ecommerce business, Google Analytics 4 is your best bet. It is available from July 1, 2023.
So from July 1, 2023, standard Universal Analytics (GA3) properties will no longer process new hits.
Here are a few reasons:

GA4 is more privacy-focused. GA4 is designed to collect data in a way that respects user privacy.
GA4 is more powerful. GA4 offers more features and flexibility than Universal Analytics, so you can get more insights into your data.
GA4 is easier to use. GA4 has a new user interface that's more intuitive and easier to use than the old interface.
GA4 is the future of analytics. Google has announced that it will be sunsetting Universal Analytics (UA) in July 2023, so if you want to continue using Google Analytics, you'll need to switch to GA4.
What will happen to my Universal Analytics data?
After July 1, 2023, you will have access to previously processed data in your Universal Analytics property for at least 6 months.
Can I Migrate my data from UA to GA4?
Data cannot be migrated to GA4. It may be a feature that will be added in the next few months but we aren't sure as of now.
Conversios recommends you upgrade as soon as possible. You should definitely use the Google Analytics 4 plugin from Conversios to bring automation to your Ecommerce stores on Magento, Woocommerce, and Shopify.
Ecommerce Stores, It's not a point to worry about, it's an opportunity to seize.
So here we have compared Universal Analytics (GA3) vs Google Analytics 4 (GA4). And then look into some new features in Google Analytics.
Universal Analytics VS Google Analytics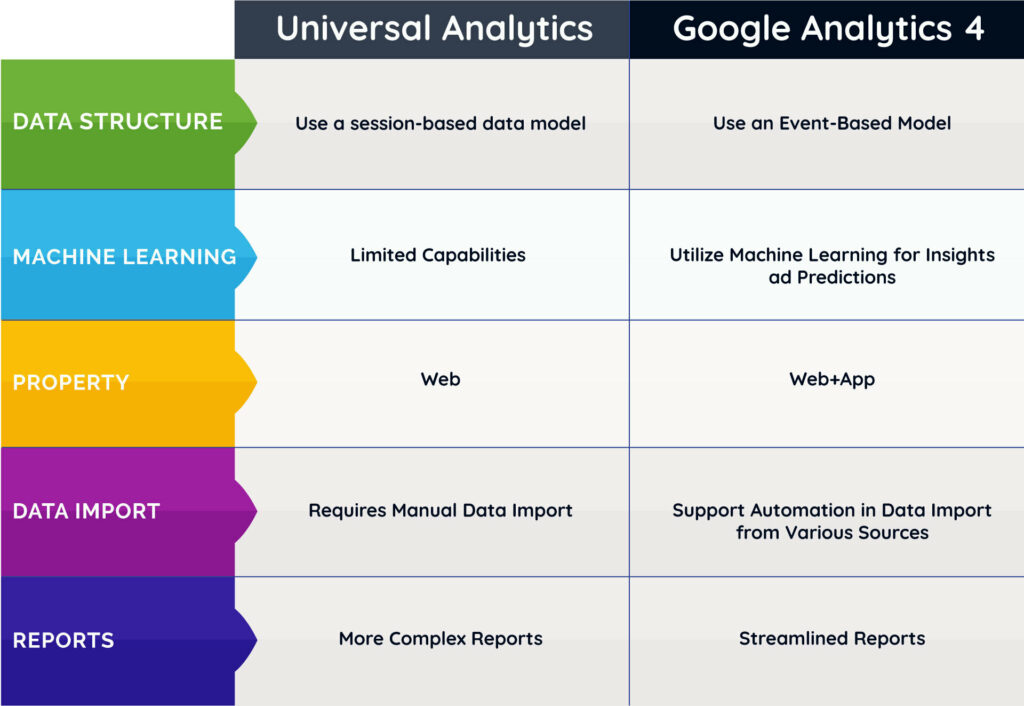 What's different in Universal Analytics & Google Analytics 4
Way Of Tracking
One of the main differences between GA3 and GA4 is how user behavior is tracked. GA3 uses cookies to track user actions on the website, while GA4 uses an event-driven model.
It implies that GA4 tracks user actions such as clicks, form submissions, and video views as individual events instead of page views.
This allows you to get more accurate and detailed tracking of user behavior. This is particularly useful for tracking user interactions with certain website features and content.
Way Of Handling Data
Another difference between GA and GA4 is how data is processed.
UA (GA3) stores data in separate views and properties, it can be difficult to get a holistic view of user behavior on your website.
Whereas GA4 stores all data in a single stream, making it easier to get a complete picture of user behavior & identify patterns and trends.
Several New Features
GA4 has several new features that are not available in GA3. It includes predictive analytics, cross-device tracking, and enhanced data modeling.
These features provide greater insight into user behavior and help businesses make more informed decisions about their marketing campaigns and website optimization strategies.
Now, it all comes to a point where you think it is necessary to switch to GA4. Go ahead to get the answer.
New Features of Google Analytics 4 (GA4)
Transforming the way you track data and optimize your marketing campaigns, GA4 is a game-changer. It provides a wealth of information that will empower you to enhance your website's performance and skyrocket your conversions.
But what exactly makes GA4 so special?
Let's have a look at the most important features of GA4 for Ecommerce.
New Features In Google Analytics 4 For Ecommerce
1.Totally A New Data Model
"Supercharge Your E-commerce Business with Google Analytics 4's new data model. "
By measuring user interactions, you gain invaluable insights that guide your strategies. Let the data be your compass, leading you towards enhanced customer experiences and increased revenue.
GA4 counts every instance of a conversion event, even if it occurs multiple times in one session.
For example, if the same user fills out a form three times or watches a video three times in one session, the conversion will be counted three times. Previously, a goal could only show once per session. Don't settle for outdated analytics tools when you can have the best google analytics plugin at your fingertips.
If you want the reliable GA4 plugin, we have curated the 7 best google analytics plugins for WooCommerce, check out now.
2. Predict The Future Numbers
Google Analytics 4 for Ecommerce enables acquiring greater insights into customers' behavior and preferences. It allows you to better optimize your marketing campaigns.
GA4 can forecast client lifetime value, and churn rates, and even identify audiences to target for improved engagement using machine learning algorithms.
Google Analytics 4 for Ecommerce can give you the prediction for:
Churn Probability
Purchase Probability
Predict Revenue
The in-detailed insights give you a comprehensive overview of customer interactions across multiple channels, giving you a 360-degree view of their audience.
You can stay ahead of the competition with Google Analytics 4 for Ecommerce by leveraging the power of automation to drive growth and success.
3. A Complete View Of the Customer Life Cycle
Ecommerce businesses can gain a more comprehensive understanding of their customers by tracking their interactions across multiple devices and platforms.
Google Analytics 4 for Ecommerce allows you to see their customer's entire journey, allowing for more targeted and effective marketing strategies.
With this Google Analytics upgrade, you may acquire previously hidden insights into consumer behavior, leading to better decision-making and, ultimately, increased revenue.
Special Note: We all know that bounce rate is the percentage of sessions that weren't active sessions. GA4 tracks engagement rate instead of bounce rate. The engagement rate is the inverse of the bounce rate.
4. More Control Over Data
Third-party cookies have already caused problems with analytics tracking. As a result, Google Analytics 4 is focusing on first-party data in order to enable a cookie-free future.
Less reliance on cookies = More control over data
Google Analytics 4 for Ecommerce can assist advertisers in adhering to the General Data Protection Regulation (GDPR) and other data regulations, such as the California Consumer Privacy Act (CCPA).
A new consent option makes it easier for website owners to gain consent for analytics and ads. Additionally, Google Analytics 4 makes it easier to handle user data removal requests.
5. Faster Reporting
This is a really impactful update of Google Analytics 4 for Ecommerce. With this, you can now gain real-time insights into the performance of your website, helping you to make data-driven choices faster than ever before.
Faster Reporting eliminates the need to wait for data to load by providing instant access to critical information such as website traffic, user behavior, and conversion rates.
This powerful tool will provide Ecommerce stores with a competitive advantage by helping you to swiftly discover and fix any issues that may be influencing the performance of their website.
Conversios offer faster reporting with many other valuable features with a one-click Google Analytics Ecommerce Tracking implementation.
Magic of Google Analytics 4 (GA4) for Ecommerce
#1 Seamless Integration with Google Ads
Google Analytics 4 for Ecommerce allows you to see how your Google Ads campaigns are performing through an accessible dashboard. You can create remarketing lists and target those users with relevant ads.
GA4 also allows you to create custom reports and dashboards for Ecommerce stores.
You are ready to increase your sales by 6x if you have products, an Ecommerce store, and a Google Analytics plugin for Ecommerce.
#2 Export Raw Collection Data to BigQuery
Exporting your data to BigQuery allows for much more advanced data analysis.
If you have success with this Ecommerce tracking, it could be a game changer for your understanding of your website users and take your data-driven campaigns to the next level.
Guess what? Google Analytics 4 can make things a lot easier.
Integrate your GA4 to leverage your data as input for Machine Learning Models Today!
#3 More Custom Dimensions
Custom dimensions are essential Google Analytics 4 features that help you better describe and understand what's happening on your website.
Universal Analytics currently limits you to a maximum of 20 custom dimensions per property. GA4 increased these numbers to 50 event-related metrics and 50 custom metrics per property, and 25 user-related custom dimensions.
How To Install Google Analytics 4 for Ecommerce
Before you can start gathering data about your store, you need to have a Google Analytics account and create a Google Analytics 4 property. You can then set up Google Analytics 4 for Ecommerce, and link your Google Ads account to your Google Analytics account.
Want an easy way? Okay, I'll show you the really easy way, 'Install the Google Analytics plugin.'
[ Infographics]
Install and tracking user behavior from Conversios tool is that easy.
Conversios Role In Improving Your Ecommerce
Conversios can help you gain deeper insights into your customers' behavior, optimize your marketing campaigns, and ultimately drive more sales by utilizing our solutions to improve your Ecommerce store using GA4.
GA4 provides a comprehensive view of your customer's journeys and enables you to make data-driven decisions by tracking user interactions across multiple devices and platforms.
Boost your business growth with our powerful plugin, which is designed to integrate your Ecommerce store with the mighty Google ecosystem. By utilizing the full potential of our solutions, you will be able to broaden your reach, increase brand visibility, and drive sales like never before.
Finally
Here's the answer you are looking for. Boost conversions by 6.1%- i guess you didn't read the guide carefully.
Well the answer is……
With easy-to-understand data of GA4, pre-built reports, track user behavior accurately, integrate pixels to your website, track performance of your ad campaigns, manage your products, run dynamic ads to trigger buyers to make a purchase—- this is all it takes to get a good boost in your conversions.
Secret ( That you can share with every Ecommerce store you know) – Conversios tool enables all the above features in one tool!
Want to know more about GA4 integration with your Ecommerce store? Feel free to connect with us or mail us at [email protected] at your convenience.