E-commerce businesses rely heavily on reports & analytics tools to track & measure their
performance data. Google Analytics (GA) is a leading analytics platform that thoroughly analyses user actions on
your website/app. Currently, the standard (Universal Analytics) or GA 3 is prevalent.
However, per the latest Google announcement, after July 1, 2023, standard Universal Analytics
properties will no longer process data. Therefore, if you're using an e-commerce website on
WooCommerce— the e-commerce platform built on WordPress, you must upgrade to
Google Analytics 4 for tracking.
The transition from standard universal analytics to GA-4 is hassle-free, as the WooCommerce plugin
on WordPress gets native support for GA-4.
Now, the question is, why did Google introduce GA-4, and how is it different from GA-3? The article explores
everything you need to know about Google Analytics 4. Additionally, it provides insights on how it
will impact your e-commerce tracking.
What is Google Analytics 4?
For the unversed, Google Analytics is an analytics tool to help you measure your website's traffic
data and performance metrics. You can set up tracking to fetch data from your website/app to the analytics and
access reports.
Interestingly, Google Analytics 4 is a new property that will provide different reports than
universal analytics. Google says the GA-4 will transit businesses into the new ecosystem through unified customer
journey reports from websites and apps.
Additionally, you can leverage Google's advanced Machine Learning (ML) technology to extract insights and predict
probabilities. All these features will help you scale up your WooCommerce store because the more
insights you have, the better decisions you can make.
Lastly, it prioritises user privacy — the most sought-after condition in the modern consumer-business relationship.
How is GA-4 Different from Standard Universal Analytics?
Universal Analytics provides session-based data and monitors website cookies to render reports. The evolution in the
consumer privacy space was quickly making this method obsolete. Hence, Google came up with Google Analytics
4, which is more focused on privacy and enables event-based tracking across websites and apps.
This latest analytics upgrade by Google matches the current data privacy landscape as it does not store IP addresses.
Also, you can find granular details in the interface that will help you meet the evolving needs of your customers.
All these factors underpin the necessity of moving from universal analytics to the new property.
Now, let us discuss the significant upgrades in detail.
1. New Data Model
Google Analytics 4 is ideal for augmenting customer engagement across offline and online channels,
driving sales, and generating leads. It all exists in the way it collects data.
As we discussed earlier, universal analytics tracked cookies and provided session-based data. On the contrary,
Google Analytics 4 will present data about significant events in your customer's journey, i.e.,
page views, transactions, and interactions on social platforms, amongst others.
The user-based model will provide valuable insights into your purchase funnel and help you pivot your business
accordingly for improved performance. The enhanced access to the complete customer lifecycle will allow your
business to make data-backed decisions.
GA-4 will seamlessly integrate with Google Merchant Center to help you set up and improve the
Google Smart Shopping experience for millions of customers using the data model.
2. Data-Driven Attribution
You can improve the ROI of your WooCommerce store and Google Shopping campaign
through data-driven attribution.
The feature gives you more information about each conversion event in the form of credits by the analytics platform.
It works based on your account's data, comprising every click interaction and its actual contribution.
The collective analysis of your marketing activities and the counterfactual approach based on ML algorithms can be a
game-changer for your e-commerce business. The subsequent enhanced e-commerce
reports can help your team to plan more effective marketing campaigns and drive conversions and sales.
Also, you can export the analysis to Google Ads and Google Marketing Platform media tools to improve campaigns.
3. More Privacy Controls
Google has announced its plans to phase out the support for third-party cookies. The digital world is evolving into a
user-friendly landscape. Here, users can enjoy control over their data, and businesses can get the necessary
information to thrive.
Countries across the globe are upgrading their privacy protection guidelines to safeguard users' data and privacy.
Google Analytics 4 complies with the GDPR and CCPA regulations, providing marketers with the
necessary data. A consent mode will allow you to ask users for their consent for analytics and ads. Additionally,
you can handle data removal requests seamlessly with Google Analytics 4.
These features will help you run a more compliant and user-friendly digital business.
4. A Comprehensive User Interface
The new property gives you a complete view of the customer lifecycle. You can see detailed information about customer
touchpoints and auction events. The enhanced e-commerce reports will have events from acquisition
to engagement and retention. Thus, you can analyse user behaviour more comprehensively.
Also, you will get customer engagement information from different devices and channels. Based on this, you can
implement marketing techniques catering to your short and long-term goals.
5. Seamless Integration with Other Google Products
Leverage deep analytics insights to optimise your Google Ads and Google Shopping campaigns. Since
these products use your mobile and web data, you can leverage enhanced e-commerce reports in GA-4 to excel.
The ML-backed predictive analysis from Google Analytics can help you redesign your ads and lower
your cost per action while boosting revenue and sales. As a result, your business's overall cost per acquisition
remains under control. Additionally, Google Ads Performance Max or PMax will help you maximise your
returns on investment.
Click here to learn more about Google Ads Performance Max
(PMax). It provides exciting insights like Google Smart Shopping merging with
PMax shopping campaigns. Don't forget to check in detail.
6. Reduced Spams
Traffic hits from a spammy source can hamper your overall reporting and performance analysis efforts. Marketers can
struggle to identify the source and filter the actual data. Google Analytics 4 addresses this
problem by receiving data only through hits with a secret key. You can find this private key in GA-4 data stream
settings.
As a result, spammers won't be able to send fake data to analytics using the Measurement Protocol.
7. Support for "G-" ID
WooCommerce— The WordPress plugin for e-commerce setup now gets native support for GA-4. You can
easily connect to Google Analytics using the analytics plugin for a
WooCommerce site. The Google Plugin will send data from your site to the new GA version, allowing
you to analyse key performance metrics quickly.
Moreover, by exporting the analytics data to Google Ads and Google Shopping, you can refine your
product feed or shopping feed for the target audience.
When Should You Upgrade to GA-4?
The sooner, the better. As you know, universal analytics will stop processing new hits from July 1,
2023, and your data will automatically flow to GA-4 properties. Therefore, you must upgrade to acquire
a deeper understanding and familiarise yourself with the advanced features of the latest analytics version
The new version stands compliant with the data & privacy regulations. It provides AI-powered insights and
predictions to strengthen your position in the market.
Suppose you are an existing universal analytics user. In that case, you can add the GA-4 property to it and start
collecting data in the latest version simultaneously. It will enable smooth transitioning from the old to the new
version once the former becomes defunct.
How Conversios helps integrate GA4
We let you decide which account you want link UA or GA4 or both, you just need to connect your analytics with our
plug-in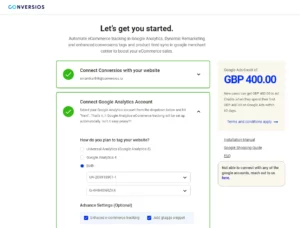 Once you are done with adding of your GA4 account, we will take few seconds to link everything and boom, you Google
analytics and other details are linked with your current account. You can now either now do the Product sync or can
go to the dashboard.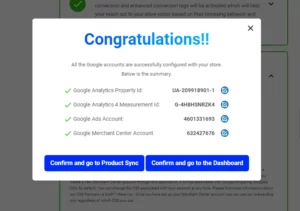 Dashboard with UA and GA4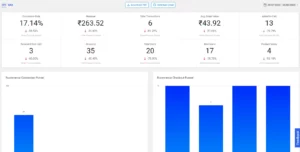 The Bottom Line
Google Analytics 4 is designed to meet the evolving needs of businesses and consumers. Since the
COVID-19 pandemic, consumers have shifted to online shopping. But at the same time, they want less infringement on
their privacy.
With Google Analytics 4, you can understand consumer behaviour throughout the lifecycle using
advanced features while meeting privacy protection guidelines
If you're looking for easy integration with the Google ecosystem, get Conversios. It is one of the
most-advanced WooCommerce plugins in the market that facilitates Google Analytics
Tracking and automates Google Smart Shopping.
Scale your business with our powerful plugin that lets you seamlessly integrate your e-commerce
business with the Google ecosystem.
Get in touch with our team
at Conversios today! Or email us at [email protected] to understand how you
can integrate GA4 with your ecommerce store