Facebook has 2.93 Billion monthly active users. With such a humongous number, surely businesses are aiming for Facebook as their marketing platform for sure. If you are one of them and reading this- you probably have an idea about Facebook pixel. Let's get into the shoes of Shaun.
Shaun, who?
He's in charge of marketing for a brand-new online store. He was excited to showcase the products to the world. He also opted for Facebook to advertise their brand. Despite the best efforts of his team- he didn't get the result he hoped for. What would you have done if you were in place of Shaun?
Let me give you the spoiler: in the end, Shaun has cracked the secret to gain valuable insights into user behavior. And the savior is "Facebook Pixel".
You might seem interested to know more, right? We have collected the whole blueprint from Shaun. And here we will explore all you need to know about the Facebook pixel.
If you are ready to see what's there for you in Facebook advertising, come along!
What Is The Facebook Pixel?
Facebook pixel is a piece of code that helps you analyze user behavior and draw valuable insights. You just need to place the code on your website to understand what actions users are taking on your website.
The Facebook pixel works by dropping a cookie that will track user behavior on your website. By using Facebook Pixel, you can do conversion optimization, dynamic remarketing and create custom and lookalike audiences to convert your prospects into customers.
Especially for Shopify stores: Skip ahead if you are looking for where and how to set up meta pixels for your Shopify store.
Why use a Facebook Pixel?
Facebook Pixel is a tool that provides you with useful insights into user behavior. You can use it to optimize your Facebook Ads. You probably have a set of audiences that all differ from each other by only a couple of variables. With a lookalike audience, you can start advertising for a variety of goals.
Even if you are not using that data for Facebook advertising, it can be a great addition to your marketing efforts. The collected data from the Facebook pixel is available for 180 days.
Aren't you using the Facebook pixel yet? No worries, you can start tracking user behavior now.
The same can be done with other platforms like Instagram, Pinterest, TikTok, Snapchat, Twitter & Microsoft. If you want to know more in detail about those, check out the resource center.
Now that you are here, let us know about your marketing strategy. We will provide you with the probable strategy and solution that would help you to scale.
Which pixel are you interested in using for your Ecommerce business?

Facebook Pixel
Instagram Pixel
Pinterest Pixel
Snapchat Pixel
TikTok Pixel
Twitter Pixel
How does Facebook Pixel Work?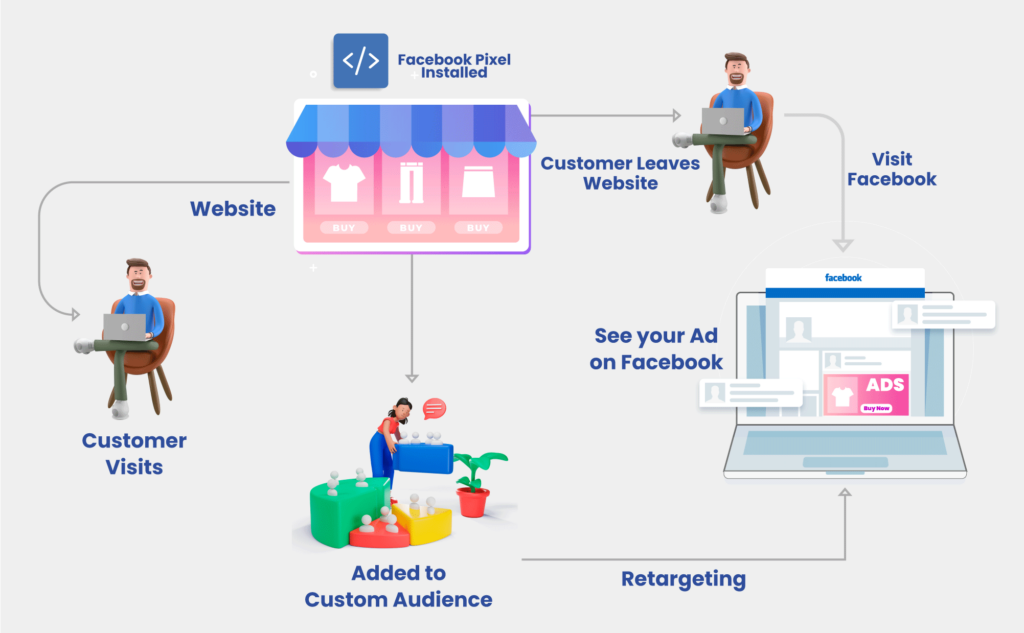 Facebook Pixel is ultimately a tool that helps you understand the users and retarget them. It helps you to optimize your ad campaigns and add more personalization to convert more visitors into customers.
Imagine a user visiting your website while the Facebook pixel is already installed on the website. That user explored a few sections, even added a product into the cart & left the website. The Facebook pixel triggered action and added it to the custom audience. Now you will be able to reach this particular customer again using the custom audience.
You can retarget those visitors who left the website without taking any action. With personalized ads, you can trigger the buyers of different persona. Hence, with the help of Facebook Pixel, you can convert the visitor into customers.
And yes, it doesn't only help you target customers who already purchased your products but also help you to target those who have shown interest in the product by viewing the ad or clicking on the ad. You can also target those customers who have abandon the cart.
Retargeting potential customers and reaching out to new customers can make a huge impact on your conversions. Learn how to add Meta Pixel to your website with our step-by-step guide below:
Add Facebook Pixel to your website
If you are a beginner or have already created Facebook Pixel but are finding difficulties, we have described the best way to add Facebook Pixel to your website.
Step 1: Create a Facebook Pixel
Before adding a Facebook pixel to your website, you need to create one. Navigate to the Facebook Ads Manager account. Make sure you have logged into the account associated with your business. In 'Data Source' you will find the option of Pixels.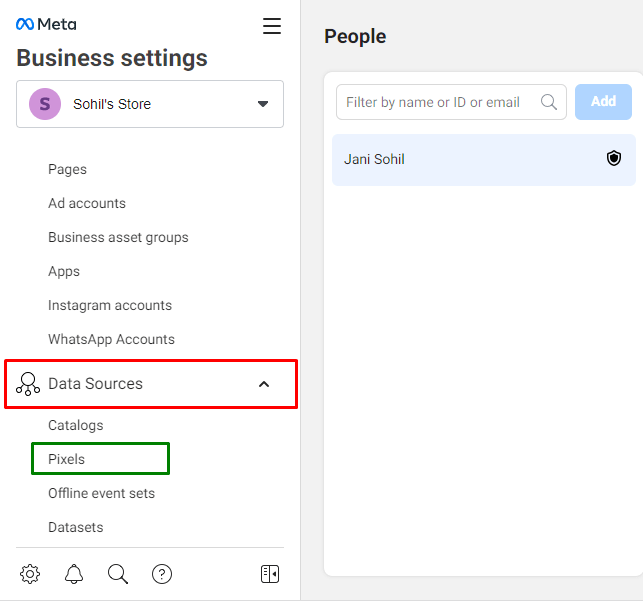 Once you click on it, you will get an option to create a pixel. As we have already created pixels, it shows the 'Add' option.
The next step is to enter the details such as the name of your pixel & your website. Once you enter the details, you can continue with the steps below in given sequence:
Click on "Set up the pixel now".
Add code using partner integration.
Choose a partner. [Majorly stores are built on WooCommerce, Shopify, or Magento]
Once you have completed all the steps, you will see an interface like this. This means that you have successfully created a pixel & the highlighted portion is your pixel ID.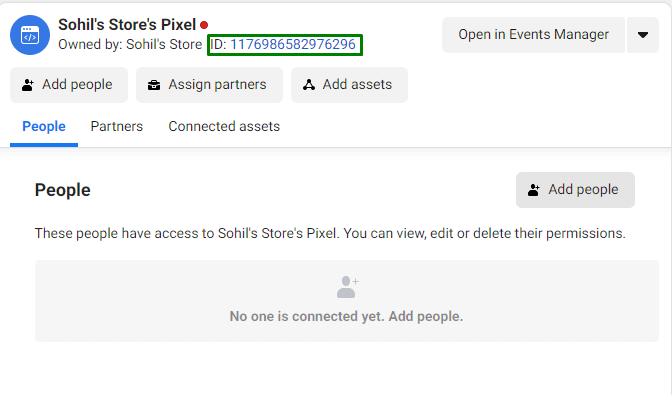 Copy the ID and paste it on your website. Pasting it to your website is a bit of a difficult task so how can you do that?
Step 2: Add Facebook Pixel ID to your website
Conversios can make an impact here. You can add the Facebook pixel to your website in just one click. Whether you have built your Ecommerce store on WooCommerce, Shopify, or Magento– Conversios have a tool for you. As these three are the most used platforms for Ecommerce store owners, let's see how you can add the Facebook Pixel to your website using Conversios.
Add Facebook Pixel To WooCommerce
You need to install the Conversios plugin from the WordPress store and set up the tool for your website. Once you are done with the process, go to 'Pixel Settings'. Here you will find various integration options.
As you have to add Facebook Pixel to your website, you need to click on 'Facebook Pixel & Facebook Conversions API (Meta)'.

Now as shown in the image below, you need to paste the code you've copied from the Facebook Business Manager. Once you click on 'Save', you have successfully added Facebook Pixel to your website.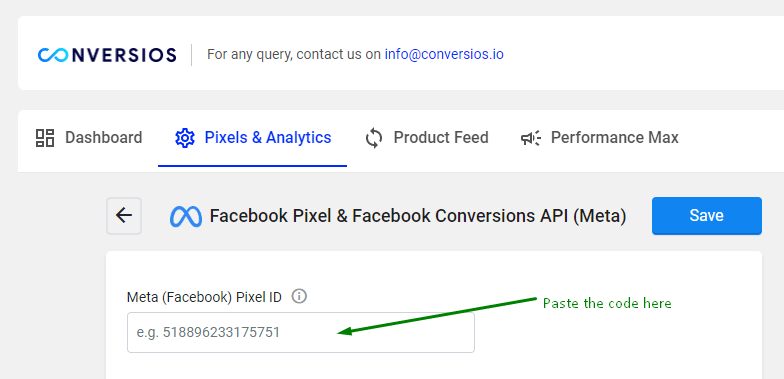 Note: Facebook Pixel and FB Conversions API are different tools, but if you crack the secret of using them together- you can track data with more accuracy. To know more about Facebook Pixel & Facebook Conversion API, check out the benefits.
Add Facebook Pixel To Shopify Store
From the Shopify app store, download the "Conversios GA4, FBCAPI, Pixels" app. Once you have installed the app, go to the app. Here you will find the Meta ads pixel settings, you need to paste the code here that you have copied from the Facebook Business Manager account.

If you want to know in-depth about how to set up Meta pixel for your Shopify store using the Conversios plugin, check out our blog 'How to Setup Meta Pixel For Your Shopify Store' now.
Add Facebook Pixel To Magento Store
If you have built your Ecommerce store on Magento, you need to install the extension of 'Google Analytics 4 & Marketing Pixels'. Once you have set up the extension, follow these steps:
Go to 'Stores' and click on 'Configuration'.
Here you will find the 'Conversios'.
Navigate to 'Facebook (Meta) Pixel ID'.

Now paste the code here and you are ready to track user behavior with Facebook pixel.
Note: If you find any difficulty in setting up the extension, check out the user manual to know more.
How to Validate the Facebook Pixel?
As you have successfully added Facebook Pixel to your website, the step is to validate the integration. We have made it easier for you. Check out the video and you will get the exact idea about how to validate it.
What are the use cases of Facebook Pixel?
Let's look into some of the use cases of Facebook Pixel.
Conversion Tracking
Facebook Pixel enables businesses to track customer behavior on their website. It includes purchases, subscriptions, and form submissions. You can use this data to optimize ad campaigns and improve the conversion rate.
Audience Building
Building an audience based on website user behavior is possible for businesses using Facebook Pixel. You can target visitors who have browsed particular pages on their website or users who have added things to their cart but have not yet made a purchase.
Retargeting
Using Facebook Pixel, you can retarget website visitors and those who have interacted with the content on Facebook or Instagram. This may be a powerful strategy for boosting brand recognition and conversion rates.
Lookalike Audiences
Lookalike audiences are user groups that are comparable to a company's current consumers and are created using Facebook Pixel data. By doing this, you can connect with new markets that are more likely to be interested in your products or services.
Ad Optimization
By enabling businesses to track which advertisements are leading to the greatest conversions and which need improvement, Facebook Pixel data can be used to improve ad campaigns. This can help you in making data-driven decisions and raise the ROI of your advertising spends.
Add Facebook Pixel To Track Accurate Data Of User Behavior
The secret to maximizing the effectiveness of your website's marketing activities can be found in understanding Meta Pixel. By using this tool, you can discover a lot about your audience and boost the efficiency of your marketing campaigns. Mastering Meta Pixel is an essential step in remaining one step ahead of the competition in today's digital environment. Therefore, don't wait and use the Facebook pixel for improved tracking and data accuracy.
If you have any queries or questions, feel free to reach out to the team of Conversios at [email protected] today!