Conversios vs MonsterInsights is the ideal debate when it comes to the WooCommerce plugin.
Both are undisputed champions of Woocommerce and WordPress.
It's tough to find the best among them. Let's f̶i̶g̶h̶t̶ ̶i̶t̶ ̶o̶u̶t̶ figure it out to settle this debate once and all.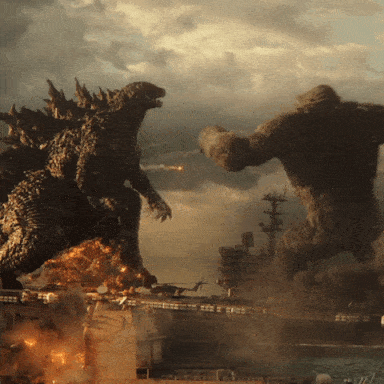 Most WordPress websites often land in a dilemma: Which Google Analytics plugin will be more fruitful for my business?
Keep scrolling to find the answer to this mystery!
Both Conversios and MonsterInsights are WordPress plugins that allow you to integrate Google Analytics into your website. Both offer various tracking features as well. Though, they operate very differently.
Let's have an in-depth comparison to pick the best of the best.
What is Conversios?
Conversios is a no-code Google Analytics plugin for WordPress that allows you to integrate Google Analytics (GA4 + UA) into your woocommerce store with a click. It has 50,000+ active users that are using features like GA4 integration, pixel integration, and product feed management.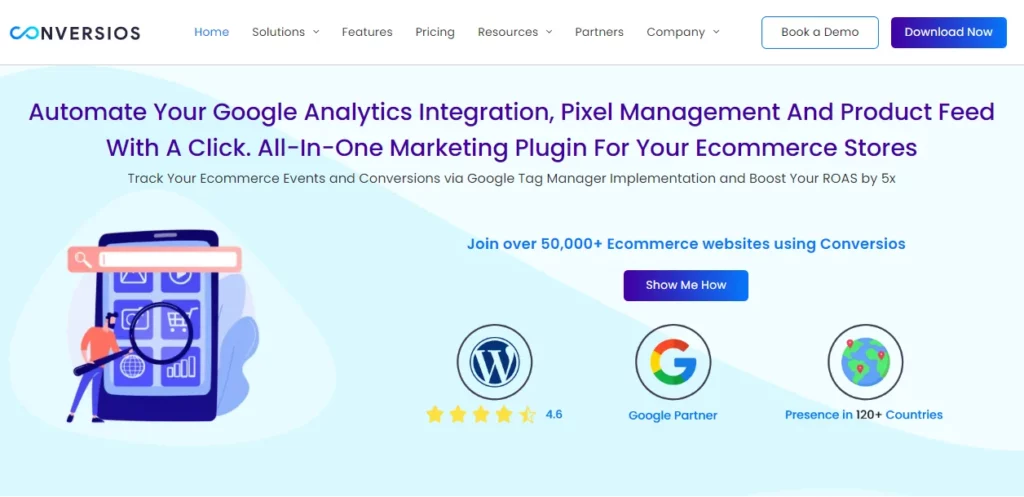 It also provides an actionable dashboard where you can track user behavior, such as where your traffic is coming from and what activities they are performing on your website. You can sync 100,000+ products directly to Google Merchant Center with a click. Also, with Facebook Conversion API, you can target customers with personalized ads.
With one-click GTM implementation, you can configure 70 tags and triggers for events like scroll, on-click, etc. without slowing down your website. You can also use your own Google Tag Manager container to create a dynamic audience and do dynamic remarketing.
All in all, Conversios is a "swiss knife" of woocommerce plugins that help you to cut through your worries and double your revenue.
What is MonsterInsights?
MonsterInsights is a WordPress plugin to connect Google Analytics to your website. It is loaded with features that can help you in better decision-making and increase sales. This plugin provides accurate real-time analytics. Once installed, you can access detailed reports for tracking forms, country, and device of the user.
It comes with a few other features such as extensive content analysis, compliance with privacy regulations, affiliate links auto tracking, etc.
That's a quick overview of both the plugins. Now, let's deep dive into the comparison.
Comparison between Conversios and MonsterInsights
1. Conversios vs MonsterInsights: Ease Of Use
Conversios
Conversios plugin helps you to install Google Analytics on your woocommerce store and track metrics like CTR, conversions, etc. with a single click.
All you have to do is install the plugin, and you'll be able to access the Enhanced Ecommerce reports with a single click.
Conversios helps you to track every e-commerce metric with more than 6 marketing pixels like Facebook Pixel, TikTok Pixel, Twitter Pixel, Pinterest Pixel, Snapchat Pixel, and Bing Ads Pixel. An interesting thing to note is that all this can be done with a click.
Conversios provides a user-friendly interface with a welcome wizard. You simply need to decide whether you want data from UA, GA4, or both.
Don't believe us? Check it out yourself👇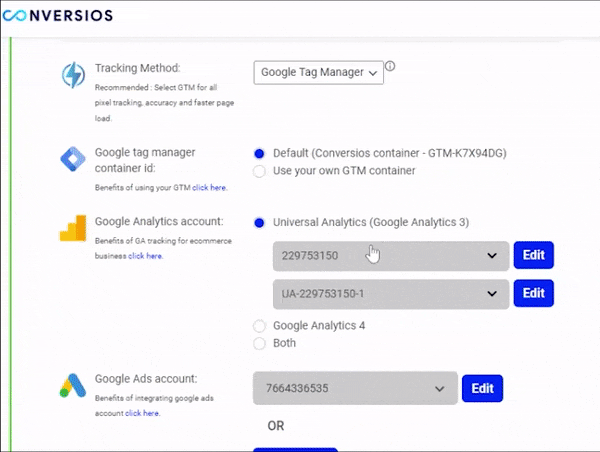 After installing the Conversios plugin, you can access the actionable dashboard directly from the WordPress admin panel.
The reports are so simple-to-understand that even if you're seeing them for the first time, you won't have any trouble.
MonsterInsights
MonsterInsights has been designed to be simple to set up, even for non-technical users.
It also includes a launch wizard to assist you in properly configuring Google Analytics for your website.
The MonsterInsights plugin's ease of use can be attributed to its simple user interface, step-by-step setup wizard, and integration with Google Analytics.
This feature allows users to quickly set up and begin tracking the analytics of their website.
Verdict: It's a tie. Conversios and MonsterInsights can provide the same level of convenience when installing or exploring any plugin feature.
2. Conversios VS MonsterInsights: Features
Conversios
Conversios is an all-in-one plugin that helps you to integrate Google Analytics(both GA4 and UA), Meta Pixel, and 5 other marketing pixels with the help of one-click GTM implementation. It also provides a product feed manager that helps in syncing unlimited products to Google Merchant Center with more than 10,000+ products at once.
Whether you want to keep your UA tracking or switch to GA4 tracking, Conversios can provide reports for both on a single dashboard. You can select which report to display on your dashboard.
This plugin provides tracking for advanced metrics such as conversions, click-through rates, add-to-cart, and more with the help of the inbuilt actionable dashboard.
With a single click, you can integrate your Google Ads account and track ad performance from your WordPress admin area.
With the help of the Product Feed Manager, sync unlimited ecommerce products to GMC and manage the google product feed of all the products. You can do batch-wise and scheduled product sync of 100,000+ products with the help of Conversios.
As an Ecommerce store owner, you can get an idea about user behavior with the help of reports like product performance reports, source/medium reports, campaign performance reports, google ads reports, etc.
If paid marketing is your way then you can easily set up and track your PMax (aka Performance Max)campaigns from the plugin itself and can track its metrics with a dashboard.
Conversios' Pixel Manager helps you to integrate Meta Pixel without any code. Not just that, it also helps you to integrate 5 other marketing pixels namely TikTok Pixel, Twitter Pixel, Bing Pixel, Snapchat Pixel, and Pinterest Pixel.
You can also do server-side tagging with inbuilt GTM and Facebook conversion API integration for WooCommerce events like add to cart, checkout, purchases, etc.
Overall… it's an all-in-one plugin that has everything an Ecommerce store requires.
MonsterInsights
MonsterInsights has a lot of features that help you improve your marketing efforts. This plugin makes it simple to achieve the end goal of increased sales.
MonsterInsights, like Conversios, provides a dual tracking feature that allows you to integrate with Universal Analytics or Google Analytics 4.
This plugin's user-friendly interface includes customizable report features. It allows you to only add necessary details to your report. As a result, you can eliminate unnecessary data.
With the tracking report of the visitor's country, gender, device, and other characteristics, you can move one step forward to improve your decision-making.
The MonsterInsights plugin is compatible with other WordPress plugins. This enables you to add new plugins as needed.
MonsterInsights improves ecommerce reporting. Key store statistics such as total revenue, conversion rate, average order value, top referral sources, and more are displayed in the Ecommerce Report.
Here, we saw the features provided by both the plugins.
Verdict: In terms of features, both are neck and neck. But with features like Marketing Pixels, Facebook Conversion API, and Product Feed Manager, Conversios is the winner by a wide margin.
3. Conversios VS MonsterInsights: Support
There are multiple plugins available in the market to integrate Google Analytics with your websites. But few of them are aware of their users' queries, issues & bugs.
That's where the support team comes into the picture.
Conversios
Conversios can resolve issues as soon as possible thanks to its dedicated support team. It eventually saves you time, money, and other resources.
The good thing is that Conversios support is included in both the paid and free versions of the plugin. A team helps you proactively to figure everything out, from installing to configuring plugin.
The support team provides a user manual with the download option to make it easier for those who want to try DIY. The guide documentation covers A-to-Z information about how to install the plugin, step-by-step guides, setup wizards, integration instructions and many more.
Selling a plugin is not a difficult task; however, after-service is, and Conversios has done it with ease and an excellent support team.
Note: The best thing about Conversios is that they provide 24×7 support even if you don't buy any plans.
MonsterInsights
MonsterInsights is a popular WordPress plugin. It is clear that customers enjoy their services. Their support team, like Conversios, is well-versed in knowledge and experience and will assist you whenever you run into an issue or are stuck at any step.
They also offer a setup wizard with a free download option. You can easily contact the team and have your problem resolved as soon as possible. The only drawback here is that they provide good support if you buy paid plan only.
Verdict: Again Conversios takes lead as they are more focused on their users whether they are new or existing.
4. Conversios VS MonsterInsights: Pricing
Pricing is an important consideration while selecting a plugin for your WooCommerce store in the long run.
Conversios
Conversios has great edge here since they not only provide Google Analytics but Pixel Manager, Product Feed Manager, GTM, and Performance max campaigns at one place. Also, the latest Facebook Conversion API makes these deals even sweeter.
If you check the pricing page of Conversios, you'll get the four packages such as starter, business, agency, & agency plus.
The plans are as follow:
Starter ( $89 / Year for 1 Active Website) – For small businesses, startup & publishers who wants to kick start
Business ( $189 / Year for 5 Active Websites)- For Ecommerce stores looking for a rapid growth
Agency ( $289 / Year for 10 Active Websites)- For agencies to fasten their flows. It is the Popular one.
Agency Plus ( $389 / Year for 25 Active Websites)- For bigger agencies that cater website development services to clients
If you are just starting your store and need assistance with Ecommerce tracking, the starter pack is for you.
If you want to give your Ecommerce store a boost or manage five different websites, choose the Business pack for faster results.
If you are an agency and are working on 10 websites, you can try the Agency pack.
If you are a big agency and operate on 25+ websites , then Agency Plus Plan is perfect for you.
MonsterInsights
MonsterInsights have lost the plot here . It is slightly expensive than Conversios pricing plan that provides more features at bit lower price. Let's quickly look into the pricing of MonsterInsights.
Plus: For small businesses and pricing of $99.50 per year
Pro: For ECommerce businesses and pricing of $199.50 per year
Agency: For web development agencies and pricing of $399.50 per year
There is no doubt about the features of MonsterInsights, but the pricing for this plugin is on the higher side. You must have to purchase the premium plan to access the advanced features. Also, the drawback is that you would get support on the basis of plan you chose.
Verdict: Though there is a slight price difference between these two plugins, users can choose Conversios for better value for money.
Conversios vs MonsterInsights: Which one is better?
Well, looking at the facts and stats, Conversios shows clear dominance by 4-1.
It seems that Conversios is better than MonsterInsights.
Their advanced features like Facebook Conversion API, Marketing pixels, and Product Feed Manager smoothen your process and save your time & money.
We recommend the Conversios plugin if you are looking for an all-in-one solution that will set you up for success.
It's affordable, and there's even a free version with more features and integrations. Our customer service support is pleasant and helpful.
So, that's all for the day. We tried to keep the comparison as unbiased as possible. We swear!