Analytics plugins help you to track the exact number of conversions and click that you are getting!
But is your analytics plugin able to fulfill your expectation?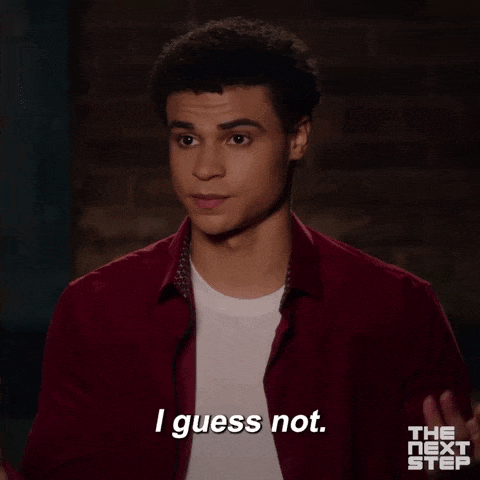 Monsterinsights plugin is one of the best WordPress plugins out there but since you are here, we figured that you are looking for something extra!
Aren't you?
So, we have made a list of 7 MonsterInsights Alternatives that can help you to track all those conversions and clicks! But, before we get into the alternatives, let's quickly recap MonsterInsights.
What Is MonsterInsights?
MonsterInsights is a Google Analytics WordPress plugin that connects your Google Analytics(both UA and GA4) to WordPress and provides reporting within the dashboard.
With the MonsterInsights plugin, you can do event tracking, form tracking, and media tracking and get reports of the same within the plugin itself. You can also see audience reports, published reports, behavior reports, and more to get more insights about your customer.
This WordPress plugin will help you to do custom dimensions tracking, custom google analytics tracking, and more. That being said, let's have a look at why there is a need to find MonsterInsights alternatives.

Why Finding Alternatives To MonsterInsights Is Necessary?
Limited Functionality – MonsterInsights offers limited functionality in its free plan. You won't be able to track affiliate links or view top landing pages with the lite version.
Pricing Structure – This issue is being faced by a lot of MonsterInsights customers. We won't be wrong if we say that this is the biggest entry barrier for startups or small businesses. There are various cost-friendly alternatives that you can try.
Not For Ecommerce – If you are an ecommerce store owner, then you might have to consider other MonsterInsights alternatives as this plugin lacks features that are a must for an e-commerce store such as Product Performance reports, Checkout funnel reports, Conversion funnel reports, and more.
After knowing the why, let's have a look at what the MonsterInsights Alternatives have to offer.

7 Best Alternatives To MonsterInsights
Conversios.io
ExactMetrics
10Web
Amplitude
Independent Analytics
Analytify
Matomo
1. Conversios.io
Conversios is a Google Analytics Woocommerce plugin that has more than 50,000+ installs on WordPress. This plugin helps you to integrate Google Analytics(both GA4 and UA), Facebook Pixel, and 5 other marketing pixels with it.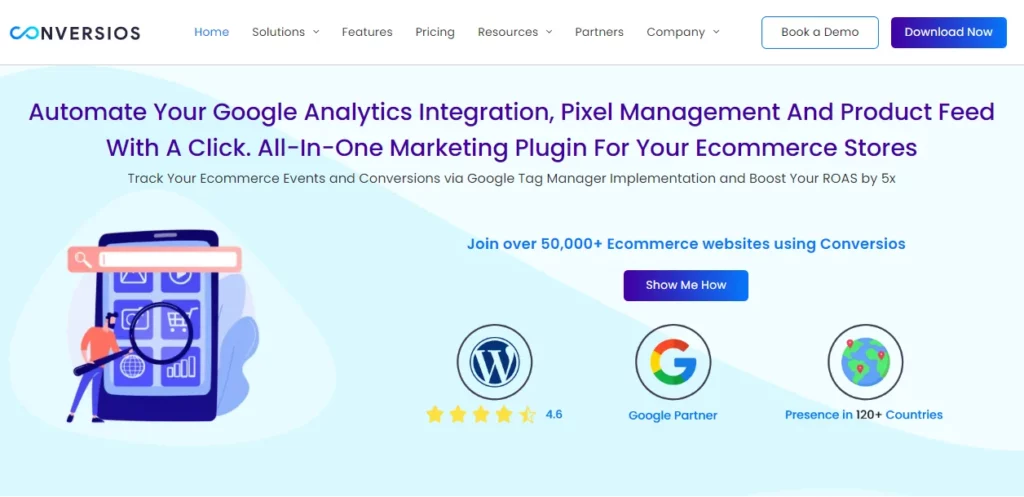 The highlighting feature of this WordPress plugin is Product Feed Management. It helps you to sync unlimited products to Google Merchant Center with more than 10,000+ products at once. All you have to do is click!
The one-click GTM Implementation of Conversios separates it from the rest. It helps you to do conversion tracking and dynamic remarketing by doing a single click. The best thing is that you can use your own Google Tag Manager container with prebuilt 70 tags and triggers.
Conversios' latest feather to the cap is Facebook Conversion API. Using Facebook CAPI, you can get a better hold of your data as it is shared server-side. In simpler words, you will be able to measure ad performance and track every attribution which will bring leads at a reduced cost.
Let's have a glance at their best features:
Faster Page Speed: Conversios provides GTM-based integration that helps you track your conversions without slowing down your woocommerce website.
Actionable Dashboard: With the actionable dashboard, you can track every ecommerce metric like CTR, source/medium, and performance of Pmax campaigns for your woocommerce store
Dual Tracking: You can track data from Universal Analytics (GA3), Google Analytics 4 (GA4), or both with the help of the Conversios plugin.
FB Conversion API: Instead of depending entirely on the Facebook pixel to measure conversions, you may send web events directly from your servers to Facebook with the help of Conversios.
Pixel Integration: Track the actions of users who interact with your website, allowing you to gain a better understanding of how users interact with your site and improve your advertising campaigns appropriately.
Other Marketing Pixels: Apart from Meta Pixel, you can also track and manage your ads efforts on various social media platforms such as Pinterest, Snapchat, TikTok, Twitter, Microsoft Ads (Bing), etc.
Server-side tagging: Eliminates the tracking depending on user-side cookies & goes for server-side tagging to get accurate and real-time data.
Optimize product listing: With a product feed manager, you can sync unlimited products to the Google Merchant Center by doing batch and schedule sync of 10,000+ products at once.
These features will undoubtedly demonstrate why Conversios is a frontrunner in the list of MonsterInsights alternatives.
Have a look at the dashboard of Conversios👇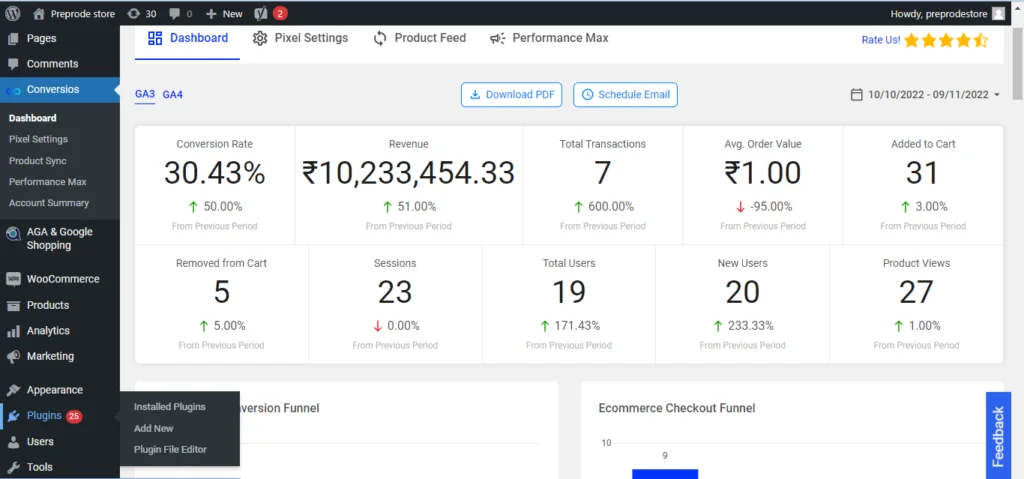 You can find GA3 & GA4 reports on one dashboard, you can check whatever you want.
Also, the dashboard has all the information available such as Pixel settings, product feed, and PMax campaign. You can check revenue, product views, conversion rate, and much more e-commerce metric for your woocommerce store.
In Pixel settings, you can integrate FB pixel, Snapchat pixel, TikTok pixel, Twitter pixel, Pinterest Pixel, Bing Pixel & Google Ads accounts as shown below👇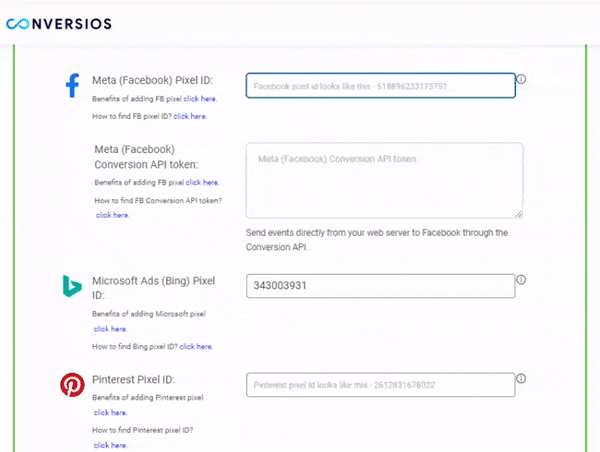 You can check the status of Google Product Feed with the help of the Product Feed Manager. Sync unlimited products with more than 10,000 products at once. Perform some clicks and that's it!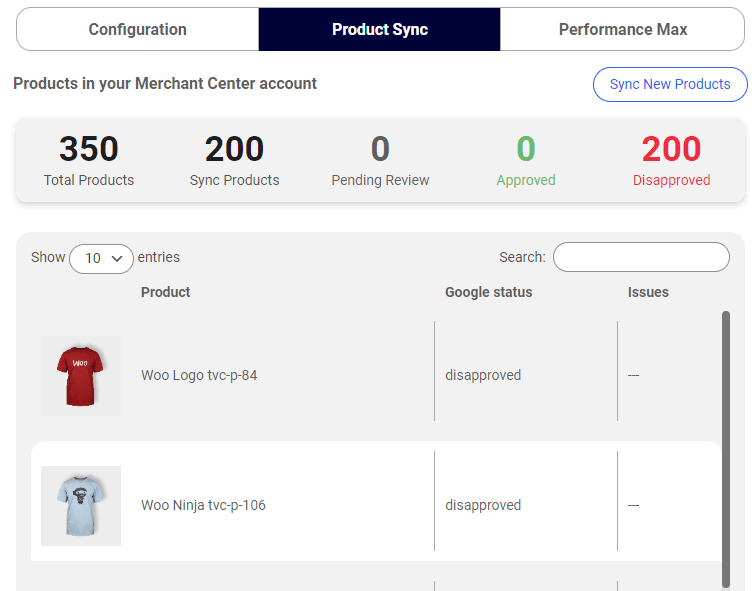 All these features make Conversios the best alternative to MonsterInsights.
2. ExactMetrics
ExactMetrics is a Google Analytics plugin for WordPress that includes an easy-to-use automatic reporting feature. Exact Metrics' dashboard will provide real-time statistics of your Ecommerce tracking.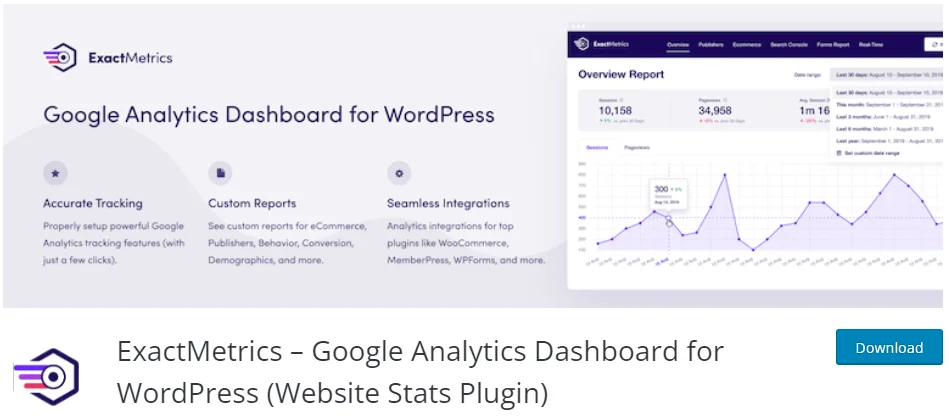 Along with that, it has some cool features like:
Customers may configure their dashboard to reflect the metrics that are most important to them.
Exact Metrics tracks form submissions, allowing you to identify which forms are the most successful and adjust them for improved performance.
ExactMetrics employs enhanced link attribution to deliver more accurate statistics on which links on your website are being clicked on.
ExactMetrics is GDPR compliant, which means that user data is secured and managed in compliance with privacy standards.
Now, check out the pricing structure of Exact Metrics.
If you are looking at the plans, it summarized as:
Plus: $199/year for 1 website
Pro: $399/year for 3 sites
Agency: $799/year for 25 sites
While the basic plan does not offer significant activities, it may be expensive for you if you are just starting out or want something within your budget.
Still, it is a good MonsterInsights alternative. It may require some additional features in order to acquire the trust of more WordPress developers or agencies
3. 10Web

The 10Web Analytics WordPress plugin is designed to assist website owners in monitoring and analyzing the traffic to and user activity on their websites. This plugin gives real-time website traffic information, such as page views, unique visitors, and bounce rates.

Along with Ecommerce tracking & event tracking, 10Web has features like:
Simple Installation: It can be integrated with a few clicks on WordPress websites, making it simple to begin tracking website analytics.
Goal Tracking: Users may define and track particular website goals, such as boosting newsletter signups or decreasing bounce rates.
Tracking of Campaigns: It helps customers to track the success of their marketing activities, revealing which campaigns are generating the most traffic and conversions.
There are three 10Web plan and price options available: basic, standard, and advanced.
Basic Bundle ( $85 / 0.5 Year for 3 Websites)
Standard Bundle ( $100 / 0.5 Year for 30 Websites)
Advanced Bundle ( $150 / 0.5 Years for 30 Websites)
Additional features that make 10Web a good alternative to MonsterInsights
15+ Premium WP plugins
30+ Premium plugin extensions
Lifetime use of all plugins
In short, 10Web is a better alternative to MonsterInsights if your main objective is to get the plugin at a low cost. The potential of 10Web allows it to be included on the list.
4. Amplitude

Amplitude is a well-known WordPress plugin that enables website administrators to collect information about user activity and interactions. Amplitude allows WordPress users to integrate their user behavior data with Google Analytics easily.

With some extraordinary features like cross-platform tracking, real-time analytics, powerful behavioral analytics, enterprise-level security measures, and solid customer support- Amplitude surely deserves to be on the list of MonsterInsights alternatives.
Amplitude provides some other benefits such as:
Explore behavioral data
Visualize any journey
Monitor key metrics
Identify conversion and retention drivers
Predict future outcomes

A few big names like Atlassian, Doordash, and Peloton already use Amplitude Analytics for their business.
Let's see what the pricing of Amplitude says. The packages of this plugin look like this:
Starter: Upto 100k MTUs included with unlimited events
Growth: Upto 1M MTUs included with unlimited events
Enterprise: Custom pricing with unlimited events
5. Independent Analytics
Independent Analytics is an analytics plugin designed specifically for WordPress. This is a free plugin that does not necessitate the creation of an account on another website.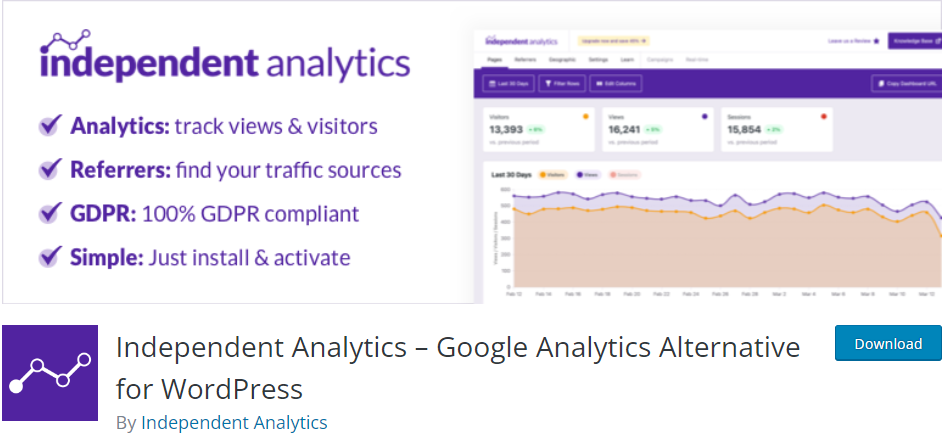 The dashboard is incredibly user-friendly and simple to use. It is built in such a manner that users may gain insights faster. You may search for data within any date range, edit the columns shown in your data table, and filter your views by page title, URL, or page type.
Its compliance with GDPR is the highlighted feature of the plugin. Apart from that, Independent Analytics have features like:
Analytics dashboard within your WordPress admin
Displays the most popular posts and pages on your site.
Identify your most important traffic sources.
Geodata with an interactive globe map
Almost no effect on performance
Let's have a look at its paid plans:
Pro
1 site license at $54 / Year
3-site license at $82 / Year
5-site license at $109 / Year
10-site license at $164 / Year
Unlimited site license at $274 / Year
Features provided by Independent Analytics:
Campaigns
Real-time Analytics
WooCommerce Analytics
Email Reports
Priority email support
In short…. It can be a decent choice as an alternative to MonsterInsights.
It has room for improvement to become one of the most dependable analytics WordPress plugins.
6. Analytify
Analytify is a good choice as a WordPress plugin alternative to MonsterInsights.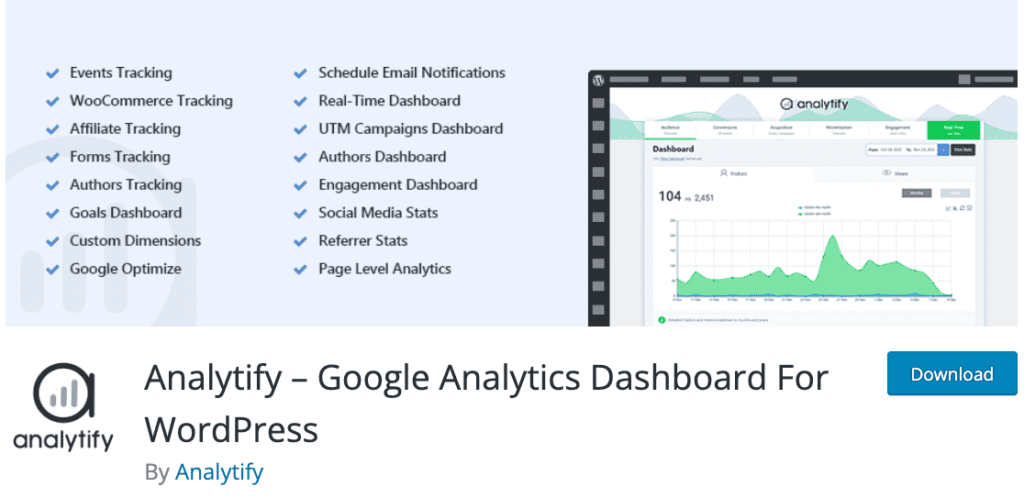 Analytify is a WordPress plugin that allows you to show Google Analytics information in a helpful way. The integration is quite straightforward and does not require the assistance of a professional to set it up.
When you use Analytify to integrate Google Analytics with WordPress, you will be able to see the dashboard on both the front and back ends. Here are some of the other features of this plugin:
Social Media stats in WordPress
Real-time stats
Universal Tracking
Enhanced ECommerce Tracking
Custom Post Types
Page Level Analytics
Front End Reporting
Automated email report
There are three plans for Analytify:
Pro: $59 / Year for 1 Website
Conversion: $99 / Year for 10 Websites
Developer: $299 / Year for 50 Websites
The Developer package provides valuable features such as:
Form Tracking
Authors Tracking
Goal Dashboard
UTM Campaign
Google Optimize
Google AMP
Custom Dimensions
Analytify deserves to be on the list of MonsterInsights alternatives since it has such a diverse set of features that too at an affordable price.
7. Matomo
Last of the list; but surely not the least. 'Matomo' is an excellent alternative to Monsterinsights.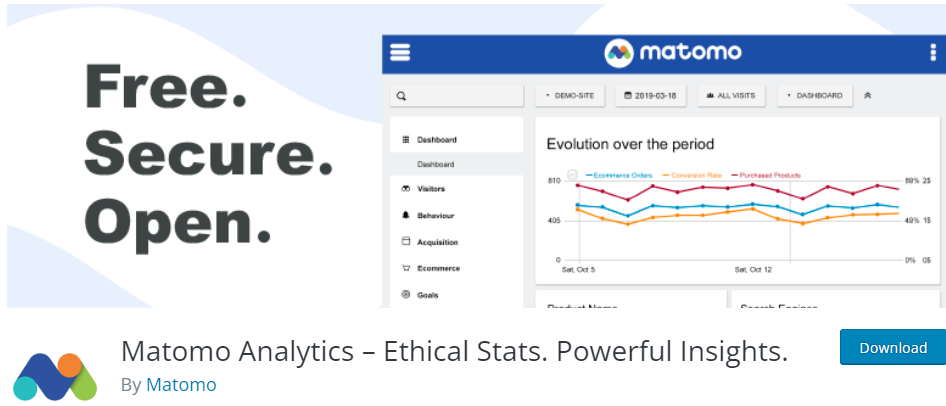 Matomo is a WordPress plugin that provides a robust set of functionality, security, and privacy protection for your users. This helps you to learn how to make business decisions and stand out in a secure and trustworthy manner.
Matomo's purpose is to reclaim user control and data ownership. By hosting web analytics on your own servers, you avoid third-party ownership, data on-selling, and prying eyes.
Benefits of choosing Matomo as an alternative to MonsterInsights:
Google Analytics Importer
Tracking Personal Data
100% Accurate Data
Open Source
No Data Limitation
Enhance Insights
Adjust to your need
The pricing structure of this plugin is a little bit different from other plugins.
On-premise: It will be hosted on the company's server. It's totally FREE!
Cloud: It will be hosted on Matomo's server. It varies from INR 1690 (approx $20) for 50,000 hits to INR 11,98,900 (approx $14,600) for 100 Million hits.
It is a more result-oriented pricing plan. An interesting one.
Matomo Analytics is also easier to use because of its time-saving interface design and out-of-the-box functionality, which need less manual configuration than Google Analytics.
Conversios – The Best MonsterInsights Alternative
When selecting an alternative to MonsterInsights, you must ensure that it is up to date with new technologies while remaining within your budget.
All the above-mentioned WordPress plugins for Google Analytics are great, but Conversios is the best.
Why, you may ask?
Conversios is a Google Analytics, Product Feed Manager, and Pixel Integration Plugin that requires no coding. With the Product Feed feature, we have assisted over 50,000 woocommerce store owners in automating their ecommerce business.
Whether you are in search of WooCommerce, Shopify, or Magento solutions, our automation will help you grow faster than you ever imagined.