Ecommerce stores were on the rise for the past 5 years but the pandemic gave them the booster dose that was required (Pun intended)😃
According to the Statista report, the global ecommerce market would cross the threshold of $2 trillion. This stat solely is motivating enough to work on your ecommerce business. Looking at the craze of online shopping, it is better for businesses to equip themselves with all the tools they need to improve their visibility and of course, sales.
From email marketing software to analytics software, there are tons of tools to choose from. To protect you from the dilemma of selecting a good ecommerce tool, we have made a list of the 7 best tools to choose from.
7 Best Tools To Increase Your Ecommerce Business
We have curated this list of 7 ecommerce tools so that you don't have to. The list consists of a range of tools like website tools, SEO tools, analytics tools, content tools, and many more. Let's have a look:
#1 Conversios
Conversios is a no-code Google Analytics, Pixel Management, and Product Feed Management Tool For Ecommerce Stores on Shopify, Woocommerce, and Magento marketplace. It has more than 50k+ downloads on Woocommerce and provides great support for installing its plugin on your store.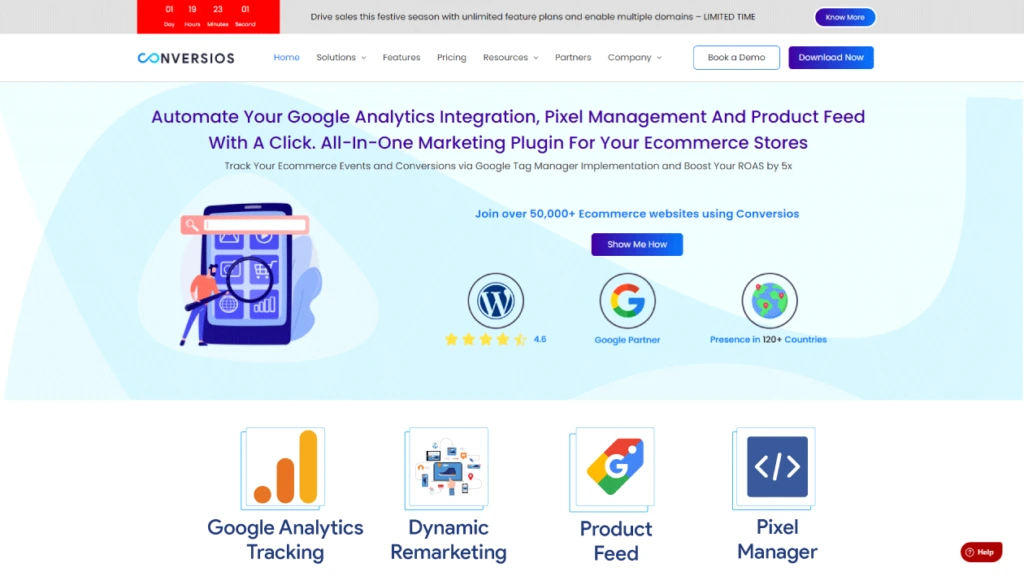 The best part about this tool is that it allows you to do everything with just one click. Whether you want to integrate Google Analytics, track conversions via pixel, or manage your product feed, all you have to do is a single click and that's it! Even if you want to integrate complex pixels like Meta Pixel, then also you just need to enter the FB pixel ID and do a simple click.
Key Features:
No-code Google Analytics and Google Ads Integration
No-code Pixel Integration of 7+ apps
Unlimited product feed synchronization from Google Merchant Center
Dual Tracking of Google Analytics (Universal Analytics and Google Analytics 4)
#2 Woocommerce
How would you market a store if there isn't any?
Woocommerce is used to create an ecommerce store from scratch with the help of drag-and-drop functionality. You can make a store for free and launch it but if you want to have some advanced features and functionalities then you have to purchase add-ons.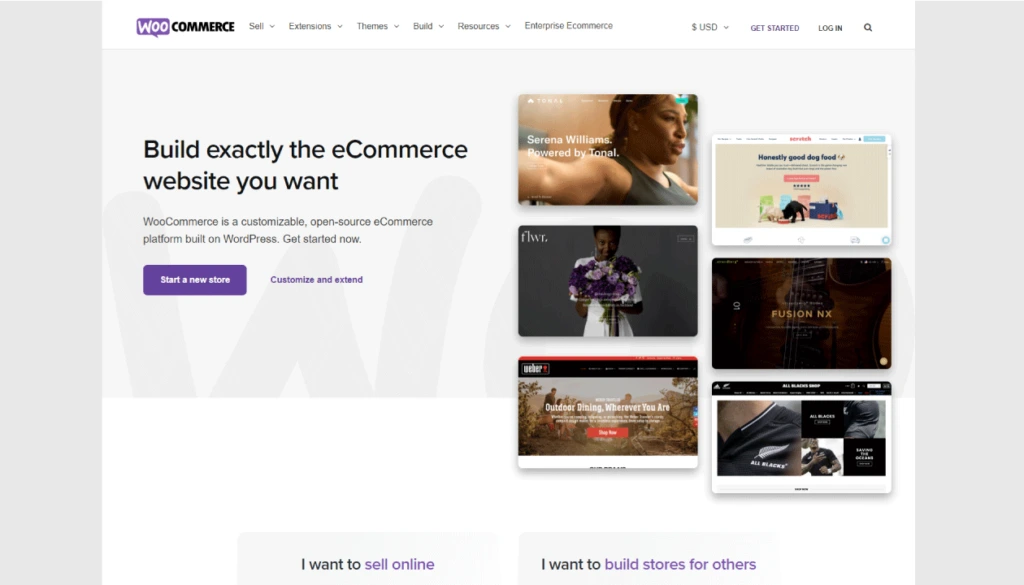 Actually, it is not a tool but an open-source plugin for WordPress. It is one of the most popular e-commerce plugin with more than 4 million active businesses. There are various plugins available on WordPress that help ecommerce businesses to grow like the google analytics plugin, cache plugins, SEO plugins, and many more.
Key Features:
Open-source free plugin
Drag and Drop Functionality
Inventory Management
Active user base of 4+ million
#3 Shopify
Shopify is synonymous with ecommerce stores. According to their website, around 10% of US ecommerce businesses are using Shopify. Well, that is a flex right there. Shopify is a paid tool that helps ecommerce businesses to build an online store and increase their online presence.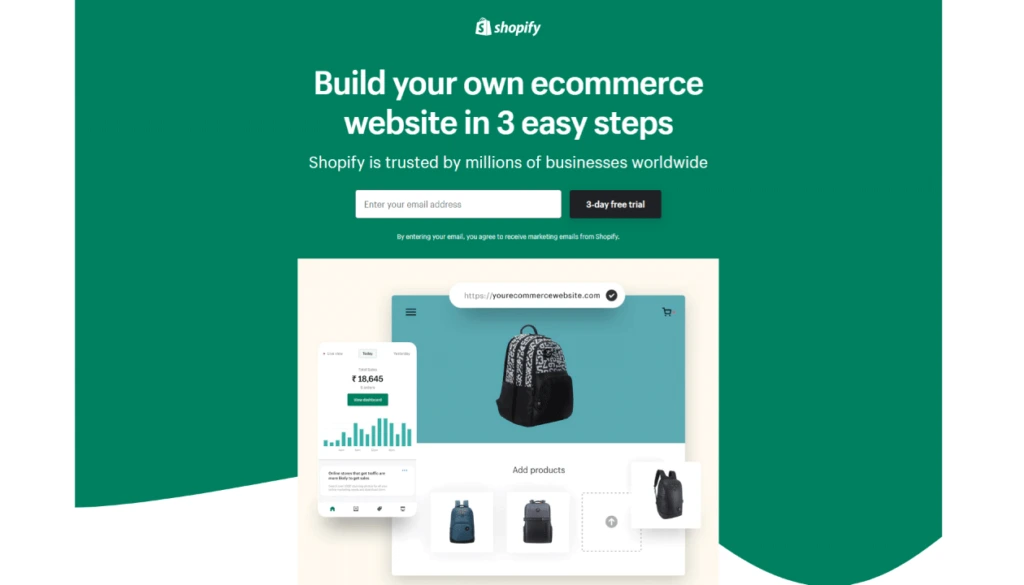 Shopify is a no-code tool that helps beginner users to create a store easily. There are a lot of premade themes and in-store Shopify apps to ease your work and help you in creating a perfect ecommerce experience.
Key Features:
No-code tool
Single Dashboard to manage everything
Inbuilt marketing tools to run ads on Facebook and Google
Unlimited Product Inventory
#4 Mailchimp
Mailchimp is a great email marketing tool for anyone who wants to send emails in bulk. It helps ecommerce store owners to retain their customers, send them transactional emails, and inform them about new sales. It is a really simple platform that lets you create engaging emails with drag and drop mechanism.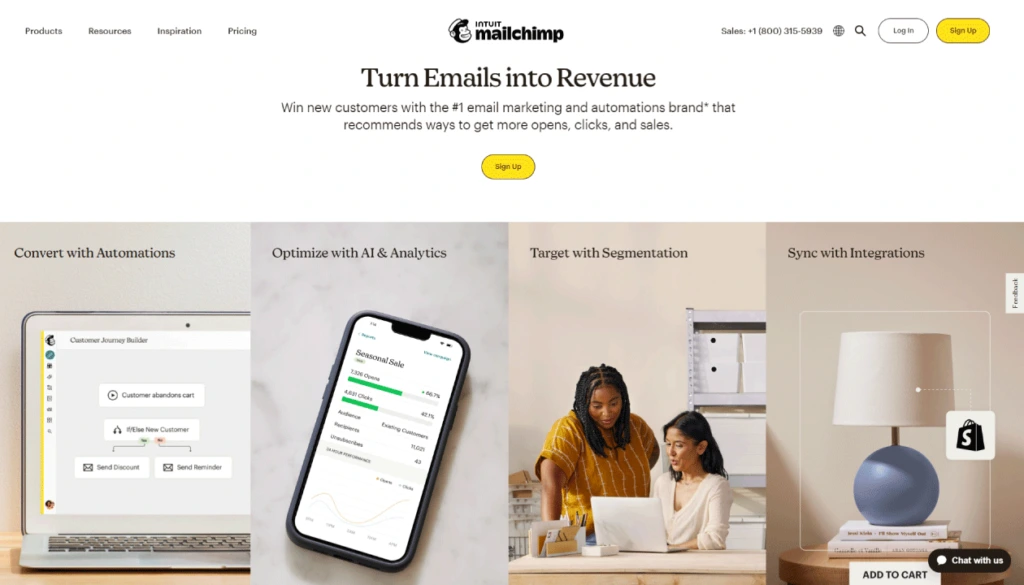 With new advancements, Mailchimp has been pushing itself to become an unignorable marketing platform for every business out there. It offers 300+ integrations, A/B testing, email scheduling, mobile app, and whatnot.
Key Features:
300+ integrations
Forms and Landing Pages
A/B testing
Pre-built email templates
#5 Zapier
Zapier is a no-code automation tool that helps you in automating workflows for more than 5000+ apps. If you don't know about Zapier, then either you don't work in the ecommerce industry or you live under a rock. It's that vast and popular.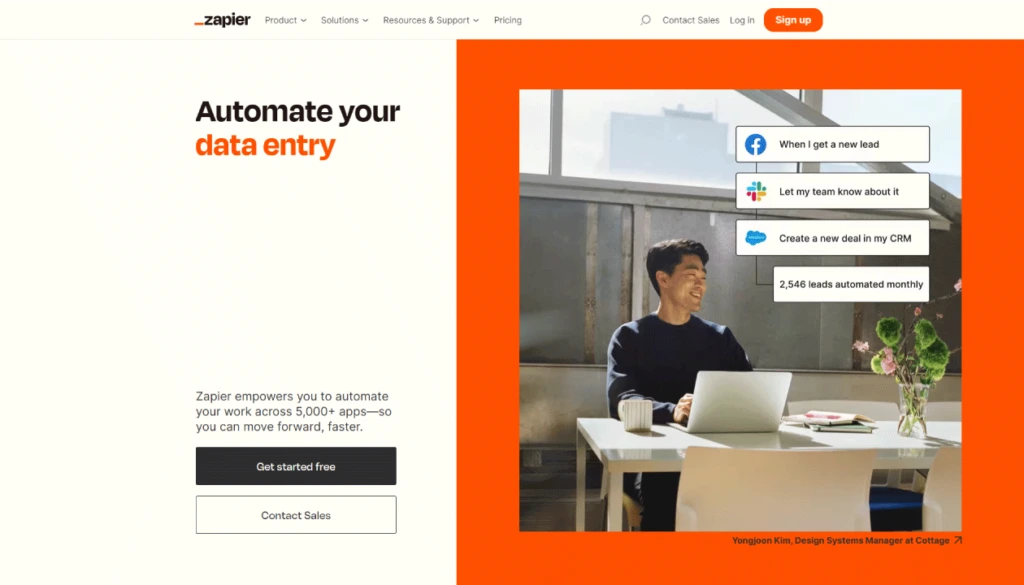 Zapier has onboarded 2M+ businesses with them. You can automate literally anything, be it lead management, project management, data processes, internal communications, and many more. If you don't find automation for your business(which might be a rare case) then you can also create your own automation without any coding.
Key Features:
5000+ Integrations
No-code automation
#6 Ordergroove
Ordergroove is a leading provider of subscription management solutions for ecommerce businesses. With Ordergroove, businesses can easily manage their subscription program and improve customer retention and revenue growth.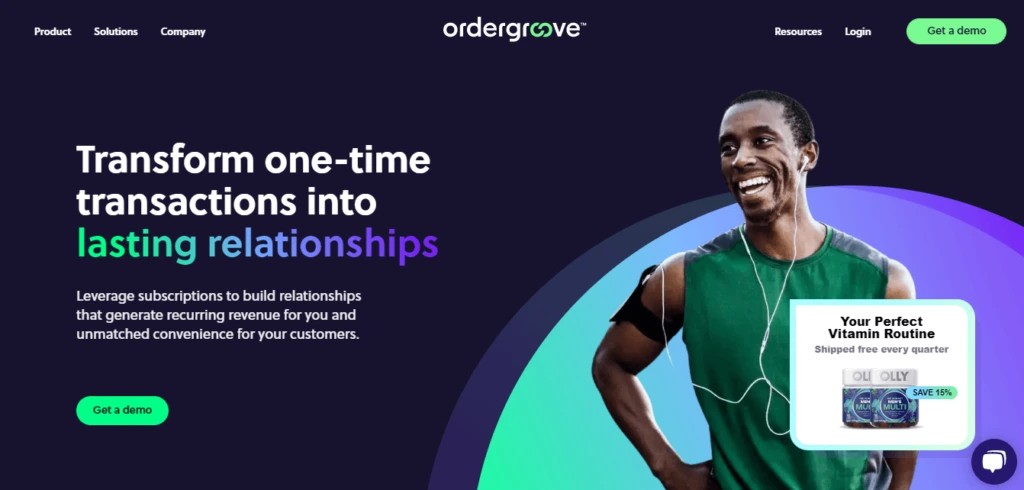 Ordergroove integrates seamlessly with popular ecommerce platforms like Shopify and offers a range of customizable options to suit the unique needs of each business. With Ordergroove, businesses can easily set up and manage recurring orders, offer flexible subscription options, and gain valuable insights into customer behavior.
Key Features:
Integration with popular ecommerce platforms
Customizable subscription options
Integrates with major payment processors
Insightful customer data and analytics
#7 Canva
Canva is something that every graphic designer would envy. A perfect tool for beginner ecommerce store owners who want to design graphics for their brand. It is used for designing anything you can think of, be it posters, presentations, graphics, social media posts, videos, templates, and many more.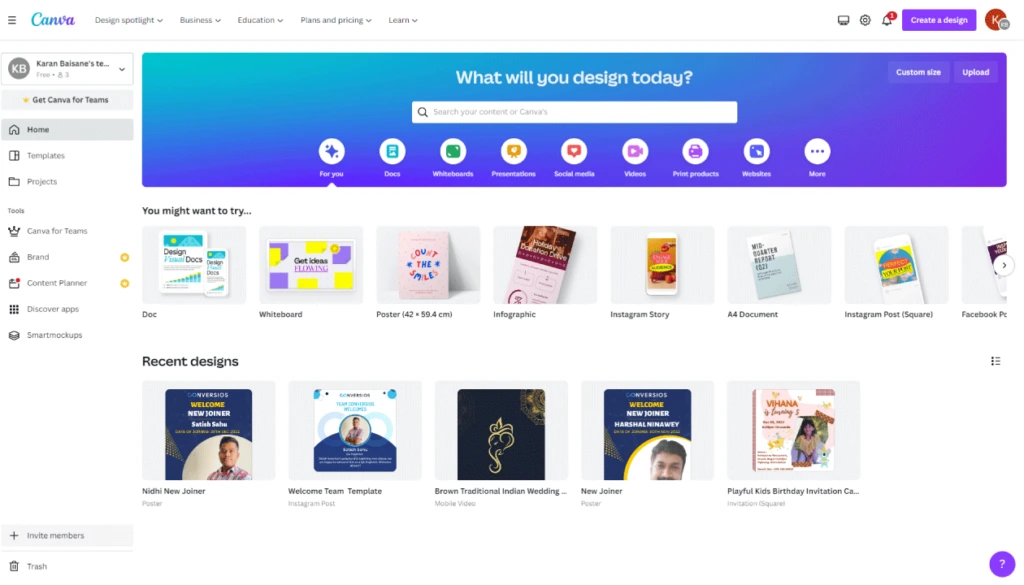 Canva has already replaced Photoshop in most places. It has almost zero learning curve and also provides ease of work by providing pre-made templates for every application. You can also share your design in real time and collaborate on the same with your friends. The best thing is that also offers free stock photos to integrate with your design.
Key Features:
250,000+ Free Templates
100+ types of design(letters, social media posts, etc.)
5 GB cloud storage to keep your designs secure
1+ million free photos and designs
#8 Buffer – Bonus Tool
Buffer is a one-stop solution for all your social media needs. It is a social media planning and collaboration tool that helps your ecommerce business to increase its presence on social media and ultimately increase sales! You can schedule posts for around 8 social media channels and also invite your team members to collaborate on the same.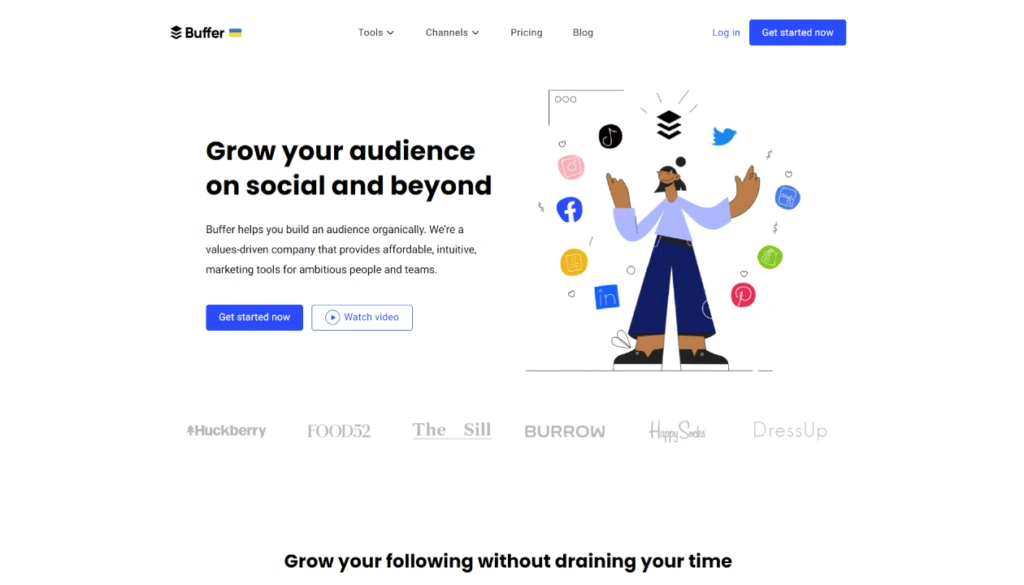 Buffer offers a link-shortening service with bit.ly and also allows you to connect 30+ third-party integrations like IFTTT, Feedly, Zapier, etc. You can also add custom UTM parameters and Google Analytics with the help of Buffer. You can also see Shopify data along with your social media reports.
Key Features:
Unlimited Users
Single Dashboard For Social Media Reporting
8+ Social Media Accounts Scheduling
30+ Third-Party Integrations
Conclusion:
Here, we have included the 8 best tools to increase your ecommerce business. We have tried to include different categories of tools like SEO, Analytics, Social Media, and many more that would help you to make more sales and 2x your revenue. Contact us if you want to integrate Google Analytics and Pixels into your business for free!