Are you looking for a dependable Google Analytics WooCommerce plugin?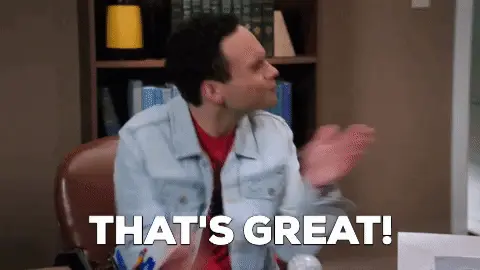 Even better if you're looking for advanced tracking for your WooCommerce store.
The Google Analytics plugin for WooCommerce allows you to track site visitors and understand user behavior. It helps you to optimize your ecommerce marketing funnel by giving exact information about the user's location, source, etc.
In short…To make your WooCommerce store thrive, track its performance with Google Analytics to strive.
Here we've compiled a list of the top 7 Google Analytics plugins for WooCommerce. We have done the hard work so that you don't have to!
But, Before that let's understand the necessity of the Google Analytics plugin for your WooCommerce store.
Why Should You Add Google Analytics Plugin To Woocommerce?
Google Analytics, as its name suggests is an analytics tool for tracking key metrics like conversions, CTR, transactions, users, etc. on websites and apps and providing insights into user behavior.
You can easily integrate this powerful tool into your WooCommerce store with the help of a Google Analytics plugin.
Using this plugin, you can improve your marketing campaigns and, as a result, increase your revenue.
Many startup and small-scale business owners take their decisions based on speculation, which can go either way.
But you don't have to do it any longer since Google Analytics helps you get valuable insights about user behavior and how they interact with your WooCommerce website.
With the Google Analytics plugin, you'll be able to:
Get the demographic information of your user
Identify which links/ pages receive the most visits
Get real-time data about what happening on your website
Analyze & Improve content marketing efforts
Create and track conversion goals
Once you'll get the data; you can eliminate the guessing game from your business and improve your decision-making as well.
We chose the top 7 Google Analytics plugins for WooCommerce based on a few criteria, which are as follows:
Ease of use: It should be simple to use.
Features: It should have features that make your process easier.
Pricing: In addition to the features, it must be affordable.
New updates: It must be up to date with the most recent releases and compatible with the most recent version of WooCommerce.
Reviews: The plugin's credibility is reflected by a number of positive reviews and installations.
Support: A good plugin comes with proactive customer support.
Let's get started!
Best Google Analytics Plugin For WooCommerce
1. Conversios
Conversios is a Google Analytics WooCommerce plugin that enables woocommerce store owners to integrate GA4 and UA with a click and that too without any code. It helps you to track customer behavior, product performance, campaign performance, and other key metrics.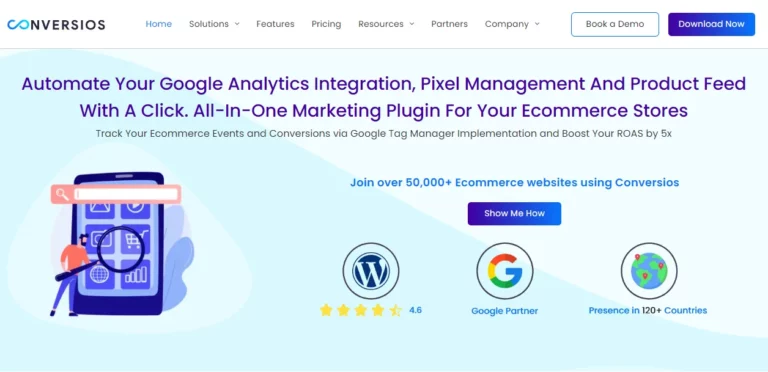 This plugin has an actionable dashboard that allows woocommerce store owners to track the behavior of their website visitors, such as product views, revenue, conversion rate, average order value, total transactions, etc. It is really simple to set up this plugin with a few clicks.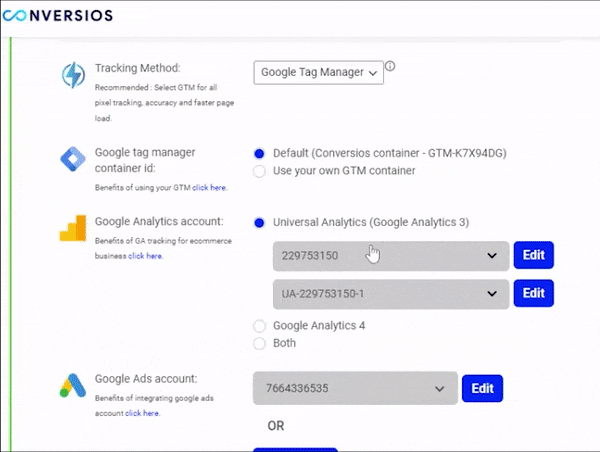 Conversios allows one-click GTM implementation that allows you to do conversion tracking and dynamic remarketing. You can do advanced trackings like scrolling, button clicks, and 68 more activities with pre-built tags and triggers. You can also use your own GTM container.
Integrate Google Analytics To Your Woocommerce Store Now
Conversios is an all-in-one woocommerce plugin that helps you to enable enhanced ecommerce in Woocommerce, add marketing pixels like Meta Pixel, TikTok Pixel, etc., sync products to GMC, run Pmax campaigns, and many more.
Key Features:
Ease of Use: Conversios WooCommerce plugin allows you to install the plugin, track reports, run dynamic retargeting tags, PMax campaigns & many things at one click.
Dual Tracking(GA4 + UA): Whether you want to stay on UA or switch to GA4; this plugin allows you to analyze data from both in one place.
Enhanced ECommerce Tracking: Ease the Ecommerce tracking process and eventually keep the abandonment rate in check by closely monitoring the checkout behavior flow.
Actionable Dashboard: With the actionable dashboard, you can easily interpret what the GA4 dashboard cannot convey. You can track conversions, CTR, cart abandonment, avg order value, and much more in a simplified manner.
Other Features:
This plugin can help you understand the user behavior flow and how they perform. Hence, you can reduce the card abandonment rate.
Check Ecommerce metrics such as CTR, conversions, revenue, add to cart, and many more. You can download and share reports with your stakeholders from the dashboard itself.
You can integrate your Google Ads account in one click to determine the exact source/medium of conversions.
It allows you to use your own Google Tag Manager account to have complete control over all tags, triggers, and variables.
One-click integration of product feed manager for Google Merchant Center.
Sync unlimited products from your WooCommerce store to Google Merchant Center using our real-time content API.
Batch-wise product sync for 1,00,000+ products
It provides pixel integration to track WooCommerce events across social media platforms such as Facebook, Instagram, Tiktok, Snapchat, and others.
Facebook conversion API integration for WooCommerce events like add to cart, checkout, purchases, etc.
It provides automation for running product ads on Google.
You can run Performance Max campaigns from the Google Analytics dashboard.
In case you are struggling with the decision of continuing with UA or switching to GA4- this plugin can allow you to continue with both at the same time.
You can get the data by PDF or scheduled email as shown below👇

By opting for a paid version of this plugin; you can unlock the benefits like GA4-API secrets, content grouping, Google Optimize & many more.
Yet again- everything at one place.
In addition to that; you can see the Google Ads Account, PMax campaign performance, and Ecommerce conversion funnel on your dashboard as well. It will help you understand user behavior & improve decision-making.
All in all, Conversios is the most powerful Google Analytics plugin, providing enormous benefits. It is also the simplest way to integrate Google Analytics into your WooCommerce website.
With 50,000+ downloads, outstanding support, and well-prepared support documentation- the Conversios plugin will surely be the game changer for your WooCommerce store.
Pricing: This plugin is available for free download, or you can upgrade to a premium plan starting at $19 per month.
Integrate GA4 To Your Woocommerce Store with Conversios🎉
2. MonsterInsights
MonsterInsights is a popular Google Analytics plugin that enables Google Analytics Integration to your WordPress site.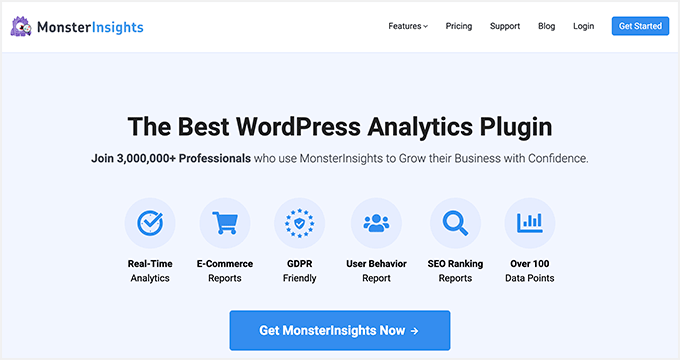 Its actionable dashboard shows you real-time stats and page-level analytics for each post and page. You can set custom tracking for categories, tags, searches, and many more.
You can make your website GDPR-compliant with the help of the MonsterInsights plugin. With features like affiliate tracking and conversion rate tracking, this plugin offers enhanced ecommerce tracking for Woocommerce stores.
Check out some powerful features of the MonsterInsights Google Analytics plugin.
Features:
Users can customize reports using an easy-to-use interface.
Get detailed Google Analytics reports on your visitors' country, gender, device, and other characteristics.
It integrates well with other WordPress plugins, from ECommerce tracking tools to form addons.
Ecommerce Report shows key store statistics such as total revenue, conversion rate, average order value, top referral sources, and more.
Integration with Universal Analytics and Google Analytics 4 (GA4). You can connect to both versions using the dual-tracking feature.
MonsterInsights has room for improvement to reach out to more users due to limited customization and is primarily suitable for WordPress. If you need a proper Woocommerce plugin, then you must opt for Conversios
Pricing: MonsterInsights plugin comes in two plans: free and paid. The premium plan ranges in price from $99.50 to $399.50 per year.
3. Glew
Glew is a valuable GA plugin for advanced WooCommerce reporting.

It helps you analyze and optimize your marketing channels by closing the loop between campaign and conversion.
Glew offers an effective segmentation tool to assist you in better understanding your products and customers.
Glew can be a good GA plugin because of features such as a pre-built dashboard and optimized email campaigns.
Let's take a look at some of the Glew plugin's features.
Features:
It has extensive tracking features that allow users to track the behavior of their website's visitors, such as page views, bounce rate, and time spent on the site.
Advanced tracking features include event tracking, eCommerce tracking, and custom dimensions.
Users can view real-time reports with the Glew GA plugin, which show how many visitors are currently on their site, where they are coming from, and what pages they are viewing.
The plugin gives users a detailed breakdown of their website's traffic sources, such as search engines, social media platforms, and referrals.
Glew's standout feature is its ability to predict numbers based on your analytics data. It allows you to improve your decision-making in order to expand your WooCommerce store.
Pricing: The pricing of the Glew plugin varies from $79 to $649 depending on your annual revenue & subscription length.
4. ExactMetrics
ExactMetrics is undoubtedly the best time-effective solution to integrate Google Analytics into your WooCommerce store. This plugin enables users to easily insert the most recent Google Analytics tracking code into their site's header to view reports directly in the WordPress admin area.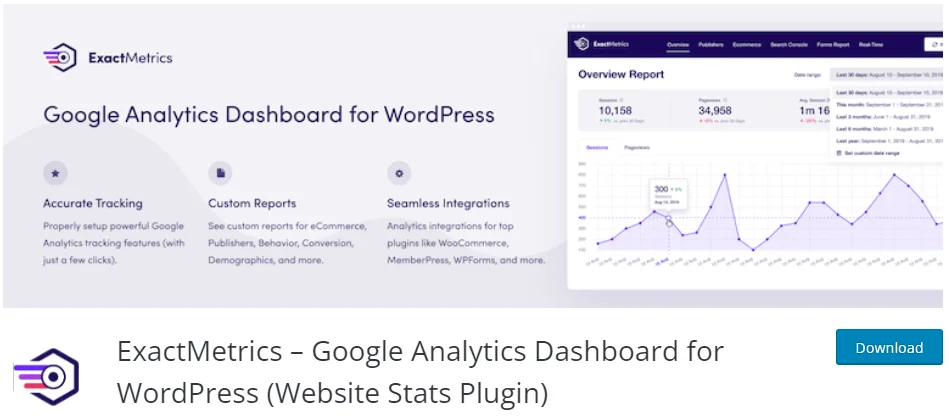 This plugin provides a variety of benefits to its users, making it an important tool for anyone looking to grow their eCommerce business.
Aside from these advantages, Exact Metrics is highly customizable, allowing users to tailor its settings to their specific needs and preferences. The only issue with Exactmetrics is that it doesn't offer a free trial of its product.
Features:
Users can use the plugin to track key ecommerce metrics like revenue, conversion rate, average order value, and more.
Exact Metrics also includes advanced tracking capabilities such as form submissions, downloads, and outbound link clicks.
Users can view real-time reports with this plugin to monitor website activity, understand traffic sources, and track user behavior.
Exact Metrics enables users to track multiple ecommerce sites and properties with a single Google Analytics account.
It is fully compatible with other popular WooCommerce plugins and page builders, allowing it to integrate seamlessly with the user's existing ecommerce stack.
Exact Metrics is regularly updated to keep up with the most recent eCommerce tracking best practices and Google Analytics updates.
You can use this plugin for your WooCommerce store because it includes an extensive content report feature.
Pricing: Exact Metrics is an effective and affordable solution whether you are a publisher or a web development agency. The cost of this plugin ranges from $99 to $699 per year. Check the pricing page to know more.
5. Site Kit
Google Analytics Site Kit is a free Google Analytics plugin that allows users to integrate Google Analytics into their WordPress website by Google itself.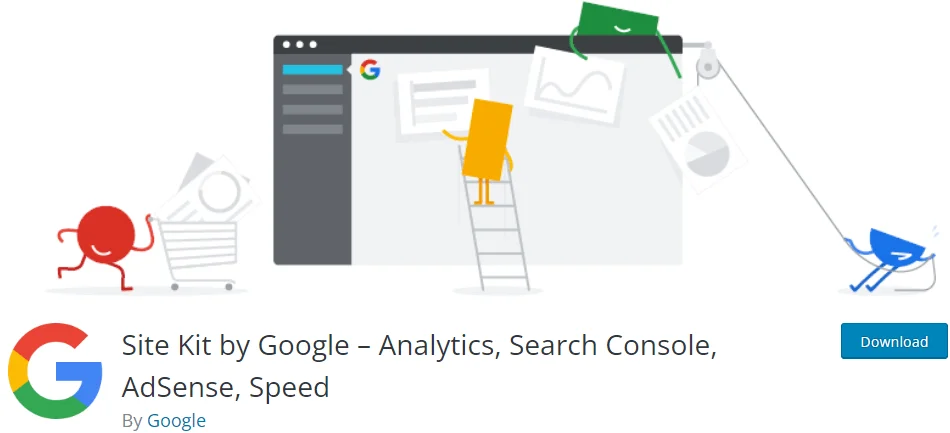 This plugin has all the Google products that are required to set up and track data in one place. It has Search Console, Analytics, Adsense, Pagspeed Insights, Google Tag Manager, and Optimize. You can integrate and track all these in one place.
Google has tried to include everything in a single plugin but it fails in some places. The plugin doesn't work sometimes or becomes very heavy to use. Let's have a look at some of the features of SiteKit.
Features:
It allows for simple integration with Page Speed Insights and Google Ads.
Site Kit can help you track traffic on your website, including channels, bounce rates, and more.
You can also obtain information such as impressions, clicks, new visitors, existing visitors, and so on.
You can learn which content works best for your website by using Search Console and Analytics.
Since it's Google's official plugin for Google Analytics, it helps you manage different tools integrated with your website.
It is a newcomer in the Google Analytics plugin for the WooCommerce room, and it has also reported some bugs (which is normal with new plugins).
Pricing: It's a newcomer, open-source, and completely free plugin. To get it for free, go to the download directory.
6. Analytify
Analytify is another useful Google Analytics WooCommerce plugin. It provides access to Google Analytics reports directly from the dashboard.

This plugin provides a variety of reports, including universal web statistics, real-time data, eCommerce-specific data, and social media interactions.
Some features, such as receiving email notifications with your reports, will require add-ons.
Features:
The Campaigns addon will allow you to track individual campaigns using UTM (Urchin Tracking Module) parameters.
Location-based tracking data to assist you in identifying areas for improvement.
On your front end, you can view detailed per-post statistics. There's no need to access your dashboard for that.
Simplify the administration of your marketing campaigns. All of this without leaving WordPress.
Pricing: If you see the pricing page; it's more affordable than many plugins. Analytify is accessible with prices ranging from $59 to $299 per year.
With price, features, and support in mind, Analytify has the potential to rank among the top three Google Analytics plugins for WooCommerce.
7. WooCommerce Google Analytics
If you're looking for basic data like page views, traffic, and so on, the WooCommerce Google Analytics plugin is a better option.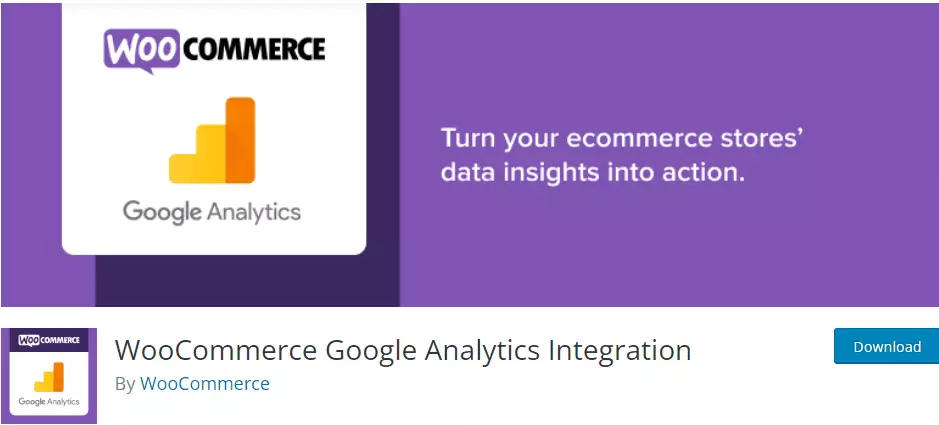 You can associate a referral with a purchase and include transaction data in your Google Analytics data.
It also includes Global Site Tag, Universal Analytics, eCommerce, and improved eCommerce event tracking.
Let's look at some features of WooCommerce Google Analytics.
Features:
It provides simple integration and can be the easiest way to connect Google Analytics to your WooCommerce.
The plugin will assist you in understanding your customers' interests by analyzing the products and content they interact with.
Enhanced eCommerce tracking to obtain eCommerce product views and cart actions.
It can eliminate site administrators from tracking to get the exact data of your potential customers.
The only disadvantage is that you must be logged out of the site admin to see the Analytics code.
Pricing: The pricing of this plugin is totally Free.
Which is The Best Google Analytics Woocommerce Plugin?
We have made an infographic to get a quick idea about all the plugins. Have a look👇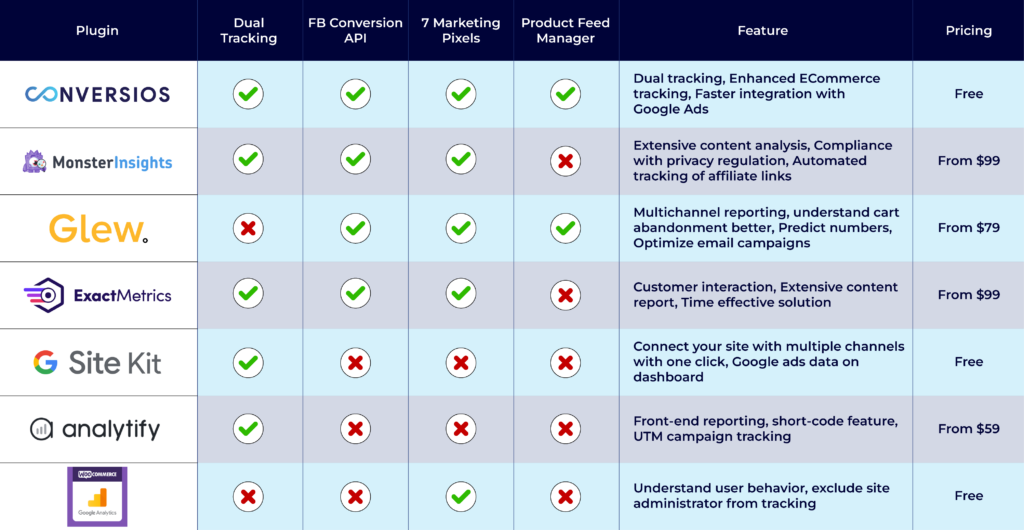 Conversios.io: The Best Google Analytics Woocommerce Plugin
We compared various plugins based on various criteria like ease of use, features, pricing, updates, reviews, and support to select the best Google Analytics plugin for WooCommerce.
And the winner is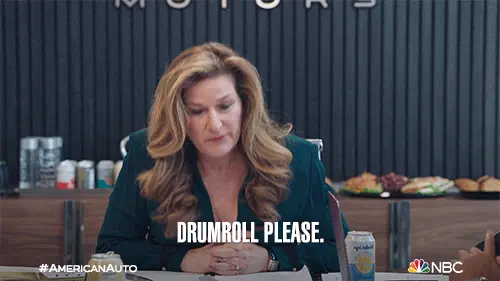 Conversios – All-In-One Google Analytics, Pixel Integration, and Product Feed Manager Plugin
Conversios provides an excellent set of features that can propel your WooCommerce journey to new heights. It allows you to access UA and GA4 data from a single dashboard. As a result, you don't need to hit the panic button when a new GA4 will hit the market.
Conversios checked all the boxes to become the most reliable Google Analytics plugin for WooCommerce. It offers a one-click Google Tag Manager implementation that helps you to do enhanced ecommerce tracking without doing any code.
With Facebook Conversion API, Pixel Manager, and Product Feed Manager functionality, it becomes almost impossible to find any alternative to Conversios.
You might not believe us but the numbers are evident. With 50,000+ active customers, Conversios.io has provided the woocommerce stores with the need for google analytics automation.
Since you came this far, here is a gift for you👇
Download the Conversios Plugin For Free Here🎁