Do you want to know how to track your website traffic, see where your visitors are coming from, and learn what they're doing on your site? If so, you need an analytics plugin for WordPress.
But with so many different plugins out there, it can be hard to know which one is right for you.
That's why I've put together this list of the 5 best analytics plugins for WordPress in 2023.
These plugins are easy to use, offer powerful insights, and are trusted by millions of users. Here's the list of top 5 WordPress plugins to look out for in 2023:
1. Conversios
2. Product Feed Manager For Woocommerce
3. MonsterInsights
4. Google Analytics 4
5. Analytify
So which plugin is right for you? Ahh….. How can you pick one from here? It depends on your needs and preferences. Though you need to know about the pricing and features of each plugin.
No matter which plugin you choose, you're sure to get the insights you need to grow your WordPress site. So what are you waiting for?
Start using the best Analytics plugin for WordPress today!
Why To Add Google Analytics 4 To WordPress?
Adding Google Analytics 4 to WordPress offers numerous benefits that can greatly enhance your website's performance. Well… how? The answer is clear. Google Analytics for WordPress offers insights into your user behavior. It means… you can know what action the user takes on your website.
Hence, you can optimize in a way that visitors like to stay and make a purchase from the website.
Adding Google Analytics to your WordPress offers benefits like:
Event Tracking: Google Analytics tool offers robust event tracking capabilities, allowing you to measure specific actions taken by users on your WordPress site. Whether it's form fill-up, video plays, downloads, or subscribing to a newsletter.
Cross-Platform Analysis: With Google Analytics 4, you can track user behavior across multiple platforms, including desktop, mobile, and even native mobile apps.
Advanced Tracking Capabilities: Google Analytics 4 introduces enhanced tracking capabilities, allowing you to gain a deeper understanding of user interactions on your WordPress site.
E-commerce Tracking: If you run an e-commerce website on WordPress, integrating Google Analytics 4 can provide valuable insights into your sales funnel and customer journey.
Integration with Google Marketing Platform: Google Analytics 4 seamlessly integrates with other tools within the Google Marketing Platform, such as Google Ads.
& plenty of more.
Overall, Adding Google Analytics 4 to your WordPress website helps you optimize your WordPress site, engage users effectively, and drive growth for your online presence.
Attention, According to WordPress, around 42% of the entire websites that are created on the web are WordPress sites- that's a huge number.
So, let's move on to the next, 'How to add Google Analytics 4 for WordPress'.
How To Add Google Analytics 4 to Your WordPress?
If you have your website on WordPress.org, you can use such plugins that we've mentioned below. Every Google Analytics plugin works differently.
But the similarity is…
All require you to add the tracking ID from your Google Analytics account to the plugin settings. Maybe adding easiness can be one of the factors for you to decide which plugin is the best for you.
So, here's the most awaited part of this guide, the top 5 best analytics plugin for WordPress ( For 2023).
Top 5 Analytics Plugin For WordPress
1. Conversios

Conversios is a magnificent and trustworthy analytics plugin for WordPress. It makes your user behavior tracking game more easier. It offers easy-to-understand data and some useful reports. That's not the end… with Conversios you can integrate six Marketing pixels to your WordPress website.
Even connecting your Google Analytics and Google Ads can be easy with Conversios. ( In just a few clicks). In short, with such features Conversios is surely your go-to option if you are looking for a analytics tool for WordPress.
Should I tell you the benefits? Definitely.
With Conversios, you can:
Use your own GTM container or default Container of Conversios
Get access of pre-built tags, triggers and variables
Get user behavior insights with all necessary metrics
Get detailed and easy-to-understand reports
Integrate Google Analytics and Google Ads account
Enable Google Ads Enhanced Conversion Tracking
Integrate Marketing pixels to your website
[ Secret: All of the above integration in just a few clicks, literally no coding ( or developer) needed for this.]
So, I've used this tool for a while. And the most loveable thing about it is: 'Simple and easy-to-understand dashboard.
The only ( probably) drawback of Google Analytics 4 is the complex data and reports. If you are just a beginner, you will feel more confusion while using Google Analytics 4. But, not with the Conversios.
You must hit the above download button, if you are:
WordPress ( WooCommerce) store who are looking for enhanced Ecommerce solutions
WordPress store who wants GA4 integration ( But with less complexity in data)
ECommerce enthusiast with no development knowledge ( totally a no-code tool)
Who wants to track every action of users on their WordPress website ( Using Google Tag Manager)
Overall, a win-win for everyone who has their website built on WordPress or Woocommerce.
2. MonsterInsights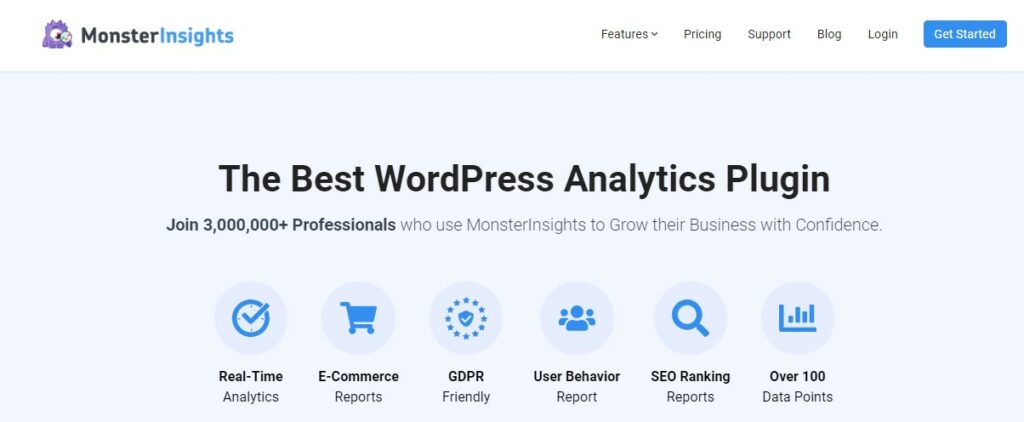 MonsterInsights is a powerful analytics plugin for WordPress. It has a huge user base who's using their plugin. Along with the user behavior tracking, MonsterInsights offers scroll tracking, Google AMP tracking & URL tracking.
And same as Conversios, you don't need to touch a single line of code to get the access of all Google Analytics data. Remember, it's only for WordPress. There are tools available in the market that offer google analytics integration on Magento & Shopify.
Let's snoop into the features of MonsterInsights plugin:
Get user behavior insights such as country, device, gender, etc.
Get an idea about how a visitor find your website ( by keyword, by referral, etc)
EU compliance add-on to make your site compliant with GDPR ( extra add-on)
Download tracking features to see how many times a file was downloaded
Connect Google Analytics ECommerce tracking with WooCommerce, Digital Downloads, etc
Keep in mind that free plugins come with certain limitations. Same goes with MonsterInsights. You need to install extra add-ons to perform required actions.
Let's move on to the next one.
3. ExactMetrics

In my opinion, number 3 will be ExactMetrics. ExactMetrics has a lot of features and it's easy to set up Google Analytics without any coding. You probably notice one pattern that- we've found only no-code tools for you- so you can make a choice very quickly and easily.
Additionally, it is quite simple to collect data in Google Analytics without manually setting up event monitoring. Credit goes to some superb features of ExactMetrics. Well…I forgot to mention the highlighted features- let me do it here:
Download Tracking
Scroll Tracking
ECommerce Tracking
Custom Dimensions
ExactMetrics is the best way to quickly see spikes and surges in your WordPress website traffic. It's very simple to configure and easy to read the results straight in WordPress.
While the recent inclusion of advertisements in the free edition appears to have hurt its reputation, the premium version remains a viable option.
If I have to summarize the ExactMetrics- it should be used if:
You want a more basic analytics plugin
You like having advertisements
You are interested to pay for a premium version
4. GA Google Analytics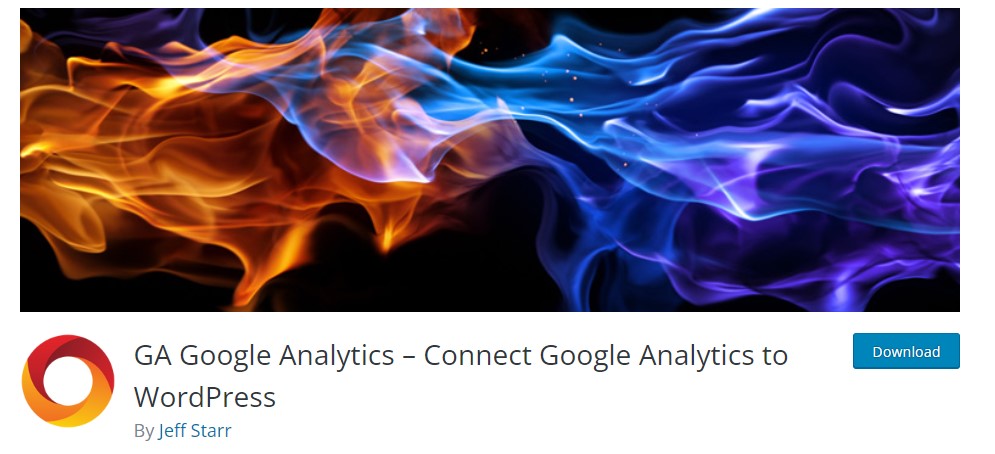 GA Google Analytics is a simple but different type of google analytics plugin for WordPress. It helps you to integrate Google Analytics on every page of your website. You can opt for this plugin if your purpose is to just connect Google Analytics, nothing more!
The drawback of this plugin is that it doesn't pull any data and shows it with a simple interface like its peers. To see and analyze the data you have to log in to your Google Analytics account.
If you are a fan of tracking everything in one place, then this may sound disappointing. Although, other features like GDPR compliance, disabling tracking of admin users, etc. subsidize the inbuilt dashboard.
Highlighted Features:
Disable tracking for admin-level users to get the accurate data.
Easily customize your tracking code based on your requirements.
Doesn't display your site stats inside your admin panel. You'll have to log in to your Google Analytics account to view the analytics
So while this WordPress Google Analytics reports plugin may not have as much power as an alternative (like Conversios), it might be the good place for you to get started.
5. Analytify

Another major tool in the WordPress analytics space: Analytify. This plugin can install your Google Analytics tracking code for you without a single line of coding.
It offers super easy installation and just like Conversios, lets you view your Google Analytics reports right inside your WordPress admin panel.
You can also get page-level analytics for every page and post, as well as detailed stats for your custom post types, like portfolios, galleries, and testimonials.
Let's look into some cool features of this tool:
Lets you check the statistics of individual posts and pages
Offers different add-ons to enhance its functionality
Sends automated email reports for every post, page, and general stats of your site
The free version gives a bunch of ads; so you need to pick the premium plan for sure. In short, if you are using a web store and want enhanced eCommerce tracking- try Analytify now.
Which One Should You Pick And Why?
Obviously all of them are better than others that are not in the list. But amongst them; which one should you pick? If I have the choice; it's definitely the 'Conversios'. It's easy to set up, requires no coding, shows every data on the dashboard itself, you can enable Google Ads conversion tracking, connect your Google Analytics with Google Ads, integrate marketing pixels, easily-understandable reports ( So easy as a beginner can also do it with ease) & more new features to come- Surely the best analytics plugin for WordPress.
Before wrapping up, let us answer some of the common questions that people have.
FAQs
Is Google Analytics free for WordPress?
Yes, Google Analytics is free for WordPress. You can easily add it to your WordPress with a straightforward process of adding GA code to the header or footer of your website.
What is the alternative to Google Analytics on WordPress?
There are many alternatives to Google Analytics for WordPress. The most popular is Conversios. It offers easy-to-understand data and reports. Google Analytics has few metrics and reports that are too tough to understand if you are just a beginner.
Do I really need a plugin for Google Analytics?
The answer is, No. You can add Google Analytics to WordPress without a plugin as well. You just need to get the GA code, copy it and paste it to the header/footer of your WordPress website. With plugins like Conversios, you can integrate Google Analytics more faster and easier.
Does WordPress have built-in Analytics?
No. WordPress doesn't come with built-in analytics. You need to connect Google Analytics with your WordPress website through a normal process. But this process can be tricky as you can't find the issue while integrating the Google Analytics code. In such cases, it's recommended to use a plugin to connect Google Analytics with your WordPress site. Plugin like Conversios makes it easier for you. You just need to paste the code in the plugin and you are good to go.
Which Google Analytics plugin to choose?
Best google analytics plugin relies on various factors. Mostly ease of use, features and pricing becomes the factor that helps you decide which plugin to choose. If considering these three points, Conversios will be a great choice. Not only for WordPress, Conversios have tools for Magento & Shopify as well. So, Conversios is the answer without any debate.
Thanks For Reading! Let us know your thoughts in comments!