The race to reach the right audience at the right moment keeps getting intense. Goals can be to ramp up the sales or to increase brand awareness. In either case, it is important to be highly effective. eCommerce plugins can be your knight in shining armor to achieve your brand goals.
To be effective, marketers often like to focus more on performance and let the management be taken care of by the tool. If that is the case, we can take you through this exciting amalgamation of Google products. Also, we'll showcase how they play a powerful role when they come together.
eCommerce Plugin: Importance of Tracking with Google Analytics
Enhanced eCommerce in Google Analytics is an advanced tracking mechanism that captures users' interactions with the products. eCommerce tracks, for example, the total number of products shown, the product user has clicked on, add to cart, checkout, and transaction. It provides deep consumer analysis on eCommerce engagement of users in the form of varied reports from product-based dimensions and metrics to the entire shopping funnel.
These reports help businesses with micro-level insights into promotions, click-through rate, product impressions, sales funnel behavior, and other interaction data to make strategic decisions for increased sales. Additionally, you have an option to generate an audience out of these sales funnel steps for effective remarketing.
A Quick Glance at Google Merchant Center and Smart Shopping Ads: eCommerce Plugin Integration
Google Shopping campaigns are visually enhanced forms of running ads. Here users can see rich product information on the Google page before they decide to click the ad.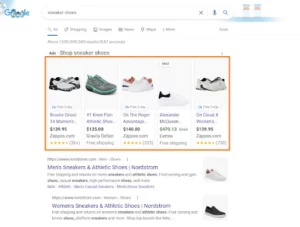 Google Merchant Center helps you get the shop links and product info from its product feed into the Google page and display it to the shoppers through Shopping Ads. It assists you in ensuring that information about your products, such as pricing and availability, is accurate when displayed on Google. So, your potential leads do not get any outdated information. To help you drive your company's strategy, get practical data on pricing, merchandising, and more. Integrate Merchant Center with Smart Shopping Campaigns. Also, you can get comprehensive reports to see how your ads are performing across Merchant Center connected programs.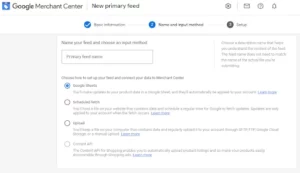 Smart Shopping Ads is Google's automated way of delivering ads to shoppers' queries through machine learning. It is based on the budget and objective set by the advertisers.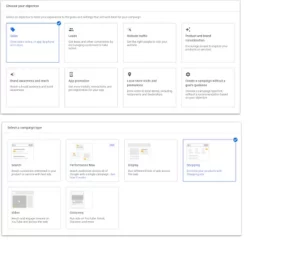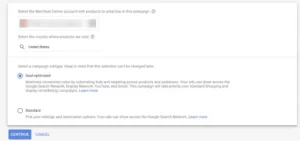 All-in-one: eCommerce Plugin Integrated Approach
An excellent Google Merchant Center account is the foundation of any successful Google Shopping campaign. Hence, it is an important integration in the eCommerce Plugin. It is a link between your eCommerce site and Google Ads. It makes GMC essential for a successful Product List Advertising.

You'll need to get your Google Shopping Ads in front of the buyer-intent searches. You can easily achieve this by pulling data from your Google Merchant Center account.
Google's machine learning uses your product stream (from Google Merchant Center) to produce and show a range of advertising across several networks. With the help of Smart Shopping campaigns GMC can show it on the Google Search Network, Google Display Network, YouTube, and Gmail. Interestingly, the smart technology automatically tests various combinations of the image and text assets you have provided. It will then choose and display the most appropriate adverts.
While you can't directly add audience segments to a Smart Shopping campaign, audiences are one account-level indication that Smart Shopping considers during the bidding process. In Google Analytics, Audiences based on behaviors like 'Add to Cart, No Purchase, Purchase Value – £100 and Page Depth 3+' are easily created. Then, export the set to Google Ads to drive incremental sales.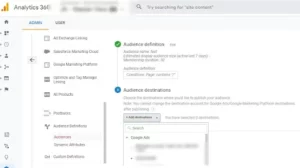 Let's go through a simple use case to further understand the benefits of this eCommerce Plugin integration:
Consider a small business named Shoemania specializing in personalized footwear. It has recently started selling online.

Linda, a prospect, browses through some shoes on their website and clicks on a red printed one. She wants to check out other details or similar options before making a purchase. After some browsing, she finally likes a red high-heel which she adds to the cart but prefers to browse through more products from other brands before making a purchase

Shoemania has been collecting its eCommerce data in Google Analytics and observing the sales funnel. They observed that a lot of users, like Linda, are adding their products to the cart and moving away without buying the product

In order to cover this segment of users, they want to run some remarketing campaigns. Since, they want visibility as well as sales for their products. However, they have limited resources to manage and optimize campaigns themselves. They would like to start small by targeting specific locations where they have been operating well.

In this scenario, Linda will be added to Shoemania's remarketing list created through the Google Analytics Audience feature. She will now see better offers for the same red high-heels she selected. She will be attracted to return and complete the purchase.
Now see the difference!
Shoemania came across Google Shopping and would like to explore it. They got excited about advertising their products through attractive images and exciting launch offers. They uploaded their product feeds to Google Merchant Cente. By this, they ensured accurate and comprehensive ads in Shopping. It will maintain automatic updates to the stock/offers.
As Linda searches for 'high-heels shoes' on Google, she comes across Shopping Ads from Shoemania. Smart Shopping campaign fetches product creatives from the Google Merchant Center account's existing product feed. It is based on product attributes defined in Merchant Center data. The campaign then shows the ads in relevant searches and gives Linda the most relevant visual and textual content (based on her past browsing). The smart machine learning algorithms helps.

Just by looking at the picture, she can tell which shoes matches her interests. By glancing at the price, she can determine whether the shoes are within her budget. This implies that when Linda clicks on the ad, she already has a fairt idea of what the product is and how much it costs. This puts her ahead in the sales funnel than the usual web visitor.

With the new offer and better branding, Linda is now keen on making the purchase. She clicks the ad to land on Shoemania's website. She finally completes the transaction.
Ready to become a smart advertiser?
While the Smart Shopping Ads take away a lot of manual effort around management and optimization, setting up Google Merchant Center, Google Ads, and Google Analytics might still seem like a daunting task.
What if we say we have got you covered?
Conversios is your hassle-free, user-friendly and powerful plugins in the market. The eCommerce plugin will further automate your set-up efforts by managing all 3 tools through one single interface. All you need to do to start is install. Then enable the plugin, link your Google Merchant, Google Analytics, and Google Ads accounts. There you go, you are ready to roll!
Users call it 5-minute magic!
The plugin is a blessing. It eliminates all the human labor in listing the products in the Merchant center. The plugin links GMC to your smart shopping ads, automating campaign management. The idea is to save you the time for site verification and domain claim and link the Google Ads account for Smart shopping. It offers Dual tracking (UA and GA4) for key KPI reports like Shopping and Checkout funnel for actionable insights.
Get in touch with us today to explore this exciting approach to smart marketing.
.