As we all know Google Merchant Center is a powerful platform to promote your products on Google Shopping. No way you don't know about the benefits of product feed to Google Merchant Center. Keep calm, we will make it easier for you. Explore the benefits of product feed to Google Merchant Center and know why it is important to understand such roadblocks ( GMC errors).
For product approval Google follows a strict product policy which you need to consider for faster product approval. However, there are a few common errors that can hinder the process of a product feed to the Google Merchant Center.
Here we can make it easy for you to understand these errors and how to fix them. It eventually helps you ensure your product feed is accurate, compliant, and well-optimized.
Before all of these, do you know how to product feed? Whatever your answer is, here's the easiest way to do it. Refer to the article to know more about the product feed process.
Let's look into some Google merchant center errors and ways to fix them.
Common Google Merchant Center Errors With Solutions
1. Product Disapproval for Free Listing
Google is a widely used platform and it follows a strict product policy. There can be a few roadblocks in the process of free listing for your Ecommerce products. For example, if your product is counted as 'dangerous' or restricted by a specific country's government- Google will reject your product for Free Listing.
Solution: Check, free listing policies by Google to ensure you won't get any hiccups in your listing process.

Product Disapproval for Shopping Ads
Your product listing is not limited only for free listing, you also need to look into Google Shopping Ads. There are policies given by Google for 'Shopping Ads''. These policies are designed for Ecommerce stores to support a healthy digital advertising ecosystem. Google requires that advertisers comply with all applicable laws and regulations and the Google policies described below.
[ Note: Most of the smart shopping and local campaigns have upgraded to Performance Max. ]
Prohibited Content
Counterfeit Goods– Product that contains a logo or trademark that is identical/ look alike to other brand
Dangerous Products– Drugs, Psychoactive substances, weapon, explosive, ammunition, tobacco & many more
Product with unethical behavior– Hacking softwares, fake documents, academic cheating products, etc
Inappropriate content– Bullying or intimidation of individuals, racism, self-harm, extortion or any other content that spread hatred and violence
Restricted Content
Adult-oriented content– Adult merchandise, sexually suggestive content, Image containing exposed skin and nudity
Alcoholic beverages– Alcoholic beverages and drink that resembles alcoholic beverages
Copyrighted content– Content that already have copyright
Gambling related content– National or private lotteries, physical lottery scratch card, promotional offers for gambling sites
Healthcare related content– Over-the-counter medications, prescription drugs, unapproved pharmaceutical supplements, etc
Political content– promotion of political parties/candidates, political issue advocacy
Solution: Make sure to eliminate such content from your product to easily get the approval from the Google Merchant Center for Shopping Ads.
3. Pricing Mismatch
Pricing mismatch is one of the common Google Merchant Center errors. In some cases, the price of the product in your feed and the price of the product on your website is different. If Google encounters such mismatches, they will disapprove of the product listing.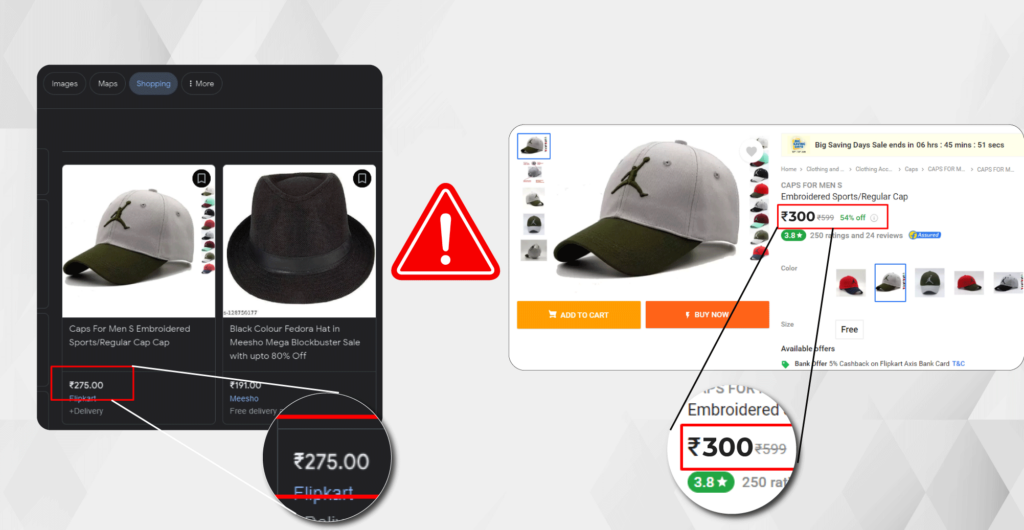 Solution: To eliminate such errors, try to update your product feed regularly. Here, you can use Conversios product feed manager for WooCommerce to update and manage your product feed regularly. You can easily update your product details from the plugin itself.
Here are some easy practices that can help you eliminate this error:
Review your product feed
Check your Ecommerce website
Regularly update your product feed ( as we mentioned above)
Use correct currency format
Test and validate your product feed
Solution: However, Google Merchant Center fetches the price updates directly from your Ecommerce website. But, Google itself suggests, as a best practice, to keep your product feed regularly updated from your end to avoid any disapproval.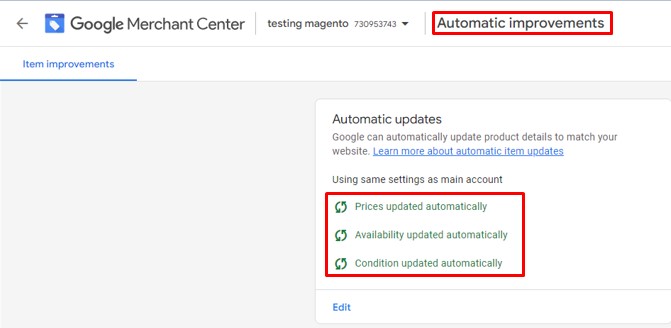 4. Missing Required Attributes
Google Merchant Center has a set of required attributes that must be included in your product feed for each product like id, tittle, description, image link and product link other than these required attributes, other important attributes like color, gender, shipping details, sales price (if any) brand etc help make the product look more rich and gives more information to the customers.
If any of these required attributes are missing, not properly formatted, or incomplete, it will result in disapproval of your product listing.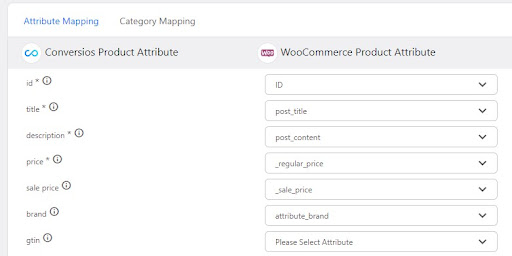 Solution: Product attribute mapping in Google Merchant Center helps:
Improve data accuracy, visibility, relevancy
The overall shopping experience for customers
Ensures compliance with Google's guidelines
Simplifies feed management
Ultimately driving better performance and results for your product listings.
By implementing the above solution, you can improve product visibility with all product attributes.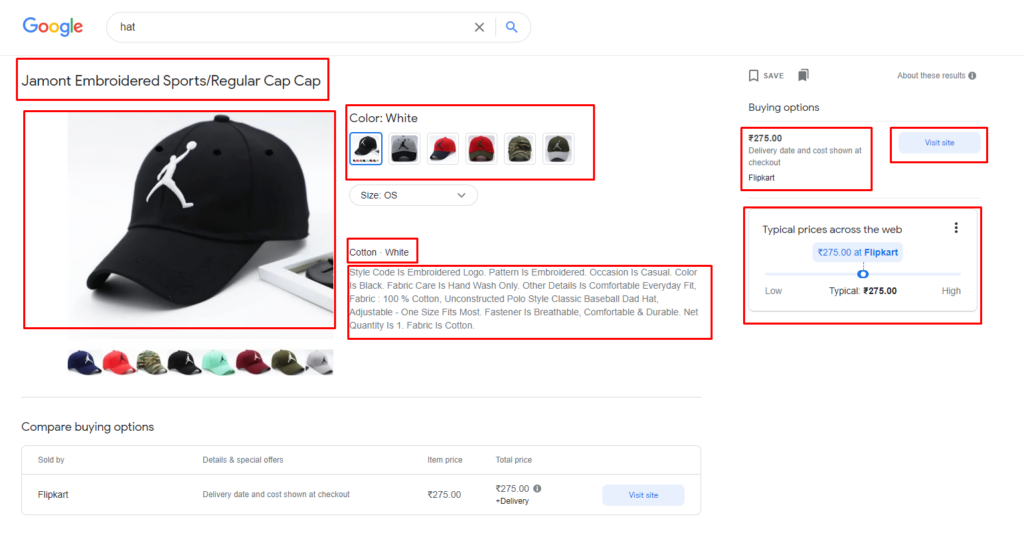 Also make sure your data feed is using the correct character encoding, such as UTF-8.
5. Quality of Product Visibility
Not keeping an eye on Google Merchant Center warnings can be the biggest error as it directly affects the quality of product visibility and indicates to you what needs to be done in your product feed. Let's look at the top warnings that you can check and resolve:
Data quality issues: Address any data quality warnings by ensuring that your product information is accurate, up to date, and follows Google's guidelines.
Low-performance warnings: If you receive warnings about low click-through rates or conversion rates, review your product titles, descriptions, and images to improve their appeal to potential customers.
Solution: The more product attribute data provided to the Google Merchant Center the better and rich product will be visible to the customers. Give attention to such warnings and resolve them as soon as possible. If you are using Conversios product feed manager for WooCommerce, you can check the real-time status of your product feed approval.
Conversios also provides error descriptions ( reason for which your product gets the disapproval status). You can resolve the error and can send product feed for approval again.
Lesser GMC Errors, Higher the Product Visibility!
Simply syncing your Ecommerce store with Google Merchant Center is not the ideal way to boost your conversions. You need to look into these errors and try to fix them as soon as possible. Check out how Conversios plugin helps you to tackle such issues.
Conversios, being a helpful tool for Ecommerce stores, can help you manage the product feed. With Conversios, you can easily feed products to Google Merchant Center, sync unlimited products, verify the site, claim your domain, and many more. Check out the features and pricing of Conversios, and start managing your product feed in a much better way!

Comment down the errors that you have faced while doing product feed to Google Merchant Center, tell your answers!
To get support, reach us at [email protected] now!