solutions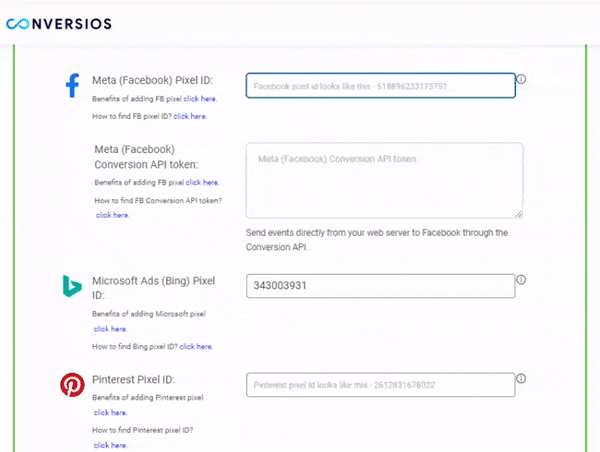 Pixel Manager For Woocommerce
Conversios helps track conversions for your woocommerce website by integrating pixels with Google Tag Manager implementation. We help you connect various pixels namely Meta Pixel, TikTok Pixel, Snapchat Pixel, Pinterest Pixel, Twitter Pixel, and Bing Ads Pixel with a single click.
Our pixel manager plugin helps you to add google analytics and google ads tracking code with 99.9% accuracy. This would enable you to do remarketing and google ads conversion tracking.
Features
Enable Dynamic Remarketing
Install the Conversios plugin on your woocommerce website and enable dynamic remarketing by creating an audience from the pixels. Save the hassle of collecting data manually and let pixel do the magic!
All Pixels At One Place
We have made this easier for you. Connect 6 types of pixels namely Meta Pixel, TikTok Pixel, Snapchat Pixel, Pinterest Pixel, Bing Ads Pixel, and Twitter Pixel by just inserting their pixel id and start conversion tracking from one place.
Integrate Google Ads Account
Configure Google Ads account for your woocommerce business within seconds. Just enter the ads account id and you are good to go. Track every campaign for your website and optimize your ads accordingly.
Integrate Google Analytics Tracking Code
Integrate your Google Analytics 4 and Universal Analytics (GA3) accounts with a click. Save the hassle of adding code to your website. Track every conversion and measure every click with Conversios!
No-Code Pixel Manager
Integrate all your pixels and also enable google ads conversion tracking without doing any code! Yes, you heard it right! Conversions help you to install every code and track everything by just doing some clicks! Save yourselves from the effort of hiring a developer, try our woocommerce plugin today!
Google Tag Manager Implementation
Conversios uses GTM(Google Tag Manager) implementation for faster page load, tracking pixels with accuracy, and enable dynamic remarketing. You can also do custom event tracking with the help of our pixel manager plugin
Still unclear?
why conversios?
Frequently Asked Questions
Yes, Conversios is a certified Google partner company that provides solutions to ECommerce businesses, WordPress developers & ECommerce marketing agencies.
Conversios offers "Google Analytics plugin to integrate UA/GA 4 to your website", "All-in-one pixel manager for Facebook, Snapchat, Tiktok, Pinterest, Twitter Microsoft", & "Product Feed Manager plugin" for WooCommerce, Shopify & Magento assist you in scaling your ECommerce businesses.
Conversios solutions are available on Shopify, WooCommerce, and Magento. The plugin can be downloaded from the relevant platform's app store.
Yes, you can use Conversios plugins for Free with limited features. To add more valuable features, you need to go for premium plans. Explore pricing to know more.
Definitely, you can update your license at any moment.
We provide a 15-day refund policy, where you'll get a refund without any queries or explanations.
The pricing depends on which plugin you've decided to go with. We've plugins for Shopify, WooCommerce & Magento stores. Check our pricing to know more.
Conversios plugin supports a total of seven pixels including Meta Pixel, Microsoft Ads Pixel, Pinterest Pixel, Snapchat Pixel, Twitter Pixel, Tiktok Pixel & Google Ads.
Want to Grow Fast?
Pick a Plan Best Suited For Your Business