Efficient E-commerce Tracking: Posture Pro's Journey
to Success with Conversios - AIO Pixel
Posture Pro is a reputable company based in Norway, dedicated to providing ergonomic products and solutions that prioritize proper posture and overall well-being. They offer a diverse range of products, including ergonomic office chairs, posture correctors, lumbar supports, and other accessories designed to enhance comfort and promote better posture during daily activities. With a focus on customer health and satisfaction, Posture Pro aims to improve the quality of life for its users through its innovative ergonomic offerings.
Posture Pro faced several tracking issues and tag duplication problems that affected their ability to accurately track and measure their marketing efforts in their Shopify Store. The issues reported by Mohammad Salameh included:
To address these challenges, Posture Pro sought assistance from Conversios Team. The team started debugging the issues and based on the information available, proceeded further with the relevant actions.

Upon investigation, the following solution was proposed:
Posture Pro witnessed remarkable enhancements in its tracking and data reporting processes. The migration to the "Conversios GA4, FBCAPI, Pixels" app proved highly successful in eliminating tag duplication issues, ensuring data accuracy, and precise tracking. Moreover, with the correct implementation of tracking tools, all events and user interactions were accurately monitored, providing trustworthy data for marketing analysis. The cleanup of GA4 IDs further streamlined the data collection process, facilitating easier analysis of website performance and customer behavior. Notably, by consolidating tracking tools into a single solution, Posture Pro achieved a more streamlined and efficient tracking setup, effectively reducing the risk of technical errors and maintenance overhead. These combined results have significantly strengthened Posture Pro's ability to make informed decisions and optimize its marketing strategies.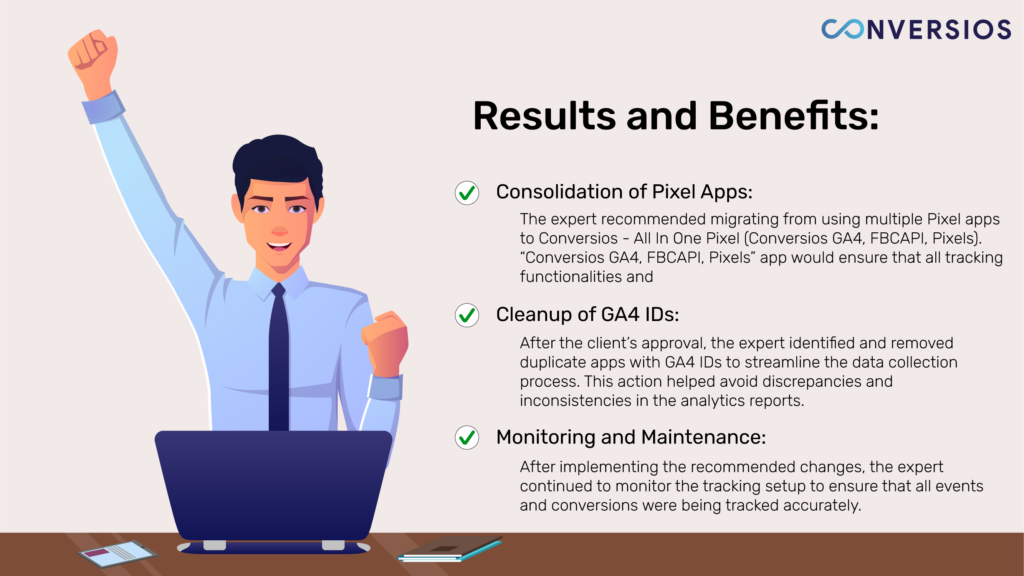 Through the Conversios Team's guidance, the implementation of the "Conversios GA4, FBCAPI, Pixels" app, and the suggested solution, the Client successfully overcame the tracking challenges they were facing. Regular monitoring and maintenance ensured that the tracking setup remained robust and continued to deliver valuable insights into customer behavior on the website. As a result, Posture Pro was able to refine its marketing strategies, boost conversions, and provide customers with an enhanced online shopping experience.