Google Analytics reigned supreme as the go-to tool for tracking website activity in a world of data-driven decision-making. But, as the digital world expanded, so did the demand for a more advanced analytics solution, resulting in the creation of Google Analytics 4.
But before you dive deeply into the world of GA4, there are a few things you should think about. Moving to this new platform might be a daunting process, but with proper planning, you can make the transition smoothly and access a whole new world of data insights.
In this article, you are going to explore steps to migrate to GA4, what to do with the data of Universal Analytics, what are the best practices & many more. So be prepared for a crazy ride of GA4 Migration as we go on this adventure together!
What is GA4?
Google Analytics 4, widely known as GA4, is the most recent version of Google's popular web analytics tool. It is an updated version of the previous Universal Analytics, created to fulfill the evolving needs of digital marketers and website owners.
GA4 has new features such as a new data model, cross-device tracking, data control, a complete view of the customer life cycle, etc.
Overall, GA4 provides better insights into user behavior, allowing you to make more informed data-driven decisions. This eventually allows you to stay ahead of the curve in an ever-changing digital world.
Why do you need to migrate to GA4?
Migrating to Google Analytics 4 (GA4) is necessary for businesses that want to effectively analyze their online presence. Whether you have a WooCommerce, Shopify, or Magento store, you must move to GA4.
On July 1, 2023, standard Universal Analytics properties will stop processing data. We strongly encourage you to make the switch to Google Analytics 4 as soon as possible.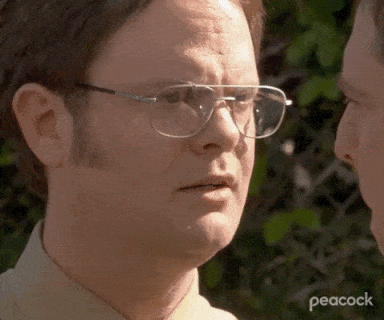 It is recommended to begin the GA4 migration process as soon as possible to prevent missing out on key data insights and falling behind the competition.
Moving to GA4 may require some effort, but it is an investment that can help your Ecommerce store make data-driven choices and drive growth.
If you are worrying about your Universal account data & GA4 data- you can download the Conversios Google Analytics plugin. The plugin comes with dual tracking that enables tracking data from both Universal Analytics(GA3) and Google Analytics (GA4).
Benefits of Migrating to GA4
Migrating to Google Analytics 4 (GA4) can offer various benefits to stores like WooCommerce, Magento & Shopify. Here are some of the key benefits of migrating to GA4:
Improved data model
Enhanced tracking and reporting of user behavior across devices and channels
Better user data privacy control
Ability to track and analyze customer lifetime value (LTV)
Streamlined event tracking and measurement customization
Improved cross-domain tracking capabilities
Enhanced Ecommerce tracking and reporting features
Access to real-time data and insights
Integration with Google Ads and other Google Marketing Platform tools
Competitive edge over those store owners who haven't made a switch to GA4
You now have enough information to comprehend the importance of GA4. Let's move on to the migration part, where you will learn how to start preparing for GA4 migration.
Preparing for GA4 Migration
Audit your Universal Analytics
You're migrating to GA4 from Universal Analytics, so auditing your UA properties will be your first step moving forward. Make a list of the metrics you were tracking in Universal Analytics that you need to track in GA4. It implies that you have all the information you need on hand the moment you start using GA4.
The best practice is to create a document that contains details of UA accounts, UA properties, tags, and more.
Identify Goals & KPI
Google Analytics is mainly used to track user behavior data. Migrating to GA4 helps you understand what data needs to be tracked and how it will be used to measure conversions.
Analyze your current setup and identify the data that is currently being tracked and the data that is not. You will have a better understanding of the data that GA4 needs to fulfill your goals.
Check Compatibility
Check the tracking code on your website to make sure it complies with the new GA4 measurement protocol. In order to do this, you must ensure that the tracking code on your website is current and appropriately implemented.
You should not worry about compatibility if you are using a third-party tool like Conversios.
Setting up the property
Create a new GA4 property in your Google Analytics account to get started. Connect it to your current account so you may access your past data. If you choose to keep your data separate, you can also set up a new GA4 property without connecting it to an existing property.
Make sure that your property is configured properly, including the data retention settings and, if necessary, the cross-domain tracking.
Setting up the data stream
After configuring your properties, you must configure the data stream. This entails setting up a new data stream to gather the information you want to track. To make the most of your GA4 implementation, you may also set up data filters and custom dimensions.
Check your data stream frequently to make sure it is collecting the data you want and make any necessary changes.
Steps For GA4 Migration
We have now arrived at the topic you were looking for at the beginning of the article. However, the above information is just as helpful as this one. You need to follow three steps, but if you are choosing third-party Google Analytics tools like Conversios, it's a matter of one step.
Step 1:Create a new GA4 Property
To begin, add a new GA4 property to your Google Analytics account. This is done by going to the "Admin" page, selecting "Create Property," and then selecting "GA4".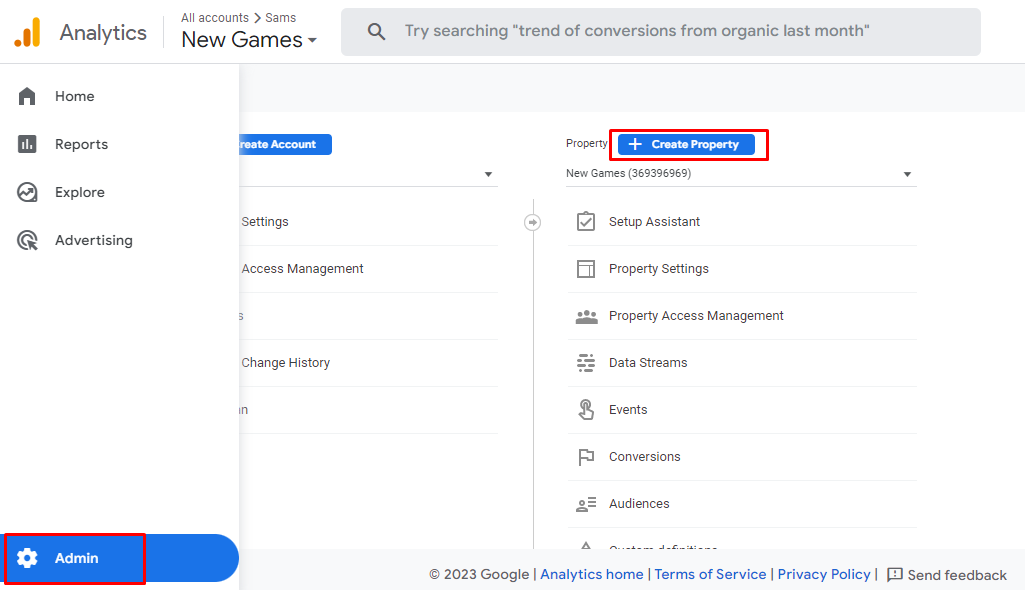 In your next interface, if you click on 'Show Advanced Options', it will show the disclaimer for using GA4 instead of UA.

Step 2: Implement GA4 tracking code into Shopify, Woocommerce, Magento
The GA4 tracking code must then be implemented on your website. The procedure will vary depending on the e-commerce platform you're using.
If you're using Shopify, you'll need to install the Google Analytics app and complete the setup instructions. Install the Google Analytics for WordPress plugin for WooCommerce, and Google Analytics 4 extension for Magento.
Step 3: Test & Validate
Before going live with your GA4 implementation, you should properly test and validate everything to verify that your data is being tracked appropriately. This may be accomplished by using the Google Analytics Debugger tool and inspecting the GA4 real-time reports to ensure that the data is flowing properly.
Ease your GA4 Migration with Conversios
Conversios is a Google Analytics tool that offers easy integration and you require no coding to integrate it with your website. Conversios make your data analysis part easy by providing an easy-to-understand dashboard. The dashboard provides data on metrics that are important to your business.
There are plenty of benefits to choosing the Conversios tool for your business. A few of them are:
#1 Dual Tracking ( UA & GA4)
Conversios allows you to set up dual tracking for both GA4 and Universal Analytics (UA) simultaneously. This means you can continue to use UA for your existing reports while also collecting data in GA4, which will help you compare and analyze your data more effectively.
#2 No code Google Analytics Tool
Conversios eliminates the need for developers. You can add Google Analytics to your store without writing any code. As a result, you can save the time and money you would have spent on your developer.
Also, Nocode brings you flexibility by eliminating the dependency on the developer.
#3 GTM-Based Implementation
Conversios offers Google Tag Manager(GTM) based implementation for Google Analytics 4 and automates tracking via data layer. It helps you to integrate GA4 without any hassle and track various actions with predefined 70+ tags and triggers.
The best thing is that you can use your own Google Tag Manager container with tags and triggers.
#4 User-Friendly Dashboard
Conversios provides a user-friendly dashboard that presents your data in a clear and actionable format. You can quickly identify trends, spot issues, and take action to improve your website's performance.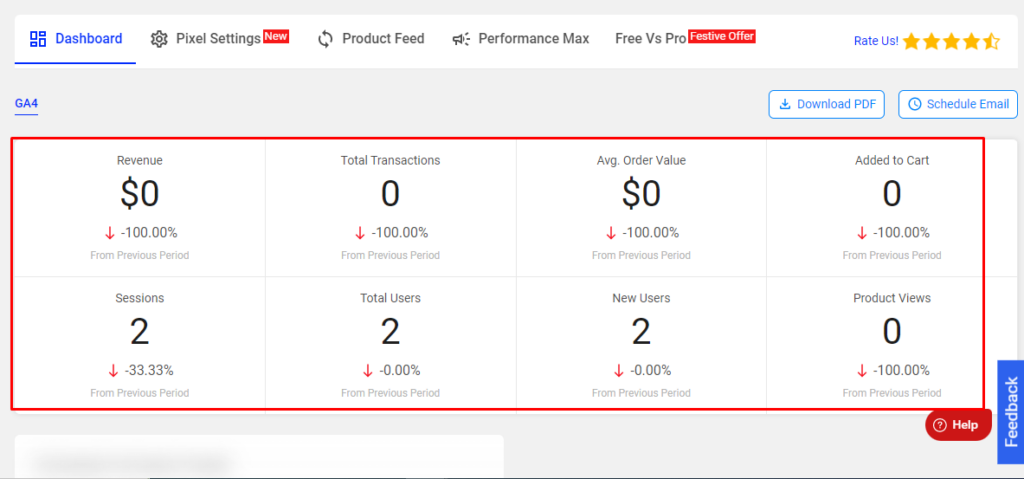 Google Analytics 4 interprets data in a difficult-to-understand format. Conversios makes it easier for you by providing you with actionable insights. After using the dashboard, you can get an idea of what's working for you and what isn't.
#5 Enhanced Ecommerce
Conversios provides enhanced ecommerce tracking capabilities, allowing you to track sales and revenue data, as well as product performance metrics. This can help optimize your product offerings and improve your overall ecommerce strategy.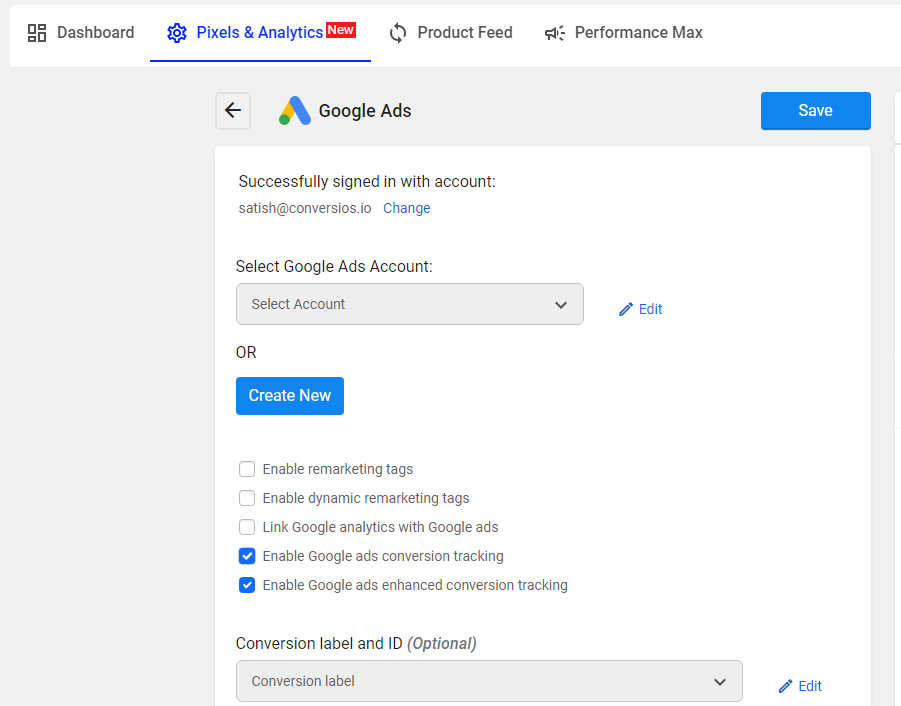 #6 Easy-to-Understand Reporting
Conversios provides a variety of reports that allow you to analyze your website's performance from different angles. You can track user behavior, website traffic, and other key metrics to help you make informed decisions and improve your website's overall performance.
The gap void by Google Analytics can be easily filled by Conversios as you can understand the reports easily despite you are only a beginner in using Google Analytics.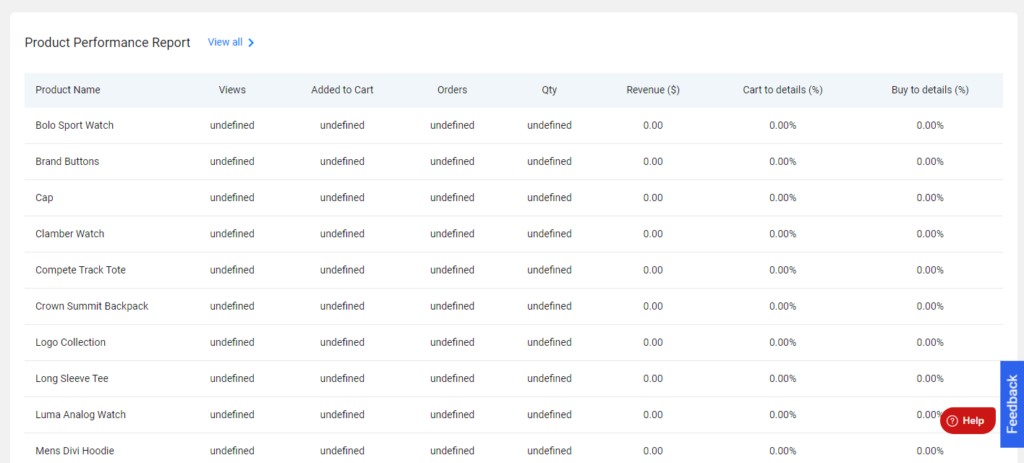 Here's a product performance report shown in the above screenshot. It consists of every metric that is necessary & related to your product such as how many customers view the product, how many of them added it to the cart, how many of them make a purchase, revenue, average price, refund, etc.

Here's a second report that provides the data on source/medium performance. You will find how your customer reaches your products. They come via referral, directly, or through paid campaigns- you can get all the details in this report.
Eventually, reporting in Conversios make your hectic tasks simple by providing you with data in an organized manner you can easily understand.
Final Thoughts
Migrating to Google Analytics 4 (GA4) is a major step for any Ecommerce business looking to improve its marketing efforts. Google Analytics' latest version includes advanced analytics tools, machine learning capabilities, and a more user-friendly design.
To achieve a smooth transition and maximize the benefits of GA4, various things must be considered, including data preparation, customization, and team training.
Considering these aspects, you can effectively move to GA4 and realize its full potential for making data-driven decisions, improving customer experience, and driving sales.
The migration process may appear difficult, but with good preparation and execution, you can make a smooth move to GA4 while remaining competitive.
You must move from UA to GA4 now, tomorrow, or next week. It is up to you when to move to GA4, but if you do, Conversios can be your go-to option.
If you begin your migration journey today, you will make some headway until your competitors find ways to move. It will undoubtedly offer you a competitive advantage.