You are here to select the best WordPress analytics plugin for your ecommerce business!
Aren't you?
But, how do we know?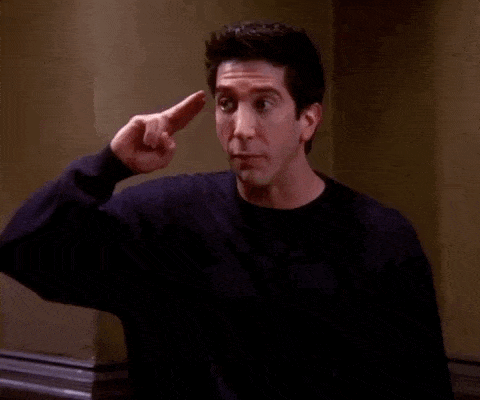 Well, apart from this telepathic power, we are here to present the best solutions for WordPress analytics.
Before going for the list, let's check why you actually need it. (We promise to keep this short!)
According to WordPress, around 42% of the entire websites that are created on the web are WordPress sites. That's something to brag about! With this, it becomes compulsory to answer these questions and track user behavior to get maximum results:
Who is coming to your website?
How many users are you getting?
What is the conversion rate?
To answer these questions, WordPress has a lot of analytics plugin that helps you to track users across the web. We are listing the top 5 of them here:
Best WordPress Analytics Plugins
Conversios

Product Feed Manager For Woocommerce

MonsterInsights

GA Google Analytics

Analytify
#1 Conversios (All-in-one Google Analytics, Pixels, and Product Feed Manager for WooCommerce)
Conversios is one of the best WordPress plugins for enhanced ecommerce tracking. It helps in integrating both, Google Analytics 4 and Universal Analytics with a click! It also helps in installing 6 different types of marketing pixels including Facebook Pixel (aka Meta Pixel).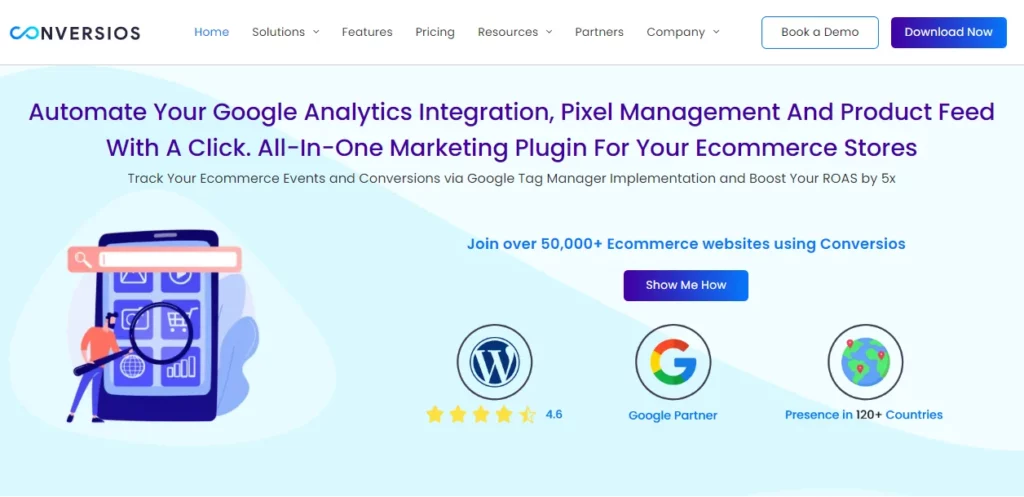 Conversios has an active user base of 50,000+ Woocommerce store owners that track their user behavior, conversions, CTR, and many other ecommerce metrics with different types of reports namely Product Performance Reports, Google Ads, and Campaign Performance Reports.
All this by performing some clicks!
Don't believe us?
Check out yourself 👇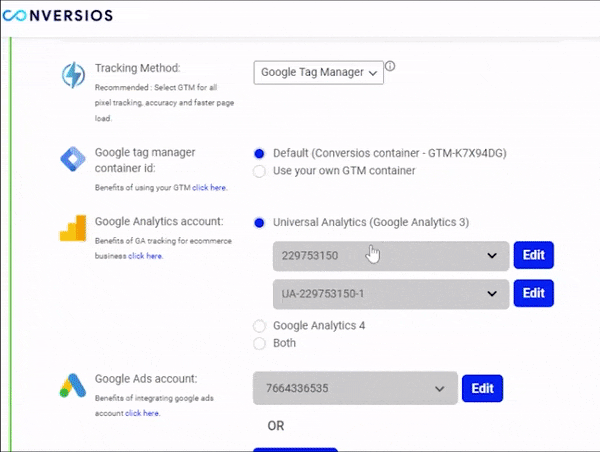 Conversios provides an actionable dashboard that helps you to simplify complex reports from Google Analytics 4. You can also do google ads remarketing, dynamic remarketing, and conversion tracking with the help of one-click GTM implementation. You can also use your own GTM container with prebuilt 70 tags and triggers!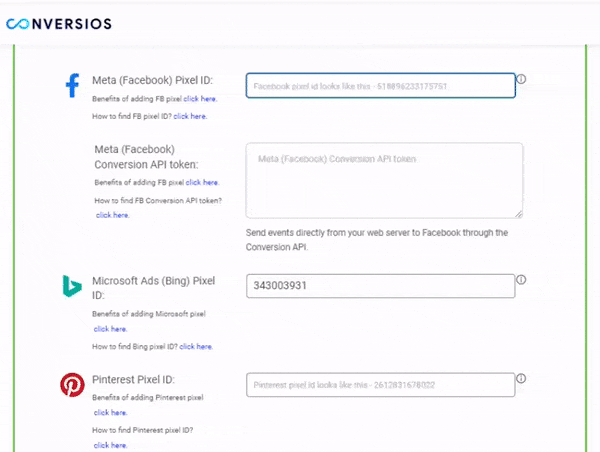 You can track events like product page views, add to cart, checkout, purchase,etc by adding Facebook Pixel and 5 other pixels namely Snapchat Pixel, Tiktok Pixel, Twitter Pixel, Pinterest Pixel, and Microsoft Ads Pixel. All it will take is a single click as seen above👆
Well, the list doesn't end here.
Conversios helps you to run Pmax campaigns(aka Performance max) from the plugin itself. It shows you ad campaign data and conversions with the help of in-built data. The recent feather to the cap is the inclusion of Facebook Conversion API.
Phew!
This was a loooooooong list of features! Let's have a look at some of the key features of Conversios.
Key Features:
One-click Google Tag Manager Implementation
Dual Integration (Google Analytics 4 + Universal Analytics) with a single click
Facebook Conversion API, Meta Pixel and 5 other pixels installation without any code
User behavior tracking with Performance reports, Campaign performance reports
Use your own GTM container with 70 prebuilt tags and triggers
Best For:
Woocommerce stores who are looking for Enhanced Ecommerce solutions
No-code ecommerce enthusiasts who are looking for GA4 integration
Ecommerce store owners who want to track every moment with Facebook Conversion Pixel and Google Tag Manager implementation
#2 Product Feed Manager For Woocommerce
If you have ever used Google Merchant Center, you are very much aware of the problem that is present there. Add woocommerce to it and things become more difficult!
Well, this woocommerce analytics plugin has single-handedly decided to solve this problem.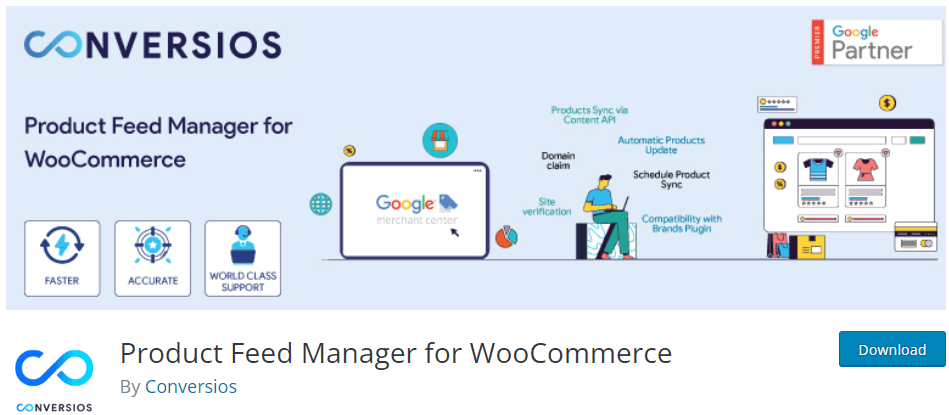 Product Feed Manager For Woocommerce plugin helps you to sync products from Woocommerce store to Google Merchant Center. It helps you to sync unlimited products to GMC with more than 10,000+ products at once!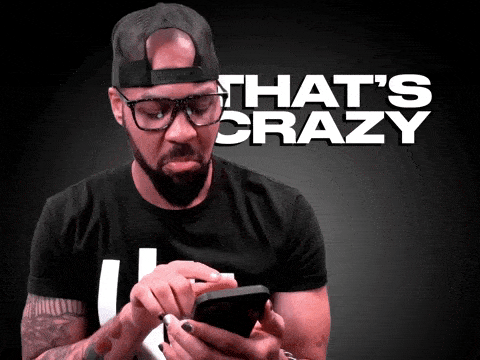 Yeah, isn't it!
As the name suggests, Product Feed Manager For Woocommerce plugin helps you to manage products, schedule them, and get real-time approval status from Google Merchant Center in the dashboard as seen below👇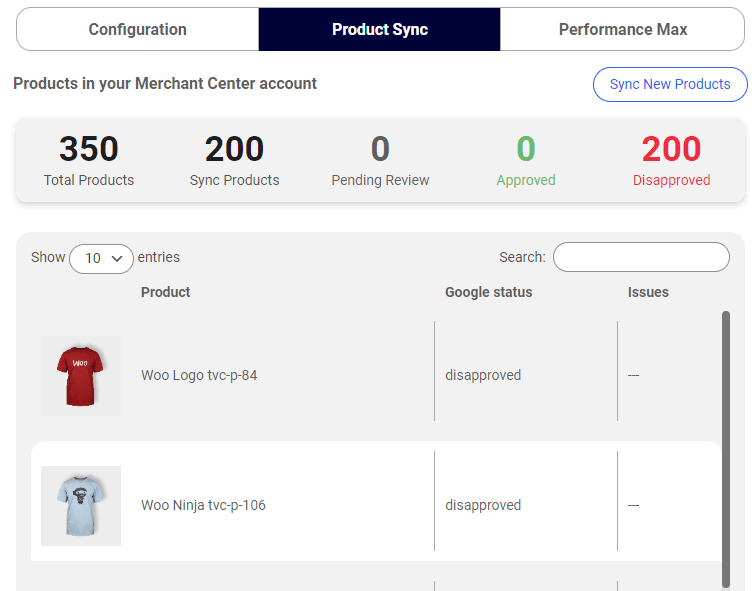 Another great thing is that you can do domain claim and site verification in an instant. You can map google attributes and categories to your woocommerce store without any hassle! All you have to do is few clicks and the rest would be handled by the plugin.
Key Features:
Sync Unlimited Products To Woocommerce in a breeze
Batch wise product sync with 10,000+ products at once
Scheduled product sync
Real-time product sync approval status with error description
Best For:
Woocommerce store owners who want to sync products to GMC
Ad agencies that run performance max campaigns
Beginners who are not familiar with GMC or Woocommerce interface
#3 MonsterInsights
Who doesn't know about MonsterInsights?
With more than 3 million downloads, MonsterInsights plugin retains the spot of popular plugin for WordPress. It is a Google Analytics plugin for wordpress that helps you to integrate GA4 and UA without any code. Alike Conversios, MonsterInsights also offers dashboard to show real-time data to users.
In MonsterInsights plugin, you can do event tracking and get GDPR compliant with the help of an add-on. You can do scroll tracking, Google AMP tracking, URL tracking with the help of this analytics plugin on WordPress.
Key Features:
Google Analytics for AMP
Enhanced Link Attribution
#4 GA Google Analytics
GA Google Analytics is a simple but different type of google analytics plugin for WordPress. It helps you to integrate Google Analytics on every page of your website. The drawback of this plugin is that it doesn't pull any data and show it with a simple interface like its peers. To see and analyze the data you have to login to your Google Analytics account.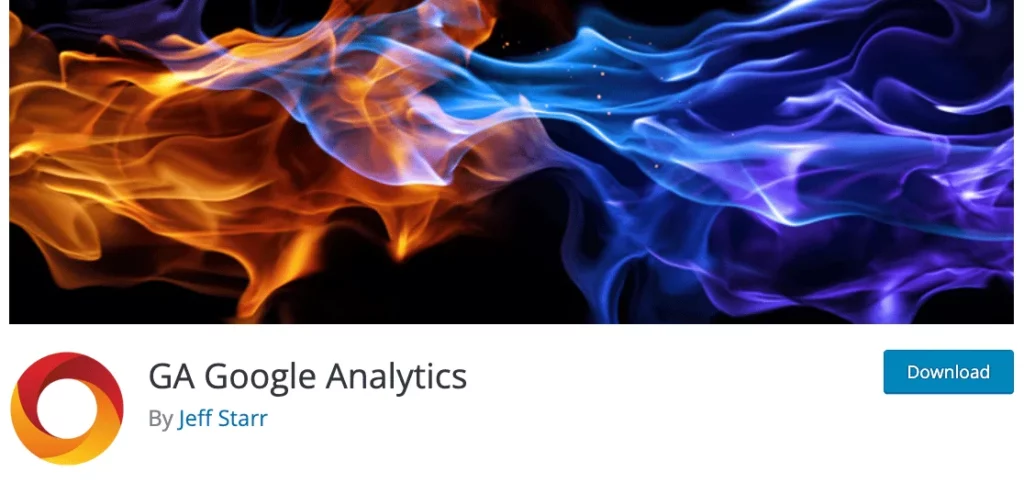 If you are a fan of tracking everything at one place, then this may sound disappointing. Although, the other features like GDPR compliance, disabling tracking of admin users, etc. subsidize for the inbuilt dashboard. You can opt for this plugin if your purpose is to just connect Google Analytics, nothing more!
Key Features:
GDPR compliant
Lightweight plugin
#5 Analytify
Analytify is also a google analytics premium plugin that helps you to integrate Google Analytics and track its data with the inbuilt dashboard. The good thing about this plugin is that it shows real-time data and reports for goals.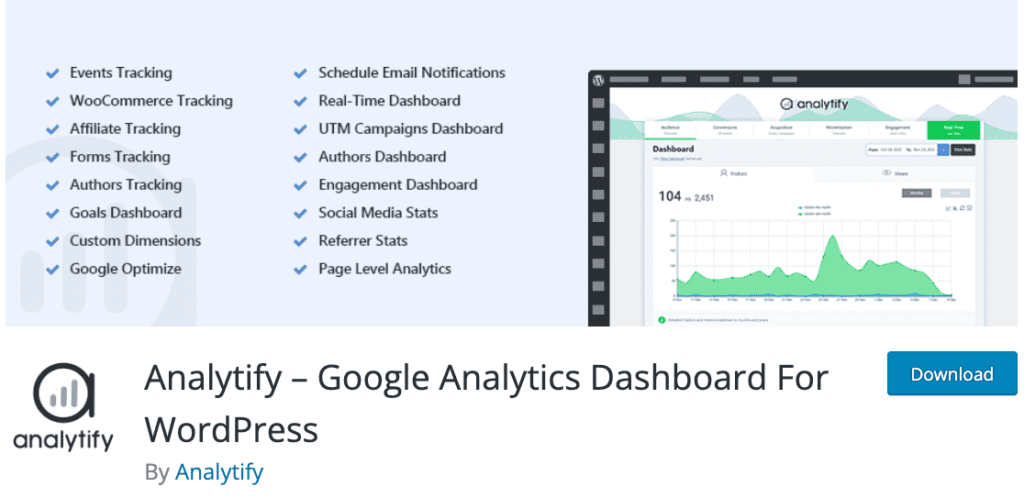 With Analytify, you can do events tracking, Google AMP tracking and shortcodes too. You can get page and post level analytics with the help of this plugin. Also, with some addon features, you can start getting email notifications. The only drawback is that their free version is having a lot of ads that hinder UX.
Key Features:
Google AMP
Forms Tracking
Shortcodes
Events Tracking
How To Choose The Best Analytics Plugins For WordPress?
Well, we have listed the best ones here.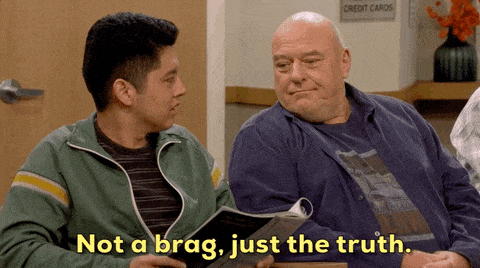 We have researched around 20+ analytics plugin on WordPress and came up with the list of these plugins.Now, all you have to do is select the best plugin according that suits your requirement.
We found Conversios as the best analytics plugin on WordPress. It has everything you need, like:
Dual Tracking (Google Analytics 4 and Universal Analytics)
One-click GTM implementation
6 Pixel Integrations including Meta Pixel
Conversion Tracking with 4 types of Enhanced Ecommerce Reports
And many more!
Not gonna lie, it's our favorite! 😉
We hope that our list helped you. Still, we believe that you should do your due diligence before buying any plugin. We may take a leave now. Keep tracking!